Photo tips for isolation: the final week!
Every week for the month of April (and into May!) we have shared 5 new photo ideas you can try at home to challenge yourself and keep your image-making fresh while we wait for COVID-19 to pass. You can see the first week of challenges here, as well as week two, week three, week four, week five, week six and week seven here.
All these tips just require the bare minimum of gear – a camera and a tripod, although a stack of books or a stool can work in a pinch if you don't have one. 
Day 36 - Painting with Light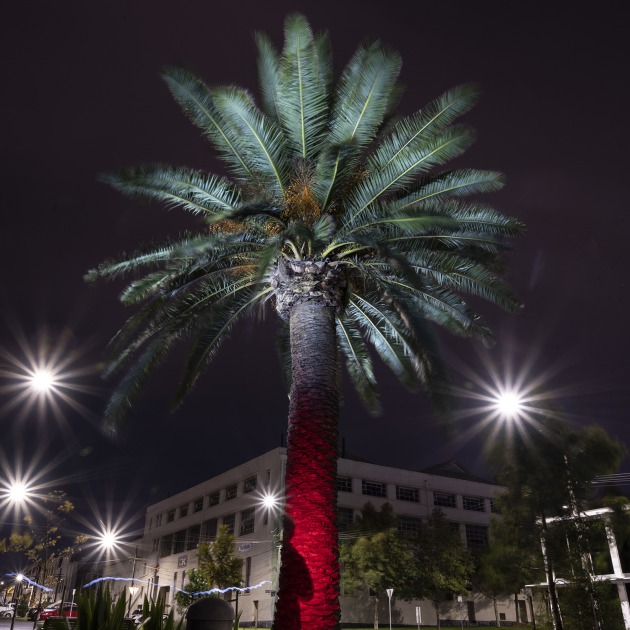 Last week I suggested you might like to head out with a camera and tripod and try making some night photos. This week I am going to throw a twist onto that idea - by suggesting you try painting with light.

I learnt about painting with light as a kid, when I read about a Life photographer who used the technique during the 1930's to photograph some famous Greek ruins. Rather than blow hundreds of magnesium flash bulbs to photograph the ruins at night, he set up his camera on the tripod, opened the shutter and then proceeded to move about the ruins with a large lamp. By shining the lamp up and down the columns he was able to "paint" the scene with light to reveal the ruins in all their glory.
This technique of painting with light is still used today, particularly by industrial photographers who often find themselves trying to photograph large machinery or structures in difficult lighting situations. That being said, painting with light is actually simple enough for almost anyone to experiment with; all you need is a camera, a tripod and a light source, be it a torch or your speedlight.
If you choose to use a speedlight to paint the subject, just remember to use it on a manual power setting at a low enough power output (i.e. 1/8th power) that the flash will recycle relatively quickly.
To get started, find an object to photograph in a dark area that is away from street lighting (an old shed, a tree or even a vehicle in your backyard can be a good test subject). Set up your camera on a tripod and then use a torch to illuminate the subject so that you can manually focus on it.

The next step is to manually set the exposure and try making a photograph to be certain that you can achieve a long enough shutter speed to get about and paint with light, but that the overall scene is not too bright that it going to wash out your light painting effects. For a start, try making a photo at 30 seconds at f11, 400 ISO. If you need to darken the scene you can always reduce the ISO to 200 or 100, or close the aperture to F11 or F16.

If the test photo is looking moderately dark then this is good. Now start the camera using the self timer for 10 seconds and when you hear the camera's shutter open, start using the torch to "brush" light over your subject. One trick worth noting is that the further away a subject is from you, the more light it will need to get some decent illumination. With practice and some experimentation you should learn how much light you need to make a subject look good.

Day 37 - Make you own filter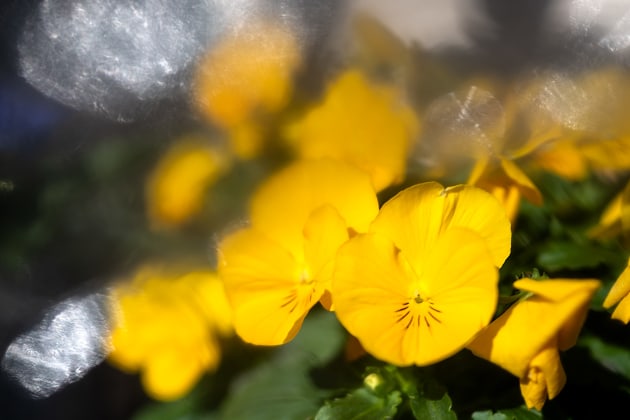 Many photographers wallow in the perfection of great lenses; they love the imagery, the perfect sharpness, the clean colours and beautiful contrast. There are days though, when all this can start to get boring, which is why some photographers make their own filters to dumb down their lenses.
There are many ways you can make a cheap filter for your lens. One of the simplest options is to get a clear plastic bag and attach it to the front of your lens with a rubber band. As most of you know, plastic comes in all forms and thicknesses with some being more transparent than others. Some plastic will look good straight over the top of the lens, but if the image is looking too soft, one simple trick is to cut a hole in it so that part of you lens has a direct view of the subject while the rest of the lens is seeing the scene through plastic.
This technique works best with longer lenses and wider apertures; with wide lenses and small apertures (f8-f22) the plastic will be rather apparent in your final image. The great thing about exploring with plastic though, is that it is cheap and you can try all sorts of variations with that hole at minimal expense.
If you want to try something other than plastic, another option is to get yourself an old UV or skylight filter (just make sure it fits your lens ok). Give the filter a clean with a bit of soapy water, let it dry and then degrade the surface of the filter using a very thin smear of vaseline. As with the plastic, you can be selective as to how much of the filter you cover with the vaseline.

Start by just putting a small amount of vaseline down one side of the filter; as you look through the camera, rotate the filter to see the effect you are getting. Add more vaseline to see how this changes the picture, and remember, if it all gets too murky you can always wash the filter again and have go! If you start taking a liking to this look but you want to make the filter a little more permanent, another option is to apply clear nail varnish to the filter.

Chances are you won't be using these homemade filters for all your photographs, but then again, some very famous photographers have made this look their trademark.
Day 38 - Add textures to photos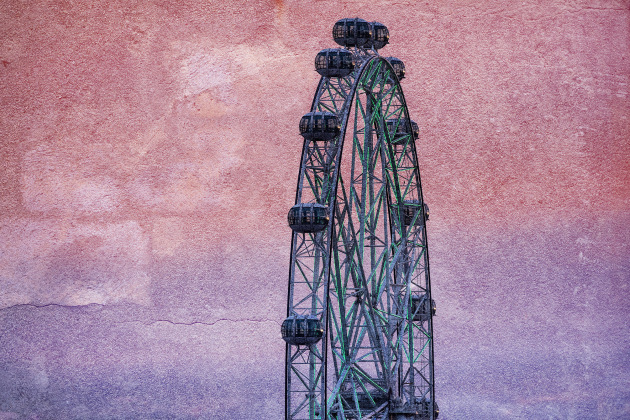 While some photographers like to make filters for their lenses, other photographers prefer to add effects to the images in the postproduction stage. For some, this might include softening effects in Photoshop or the use of colour adjustments to warm an image or soften the saturation. The options are rather limitless.

One technique that is a little more interesting though, is to combine an ordinary photograph, be it a portrait or a landscape, with a second photograph of a texture. This texture can be of almost anything you like, but some of the more classic textures photographers often include cracked paint, distressed concrete renders or even the patterns within foliage.

To combine a texture with a photo, just open the two images into Photoshop and then copy the texture photograph (Select All > Copy) and then paste it onto the image you want to add a texture too. Once you have done this you will notice that all you can see is the texture; this is where we make the move over to the Layers window and start exploring the Blending options.

As you look at the Layers window you will notice a small drop down menu that says "Normal"; click on this and then choose one of the blending options such as Overlay. To the right of this you will also see a pair of boxes marked Opacity and Fill and they are both showing 100%; it really doesn't matter which percentage you choose, but you can adjust these percentages down to lighten the effect of the texture. 
Once you are happy with the effect that you have, go to Layers in the main menu at the top of your screen and select Flatten Image. With that you are ready to save the image to a JPEG and share the it with your friends.
Day 39 - Create a Silhouette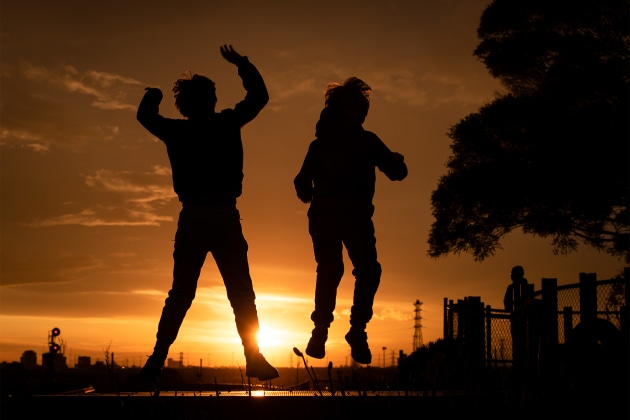 It is often the classic final scene at the end of a movie - the heroes riding off into the sunset, silhouetted against a setting sun. While not revealing much of the subject, silhouettes can still tell all kinds of stories - they can be fun, sad, romantic, quirky or just simply beautiful.

Silhouettes are rather easy to make, particularly if you are aware of what the light is doing about you.

To create a silhouette at sunrise or sunset, all you need to do is have the subject between you and the sunset, and then simply expose for the highlights, not the shadows. To get the exposure correct you can work in the Auto exposure modes, but you might want to pull the exposure compensation dial back -1 or even -2 stops to get some good colours in the sky and the silhouette looking nice and dark. 
You can also create silhouettes at home by placing your main subject in a dark space in front of a  brighter background. The easiest way to achieve this is to have a subject stand in the doorway of your house and then make the photograph from the hallway looking outwards to the brightly light yard or street.

If you are feeling clever, you can even add a texture from above to a silhouette. Go on, do some exploring.

Day 40 - Photograph a drink!
Well, this is my last photo suggestions for this series; the plan was to try and keep you busy throughout the lockdown and judging by some of the photos appearing in the competitions, many of you have been making the most of the tips.

Given that most states are now starting to ease the lockdown restrictions it seems only fitting that this last photo idea can also be a toast to the past several weeks, so go and pour a drink for yourself (alcoholic or non-alcoholic, your choice) and then try photographing it.

As with food photography, photographing a beverage can present its own unique challenges. Ideally we want the main subject within the image to be appealing to an audience, and that often requires the photographer to put in some planning and consideration into the photo before a drink gets poured.

If you are photographing cold, child drinks that have some clarity to them, then getting low and close to the drink while photographing into the light can be rather appealing. For darker drinks (including red wines and dark beers), you are often better off trying to photograph down on these drinks, simply because from the side it can often be too difficult to see colour in the drink.

If you are not up for photographing alcohol, another option might be to photograph coffee or even a hot chocolate at your favourite cafe. 
One of the big considerations, particularly if you are photographing something with a head on it, like beer or a coffee, is simply to make the photo before you loose that head; for this reason it is often best to have everything set to make the photo, then get the drink in at the last moment.

As with food photography, the styling of the image can also be important; don't be scared to add little details into the image such as dish of snacks or a nicely patterned table clothe to add in some style. 
Once you have the photo in the bag, sit back and enjoy the drink.

Its been eight weeks but strangely enough it has all gone rather quickly. Thanks for being part of this journey and I hope that in the coming weeks, life slowly gravitates back to some level of normality for you. 

All the best, Anthony.