Photo ideas for self-isolation: Week one
Stuck at home and getting bored? Of course you are! Well there's never been a better time to learn some new photography skills.
Every week for the month of April we'll be sharing 5 new photo ideas you can try at home to challenge yourself and keep your image-making fresh while we wait for COVID-19 to pass. 
All these tips just require the bare minimum of gear – a camera and a tripod, although a stack of books or a stool can work in a pinch if you don't have one. 
Finally if you want to use your images, our free monthly comp for this month is 'at home', and our overall winner will take home an amazing EIZO FlexScan EV2750 27 inch LCD Monitor with 12-bit colour palette (LUT) with an MSRP of $1,500 thanks to our great sponsors EIZO. You can enter here. 
Day 1 - The Self Portrait
Most great artists and photographers have, at some stage of their careers, made portraits of themselves and often these portraits have been an insightful look into the minds and souls of these individuals. So, how might you photograph yourself?
You can make the self portrait as simple or as complicated as you like, and remember, the only thing you really need for this exercise is your camera and a tripod - the rest is up to you. 
As a little inspiration for today's project, here are a few self portraits that New Zealand photographer Doc Ross has recently made as part of his forced lockdown in Christchurch.
Stuck for places to go, Doc has set himself the task of making one self portrait every day for the duration of the lockdown. Doc's only word of advice is to remember that there is a difference between a self portrait and a selfie – for one thing, a self portrait will usually take more than a few seconds to create!
Day 2 - Online Courses
With most of the worlds professional photographers sitting at home, waiting for the Covid-19 crisis to blow over, some organisations have chosen to give these photographers the chance to brush up on their skills with some online study.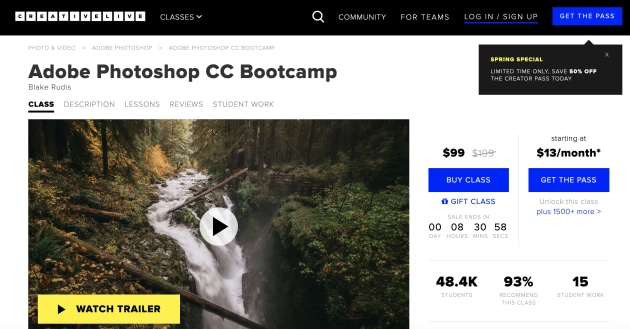 Professional Photographers of America is giving photographers everywhere the chance to access its educational videos FOR FREE at the moment (although this offer expires on April the 4th, in the US).

Some of the courses on offer include discussions on fine art photography, how to set up a studio on location, how to prepare images for print and about a thousand videos on how to be successful in the business of photography.
Another organisation, Creative Live, is offering discounts on their courses at the moment, along with free 'live' content. As we publish this story, there's a free live photoshop bootcamp running, and other courses cover lighting, camera-craft and more. You can't always be sure of what will be 'live', but there there is a good range of content online that should keep you entertained while stuck indoors.
Day 3 - Flat Lay
Many recreational photographers seem to believe a camera has to be pointed towards the horizon whenever they make a photograph, but many professional photographers regularly make some amazing photos with their cameras pointed directly at the ground!
Using a technique called a FLAT LAY, professional photographers lay objects onto a flat surface and then they literally position a camera directly above this "flat lay" to make an image. Photographers can use this technique to photograph any range of subjects from clothing through to food and lifestyle accessories, or sometimes even the occasion person!
The technique is so simple almost anyone can give it a go. All you need is a flat solid surface in an area of good light, and then all you have to do is place some interesting items onto the surface. When you are ready to make a photo simply hold your camera out at arms length with the lens pointing straight down and capture the image. Remember, if your camera has an articulating LCD panel you can use this to compose the image.

There are options to holding your camera directly out above a flat lay. Professional photographers will often us a professional studio stand, but some tripods, particularly those tripods that let you fit the centre column horizontally across the tripod can also be used for the task. (Just remember to add a small counterbalance such as a small camera bag if you are using the column extended outwards at right angles with the camera attached, just to stop it from tipping). With the camera mounted onto a tripod also makes it easier to finesse the composition of your flat lay!
With this flat lay technique you can quite literally spend hours (or even days) exploring different colours and designs, and because you can quite literally position anything anywhere, you are defying those rules that gravity usually puts upon most photographers. Have some fun.
Day 4 - Shadow Play
Shadows can often create fascinating design effects in a photograph, particularly if you can combine an interesting shadow mask with familiar surfaces or subjects.
All you really need to create shadows is a "hard light" source and some interesting objects to go in front of this light source to cast the shadow. This hard light source can be the sun, but you can also create shadows in a darkened room using a torch or a small, bare bulb light source. If you are feeling romantic you can even create shadows with a candle. The smaller you can make the light source, the harder your shadows will be.
To create your own shadows effects, place a physical object such as a plant or a decorative screen in front of another object, or even a plain surface. If you want you can even create a mask with a cardboard and scissors to get the desired shadow effect that you want.
Day 5 - Black and White



Black and white photography is a wonderful training ground for photographers, in fact, most people who studied photography back in the 20th century usually spent at least a year or so just shooting black and white film while learning how to make black and white prints in a darkroom.
And the reason why black and white photography is such a good learning tool is because it eliminates one of the most useless and distracting elements of modern photography - that pesky thing we call colour. Without colour, it is so much easier to see the true content and meaning of a photograph including the design, the lighting and any emotional elements within an image.
Nowadays almost every digital cameras is optimised to capture colour photographs, but if you dig into the menu on your camera, you can usually find an option to capture images in black and white, or monochrome as it is often described on many cameras. Rather than setting your camera to shoot black and white images though, you can also turn your existing colour photographs into black and white using any number of different apps on your computer.

An even better option is to open the original RAW file for a photograph in RAW conversion software and then slide the "Saturation" control down to zero so that all the colour tones in the image are reduced to greys.

Once you have done this you can then use local adjustments to lighten or darken areas of the picture, add contrast and generally give an image a new breath of life. And because you are playing with a RAW file, there is absolutely nothing that you can do that will damage the file. Give it a go, and chances are you will discover some new life in some of your older colour photos.
The Mono Awards presented by DigiDirect is also on now if you have a taste for black and white photography. There are three categories: People, Places and Animals. It costs $25 to enter and there's a $12,000 prize pool up for grabs including $8,000 in cash prizes. The best images will also be published in a special issue of Australian Photography later in the year.
Want more photography challenges? We'll be back next week with 5 more indoor photo ideas.