Photo Tips for Isolation: Week 5
Stuck at home and getting bored? Of course you are! Well there's never been a better time to learn some new photography skills.
Every week for the month of April we'll be sharing 5 new photo ideas you can try at home to challenge yourself and keep your image-making fresh while we wait for COVID-19 to pass. You can see the first week of challenges here, as well as week two, week three and week four here.
All these tips just require the bare minimum of gear – a camera and a tripod, although a stack of books or a stool can work in a pinch if you don't have one. 
Finally if you want to use your images for our free monthly comp, there is a few days left for this month's theme 'at home'. Our overall winner for April's theme will take home an amazing EIZO FlexScan EV2750 27 inch LCD Monitor with 12-bit colour palette (LUT) with an MSRP of $1,500 thanks to our great sponsors EIZO. You can enter here. 
Day 21 - Series
Within the language of photography, a series is a set of images that maintains a common theme or visual style across the work. Documentary and editorial photographers regularly shoot a series of images to illustrate stories, and experienced landscape and fine art photographers often shoot photographs as a series if they plan to showcase their images as a collection or as an exhibition.
Even photographers who work in advertising shoot images as a series if clients multiple, but very similar images to promote a product across different platforms.  

The ultimate challenge in creating a series is to ensure the photos have a distinctive unifying style across the entire collection of work. While this might mean the images all have a common subject, be it portraiture, landscapes or even a product, it also means that underlying the common subject will be a common treatment of that subject matter in terms of elements like the use of lighting, the colour palette or the composition of the work.
That said, every photograph in a series should also be able stand alone. In other words, every photograph should be as good as the next.
So, if you are feeling up to the challenge we thought you might like to try making a series of images about your home or neighbourhood. It might be a series of portraits made through windows, or some urban landscape images made on your early morning walk when the light is soft. The subject options are up to you, but see if you can create six images that simultaneously belong together and stand out on their own.  
Day 22 - The Cupboard of Broken Ambitions
We've all been there: we've purchased equipment on a whim, or because some guy told us it would improve our photos, and months later this same item is left lying in a cupboard, forgotten.
Often we buy gear without fully understanding what it might be capable of (or rather not capable of) doing, or sometimes we buy gear just to shoot one single photo idea.
For whatever reason the gear made its way to our homes and studios, the question remains the same: what should be done with it now? We thought it might be time you had a dig around in your cupboards to resurrect some of this gear you might have forgotten about over the years.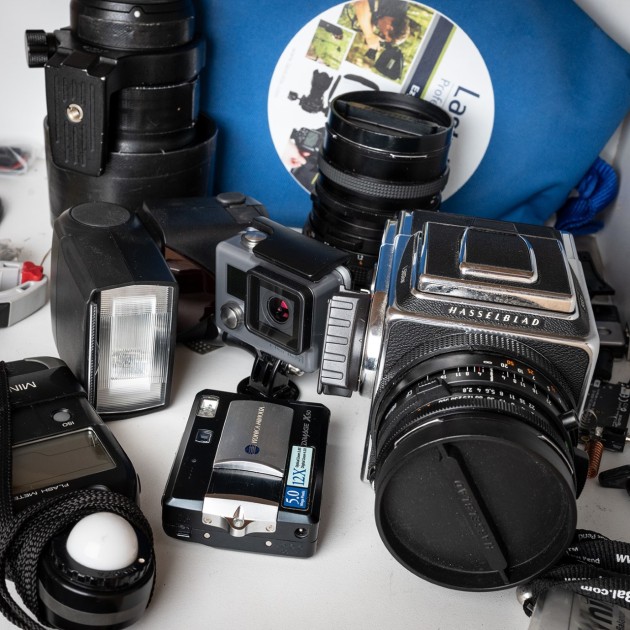 The challenge for you this week is to make use of some of this abandoned equipment. Grab it out of the cupboard, give it a clean, add fresh batteries or charge it if required and then see if you can use it to make some photographs.
Remember, we often give up on using certain pieces of equipment because we lack the knowledge, the experience, or even just the inspiration to make the most of this gear.
Use this opportunity to see if the time this equipment has spent in the cupboard has translated to an increase in your insight for how this same gear might be used now. Or even, just use all this extra time in isolation at home to put in the hours to work out how it works and how to get the most out of it. 
A word of caution: if some of this equipment is designed to connect to your camera, just check its compatibility with your camera before using it. Some older flash equipment has a high sync voltage that can damage modern cameras, and some older lenses might not work with newer mounts. That said, if you do your homework you can often find workarounds, like triggering older flash equipment with remote slaves.  
If you have another play with this equipment but decide you never really needed it in the first place, then at least you have a good excuse to list it on Gumtree or a Facebook market place. While this item might not have been meant for you, someone else might find a use for it!
Day 23 - Freeze a Moment
One of Henri Cartier-Bresson's most famous photographs, 'Behind the Gare Saint-Lazare' is a rather simple photograph of a man in a suit and hat jumping across a puddle, both his feet are up in the air and his right heel is just about to strike the water.

The photograph was made in 1932 at a time when most photographers were working with large format cameras and exceptionally slow film speeds. The idea of freezing a moment was not beyond their imagination at that time, just beyond their technical capacity.
The camera that Cartier-Bresson used to make this photograph though, was a small Leica loaded with relatively fast film. This new technology not only gave Cartier-Bresson the opportunity to capture moments but it also helped him define a new genre of image making: documentary photography.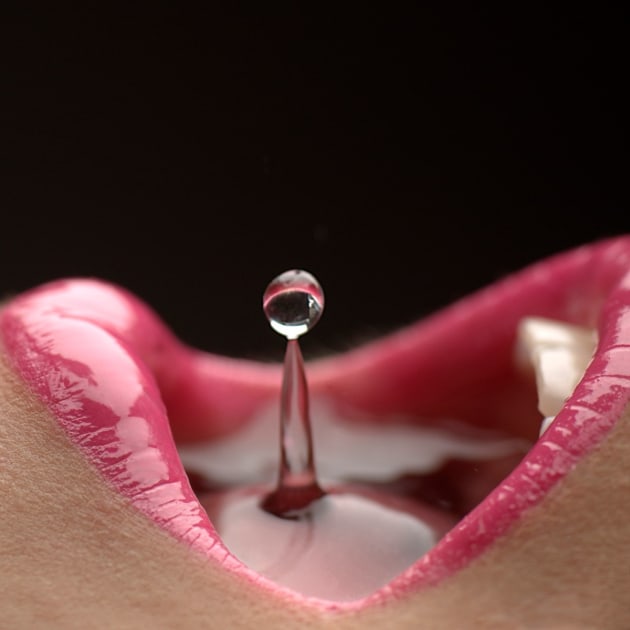 Nowadays, most of us take for granted the fact that our cameras can freeze an object in motion, but how often do we use this to creative effect? Sports photographers aside, I would argue that most of us don't use the opportunity to freeze motion enough.
So, this week I would like you to try and make at least one photograph where you have frozen the action in a scene. The image might be of a child jumping or your pet chasing a ball. It might even be something a little more abstract like water breaking over a rock or ice falling into a glass of water (or some other kind of beverage).

Whatever you choose to photograph, try and capture that peak moment. If you have a particularly wet day in your neighbourhood you might even be able to convince someone to recreate Cartier-Bresson's famous photo for you.
Chances are that some child will be keen to jump in a puddle all day for you but given we've all been locked up for a month now, I reckon a few grown-ups might even be keen to make the jump for you! Have fun!
Day 24 - Remaster an Image

There is an old joke in the photography industry, "how many photographers does it take to change a light bulb"? The answer is: "500 - one to change the light bulb and 499 to say they could have done it better"!

What I love about this joke, aside from the fact that it's rather true, is that it only tells half the story. While many people assume the photographic process begins and ends with the push of the shutter button, experienced photographers will tell you capture is just the beginning of the process.
Experienced photographers spend hours and even days working in post-production to ensure their images are more than just a facsimile of what others would have seen on the day, but rather, extraordinary representations of their subject that are rich in colour, depth and detail.
In light of these thoughts, we thought we would send you on a mission this week to revisit some of your old photographs to consider the different approaches you might be able to take to process them anew. This process will work best with RAW files, given that they have significantly more latitude for manipulation than a JPEG, and besides, short of deleting them, you can't do much damage to a RAW file. 
As you begin to work the image, look at the different ways you can adjust the file. You can start by lightening or darkening the image, using white balance to adjust the warmth, tweaking the curves to add more contrast or soften the tonal gradients. You can also try desaturating the image to black and white and using local adjustments to change the brightness in different areas of the picture.
Ideally you will find various ways to treat the one image. As a wild suggestion though, why not get a few of your photographer friends to each share a RAW file, and then see who can do the best postproduction job on that image. As the joke above suggests, I think you will discover there are actually dozens (if not hundreds) of ways of treating an image in post-production.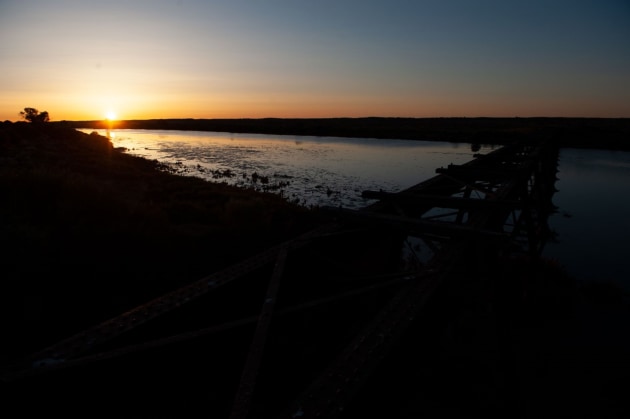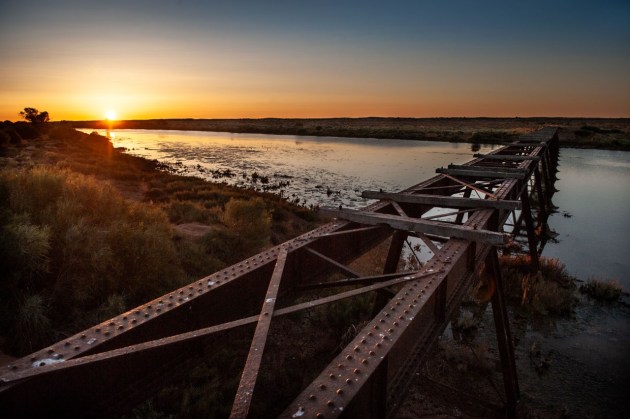 Day 25 - Working with reflections
Mirrors and other reflective surfaces can be wonderful to play with, particularly if, like Lewis Carroll, you can let your imagination run wild. Just as Alice found all kinds of fantastical things in Through the Looking Glass, photographers with the right inclination can also look into mirrors to create all kinds of wonderful images and amazing effects.
At the most basic level, you can use a mirror to capture a simple reflection. One common example of this approach is to create a photograph of a car's rear view mirror so that you are capturing a forward and backward looking view of a situation in a single frame. Some photographers have also used hand mirrors held into a scene to create an interesting juxtaposition.
Other photographers, most notably Murray Fredericks, have placed larger mirrors in landscapes to reflect skies or to create strong dynamic graphics.

All of these techniques are rather straight forward but if you want to get a little more complicated, and you can cope with seven years' worth of bad luck, you can break a mirror and use its fractured pieces to create an image that captures a more stressed and distorted view of the world. We suggest using an already broken mirror if you're going to give this a go… it's safer (physically and superstitiously)! 
And rather than making photographs in a mirror, you can also use a mirror to manipulate your light source. Instead of shining a flash light or a lamp directly at a subject, aim the light directly at a mirror and then use the reflected light to illuminate the subject. Note that this technique can become a bit more challenging if you start to place masks or other filters over the mirror.
Like most things within photography, you can only ever be limited by your own imagination!