Photo tips for isolation: Week four
Stuck at home and getting bored? Of course you are! Well there's never been a better time to learn some new photography skills.
Every week for the month of April we'll be sharing 5 new photo ideas you can try at home to challenge yourself and keep your image-making fresh while we wait for COVID-19 to pass. You can see the first week of challenges here, as well as week two and week three here.
All these tips just require the bare minimum of gear – a camera and a tripod, although a stack of books or a stool can work in a pinch if you don't have one. 
Finally if you want to use your images, our free monthly comp for this month is 'at home', and our overall winner will take home an amazing EIZO FlexScan EV2750 27 inch LCD Monitor with 12-bit colour palette (LUT) with an MSRP of $1,500 thanks to our great sponsors EIZO. You can enter here. 
Day 16 - Explore light on a Table Top
Light is an amazing phenomenon. It is both a particle and a wave, it has zero mass and it can travel 18-million kilometres in a minute - about the same distance the International Space Station travels in a month.
One of the most useful facts about light though, is that it always behaves in exactly the same manner, regardless of whether it is illuminating giant objects like the moon, or tiny objects such as insects. 

This fact is useful because if you can understand how light behaves on a small scale, you can understand how light behaves on larger scales. So, with this in mind we thought we'd encourage you to spend some time this week playing with light on a table top!  
To get started, find an object that you adore such as a small doll or a model car, and place it on a table. Now look at this object under different types of light, be it direct sunlight, overcast light through the window, or, when the room is dark (at night), with a desk lamp or the light from your smartphone or a laptop screen. Learn to feel what the light is doing. Look at the highlights and shadows and how they change under different light.
Move the object about in relation to the light, and also move yourself around the subject and light setup. Now explore what happens as you bring a reflector such as white paper or silver foil into the equation. If you have the opportunity, you can add a second light source into the equation, be it another desk lamp, a torch, or another smartphone screen; again, watch what happens with the highlights and the shadows. 
Everything you learn about light on the small scale can be applied to larger subjects, particularly if you are working in ordinary sunlight and overcast conditions. All that happens as you scale up when working with available light is the size of your reflectors. If you are working with photographic lighting such as strobes or LED lights, the cost of scaling up does get more expensive, but the lessons remain the same.
Day 17 - Solid Colours

Bold colours often make for bold photographs, which is why many advertising and fashion photographs regularly use solid colour backgrounds as a design element.
Strong reds, bright oranges, rich yellows, lush greens and aqua blues can all be used as solid backgrounds in a photograph and when combined with an interesting main subject the resulting image can have a lot of impact. 
There are a few different ways a photographer can use solid colours in a photograph with the most obvious being to find a solid colour about your home or neighbourhood and shoot against it. Another option is to use a seamless paper background that many professional photographers regularly use in their studios.
These paper backgrounds come in a broad variety of colours, and a choice of widths; a 1.35-metre wide x 11-metre roll will cost you about $80 and while a 2.7-metre x 11-metre roll costs about $150. Of course, you can also find a flat surface that you like and paint it. Just note that matt paint is better than gloss for this job; gloss paint can reflect any direct light thats shining towards it as highlights, and detract from the image.
The next step is to put a subject in front of your solid colour and make photos. To make this project easy for yourself, remember that you can easily shoot this idea on a small scale using some bright coloured card, Keep it simple and you might surprise yourself with what you can achieve!
Day 18 - Download your smartphone photos
While most of us are good at downloading and archiving photos from our cameras, the same cannot be said for our treatment of smartphone photos. Most of us grab snaps with our smart phone, share them on social media then promptly forget about them. That's not a problem until the phone gets lost or stolen, or simply decides not to work one day.
For this reason we thought this week we should spend time organising the photos on your phone!
One simple way to backup up your smartphone photos is to let your phone send everything to the cloud. The problem with the cloud though, is that most of us have limited cloud storage, particularly that free cloud storage that comes with Apple or Google accounts. Also, if you have limited storage on your phone then it's likely that you will eventually run out of memory on your device regardless of your backup options.

For this reason I prefer to go through my phone once every few months and transfer to my computer any photos I want to keep while deleting those other photos I don't need anymore - particularly the dozens of photos I made while trying to get a good pic of your dog, or those dumb photos I made at a party.
Working through your phone to save photos while deleting others is good practice for several reasons. As mentioned, it does free up memory on your phone but it also makes it easier to find photos when you do want to show someone some photos. This task is made even easier if you start creating albums in your phones photo app (as you might guess, I have an album devoted to my dog). 
Putting your photos onto your main computer, and ultimately a back up drive (or two) gives you a chance to protect your phone photos for the long haul.
Day 19 - Portraits through a window
The current social distancing rules might be stopping us from photographing people on location or in studios, but what about shooting portraits through windows? With a little bit of organisation you can encourage a friend or neighbour to pose in a window of their house, and the results can be really engaging. 
Making portraits through a window offers a mix of interesting elements. Firstly, with the subject looking outwards you will likely have good light on the subject's face. The elements within and around the window can also add to the story, be it curtains, the window frame or even the cladding of the house.

One of the most engaging "second elements" when photographing through a window though, can be the reflections in the window itself. If you get low with the camera, then chances are you will be looking at a reflection of the sky, and depending on the time of day you might have blue sky with clouds, or the warm tones of sunset overlaying the portrait. Depending on the conditions of the day you might even have raindrops on the window, which can also be an interesting overlay to your subject.
The only challenge when making a portrait of someone who's on the other side of a window is communicating with them, but if you ask them to put there mobile phone next to the window in speaker mode you give directions using your phone.

Given that the lockdown is potentially going to go on for another month, you could actually make a project of these window portraits. You could even try making the same portrait at different times of the day, just for the sake of seeing how light changes can change the feel of a photograph.
Day 20 - Print a photo
Now that we have had you making portraits of your neighbours and enjoying old photos on your smartphone, how about taking the opportunity to print one or two of these photos!?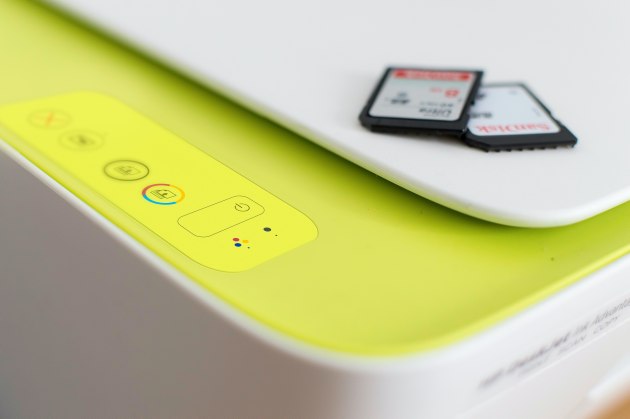 Years ago the majority of photographs we made were would be turned into prints, in fact many one-hour labs went through kilometres worth of photographic paper every week just printing our films. It was a wonderfully tangible way of enjoying our photos, particularly on those occasions when we would sit around in a group passing prints to one another.

With the digital age we have lost that hands on approach to celebrating our photography, in part because it is so easy to look at photographs on a screen.
If you have got a printer at home though, it is a worthwhile exercise to occasionally make a print, even if it is just to ensure your computer softwares is still talking to your printer, and that the calibration between your monitor and printer is relatively accurate. Besides, the opportunity to tape a few photos onto the fridge door might just liven up the mood in your house.