Review: Sony A7 IV
After a wait of more than three years, the successor to Sony's venerable A7 III is finally here.
Back in 2018, The Sony A7 III really marked a turning point for mirrorless. Here was an affordably priced full frame camera ($3,099) that had solid autofocus, great image quality and a familiar user experience, that made for a particularly compelling product then, and one that has remained so for many photographers even three years later.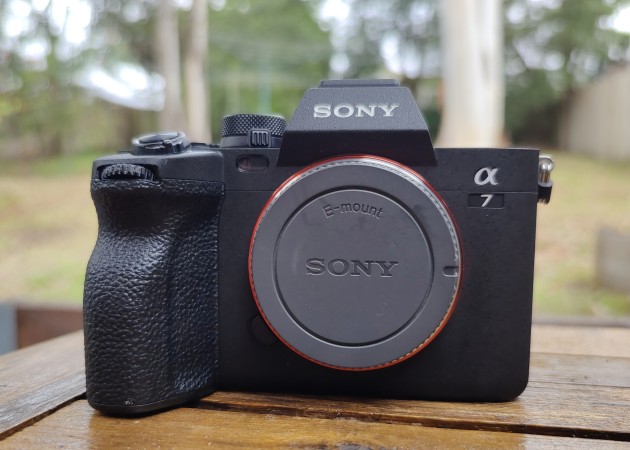 In fact, I've used one as my personal camera since it launched, and having shot nearly 50,000 frames with it I'm pretty aware of its strengths and weaknesses.
So, with the arrival of the A7 IV, is Sony's newest camera still competitive in an era when all the major camera brands have now 'caught up' and offer solid, lower priced, mirrorless cameras?
For this review I've had a pre-production model of the A7 IV for the last month, and I've been shooting it with a variety of lenses across as much varied subject matter as I could find in Sydney's lockdown. Also, as this was a pre-production model, I was stuck to shooting JPEG only, so you'll probably need to keep that in mind when it comes to pixel peeping.
Speaking of which, you can look at all the images in this review at full res at the dropbox link here. So, let's get into it.
The body
The first thing you notice when you pick up the A7 IV is it's definitely chunkier - it's now closer in form factor to the A9 series, the 7R IV and the A1. This is no bad thing.
As mentioned in our review of the A1 earlier this year, Sony has been refining the usability and bodies of their camera iteratively over the last few years and the new generation of A-series cameras have a deeper grip and a more substantial body that makes them more comfortable to hold.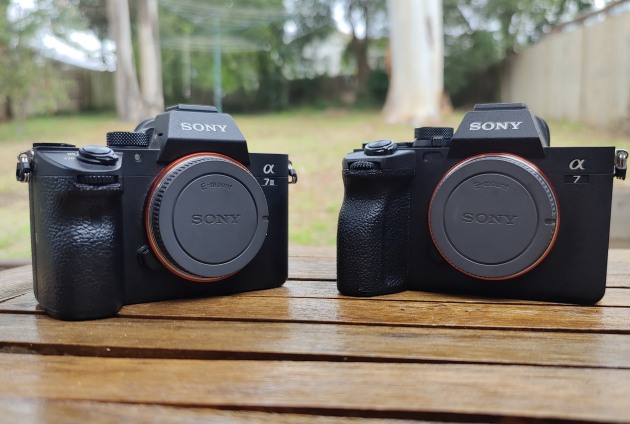 I always liked the feel of the A7 III, but I know some people found it a little uncomfortable to hold for long periods. It's really not the case with the A7 IV, which feels more solid and robust, and this is not with any significant weight penalty either, with the A7 IV just 658 grams including battery, compared to 650 grams for the III.
The body isn't the only thing that's bigger however. The buttons are chunkier and have better tactile feedback, with many the same as those on Sony's higher-end bodies. That means the A7 IV gets the same textured joystick-style button to move the focus point, and the On button, AF On, Menu and custom buttons have a more substantial surround and are bigger too.
The only other major change on the rear of the camera is the Video button has swapped places with a Custom button. There's three of these dedicated Custom buttons and one extra C button that's linked to the Delete/Trash button, as on the A7 III. 
On the right of the top panel, the exposure compensation dial features the same toggle lock as on the A1, but here it has no markings as it can be remapped to a variety of other dial-friendly settings - AWB, Av/Tv when in Manual, Shutter Speed etc.
Obviously what you set a dial like this to is a personal preference, but as someone who has always used the dial in this position for EV, I found it a little jarring at first to not have any visual cue to glance at on the top of the camera while shooting. Instead, you'll need to rely on either the EVF or rear LCD to confirm whether you've accidentally bumped the EV dial. 
The main PASM dial has also been tweaked, and now features a second dial underneath that allows for switching between stills, video and S&Q settings. In the pre-release information about the A7 IV Sony says that it considers a key audience for this camera being content creators and videographers, and it's clear that this thinking has shaped the design of the A7 IV which puts video functionality front and centre.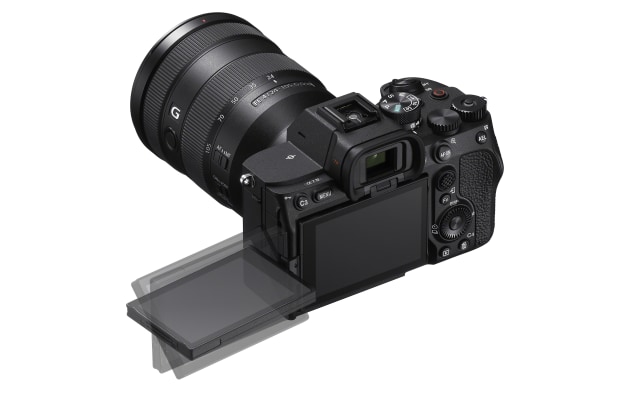 That's also one of the reasons why Sony has likely changed from the more traditional flip-out LCD to a Vari-angle LCD on the A7 IV as well. It's fully touch compatible and moves 360 degrees, allowing it to be turned to face the camera body which will protect the screen from damage. It's a great addition, and at 1.03 million dots is bright and easy to see even in full sun, although it can be a little slow on occasion to switch back to the EVF when you close it to face the camera body.
Behind a more substantial door on the right side of the camera (again borrowed from the higher end Sony models) you'll find one of Sony's new generation dual compatible card slots that can accept both CFExpress or SD, and a standard UHS-II card slot next to it. The weather-sealing on the door is significantly beefed up over the A7 III as well.
These are all welcome additions, and having the option of CFExpress which offers seriously fast read/write speeds future-proofs the A7 IV to a degree.
On the left of the camera behind a series of rubber doors is a full size HDMI port for attaching an external monitor. It's also where the camera can be connected to function as a webcam when connected to a computer or smartphone.
Like the III, there's a Mic input and Headphone output ports. The A7 IV features USB 3.2 (Gen 2) – Up to 10Gbps, twice the speed of the USB 3.1 port on the A7 III. And finally, the A7 IV is also capable of wireless streaming at 4K 15p. 
Autofocus
Having just come away from a month of using the Sony A1, I had pretty high hopes for the A7 IV's autofocus performance. but on paper at least, it doesn't sound like much of an improvement over its predecessor - 759 AF points compared to 693 phase detect points on the A7 III. 
However, it's probably the inclusion of what Sony calls its Realtime AF that makes the biggest difference. First introduced in 2019 with the A6400 and then added to the A9 via a firmware upgrade, it has since appeared on every subsequent camera including the A6600 and A7R IV.
In a nutshell, it allows you to indicate to your camera what your subject is, which you then trust it to follow. You do this by placing your AF point over the subject and then half-pressing the shutter to focus.
Through a combination of machine learning that can detect the eyes of humans, birds and some animals, and a number of other parameters to identify the subject, such as color, brightness, and distance information, the camera can keep track of the subject by automatically shifting the AF points as necessary. 
In use, it's particularly sticky - following most birds with relative ease, although I did find the eyes of some did throw it occasionally, such as Kookaburras that have particularly dark eyes that the Eye AF struggled to lock onto, although this was often at higher ISOs. In these cases, AF reverted to subject tracking, which worked fine for my purposes. I also tested the AF with flying swallows which move very quick, and although it's maybe a hair less reliable than the A1, it's still very impressive. 
Finally, although the A7 IV has the same 10fps burst rate as the A7 III, its buffer for both JPEG and RAW is significantly increased, from 182 with JPEG on the III to more than 800 on the IV.
Using the IV with one of Sony's Tough 800mb/s read 700mb/s write CFexpress cards I never hit the buffer, although this is also a very high performance card that no doubt helps with transferring data quickly. But regardless, if hitting the buffer was a problem for you with the A7 III, it looks to have been solved with the IV. 
Image quality
The A7 IV comes with a new 33 MP ExmorR CMOS sensor, that marks a significant jump in both image detail and how it controls noise over the 24.2 MP sensor in the III. Sony says it has made improvements to colour accuracy and dynamic range too, with the IV offering 15 stops of DR. 
For most of my testing I was using the in-built ISO Auto Min. SS setting to ensure I had a fast enough shutter speed to freeze the action of my subjects, and the plus side of this was it often pushed the ISO much higher than I would normally be comfortable with.
However, this is probably a good thing as you'll see many of the images in this review are shot at ISO 5000 or higher. The high ISO results are simply excellent, displaying notably less noise than my A7 III, especially in fine details like feathers, and this is 'only' with JPEGs as well.
Working with JPEGs, images still pushed and pulled easily, and could be under or overexposed a couple of stops at least. Of course, we'd need to look at the RAW files before making any bold claims about the dynamic range of the files, but indications are they hold up very well to editing. 
Finally, when it comes to IBIS, the A7 IV offers a pretty minor .5 stop improvement over its predecessor (5 stops vs 5.5). To compare such an incremental difference is pretty tricky, but I would say I comfortably handheld at 1/80s with sharp results with the A7 IV.
Video
As we mentioned earlier, Sony has beefed up the specs of the A7 IV. That means video maxes out at 4K 60p (S35), but this is also now 10-bit 4:2:2 as opposed to 8-bit 4:2:0 footage as on the A7 IV. I'm guessing some users may have been hoping for 8K footage, but that was probably always a tad ambitious and for now is reserved for the A1. By comparison, the A7S III, Sony's videocentric camera, maxes out at 4K 120P. 
Otherwise, the other significant improvement to video capability is the addition of stabilisation in Active mode, and the inclusion of the S-Cinetone picture profile. You'll probably find much more in-depth focus on the A7 IV's video capabilities elsewhere, but in our use footage was solid, with autofocus particularly impressive.
The wrap-up
Three years is a long time in the tech world, let alone the mirrrorless camera one, but Sony has made a series of solid changes to the A7 IV that not only updates one of the best mirrorless cameras of the past decade, but also brings it into line with the other A-series models.
As the last of the Ax III-series cameras to be updated, it felt for a while like an update to the A7 III would never come. But it's safe to say it's been worth the wait. Across the board, from build, to autofocus performance, image quality and video functions, the A7 IV is a truly modern mirrorless camera that is likely to be hugely popular, especially when you consider that Sony now offers more native mirrorless glass than any other manufacturer.
That said, we've had no word on pricing from Sony as of yet, and it's possible the value proposition that the A7 III brought with it back in 2018 may not be quite as sharp in 2021. But putting this aside, the A7 IV is a fantastic device that we can highly recommend, and a worthy successor to the A7 III. 
Update 22/10/21 - Sony has announced local pricing for the A7 IV at $4,299 AUD, a significant increase on the A7 III ($3,500 AUD at launch).
More images