Review: Sony 24-70mm f/2.8 GM II lens
As a professional conservation and wildlife photojournalist, five things are really important to me when I choose lenses. Weather sealing, autofocus (fast, accurate and quiet), solid image quality, weight and size.
So, when I heard rumours about the upcoming Sony 24-70mm f/2.8 GM II, I must admit I was excited - it seemed to tick all those boxes – so I ordered one in advance. Having now spent a few weeks using it, I can honestly say, it didn't disappoint.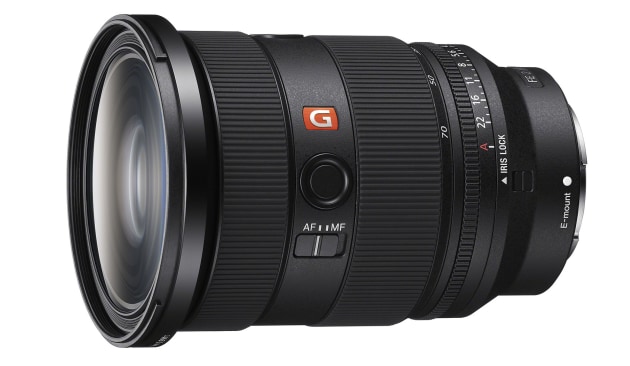 Build
At 120mm long (at 24mm) and weighing just 695gm, the Mark II is 16mm (12%) shorter and 191g (21%) lighter than its predecessor, making it currently the world's lightest and smallest full frame AF 24-70mm f/2.8 lens. Since the Mark I, the weather sealing (think dust and moisture resistance) has been improved. Like all new G Master lenses, the front element comes with a fluorine coating to help repel water droplets and oil (e.g. from fingerprints) and make cleaning easier. 
The reversable lens hood has also undergone an improvement, in that Sony have added a sliding filter window at the bottom. What this thankfully means is that you can now easily adjust a circular polarizing filter or variable ND filter without having to take the lens hood off – something I am sure landscape photographers and videographers will especially appreciate.
Like its predecessor, it still has an 82mm filter thread and there is no optical stabilisation, however if that's an issue, the lighter weight will make it easier to hold still if your camera doesn't have in-body image-stabilisation (IBIS).
Internally
Internally there is a new optical design of 20 elements in 15 groups (up from 18/13 respectively), and this includes two XA (extreme aspherical) elements to help improve resolution, as well as two ED (extra-low dispersion) and two Super ED elements - to help supress chromatic and spherical impacts. Some elements now also have Sony's new 'Nano AR Coating II' which they claim helps further minimise flaring and ghosting, although I couldn't test that.
The autofocusing mechanisms have been updated with XD linear motors, meaning faster, more accurate and near silent operation and the aperture mechanism is now an 11-blade unit (up from 9), helping provide a smoother bokeh when opened up, as well as more potential diffraction spikes (22 vs 18) when closed down. 
Sony state the minimum focus at 24mm is 21cm (down from 38cm on the Mark I) and a 30cm at 70mm, however I found I could get much closer. At 24mm, I could get focus at an amazing 6cm from the front element, and at 70mm, at 11cm. With this ability, would it be silly to call this a 'semi-macro lens with great wide-angle capability'? Maybe not! 
Externally

There are now four toggle switches (up from 2 on the Mark I). Firstly, and as with the previous model, there is a switch to control AF/MF. This model however has lost the 'zoom lock' switch designed to prevent it extending when transporting, and replaced it with a 'zoom smoothness switch'. This has two settings, smooth and tight.

When set to 'tight', the ability to zoom is dampened, so the barrel won't extend unexpectedly during transportation, or when being used at an angle. When set to 'smooth' however, it moves much more freely.
So, is this better? Well, I think so, because firstly, with the old zoom lock, you were committed to locking it in at 24mm, but now, you can pretty much 'lock it in' at any length – something that will be great for landscape or those shooting up/down. But secondly, you can still actually zoom if you want to when it's set to 'tight'. 
For videographers, most noticeably, the new lens also has an 'iris click' (on/off) and an 'iris lock' switch, all there to work with the new dedicated aperture ring. Like with the new 70-200 f/2.8 Mark II, the addition of this aperture ring now allows the photographer to directly control the aperture diaphragm from the lens itself, and in using these switches, the ability to turn off (by the 'iris click' toggle) the aperture click switch stops.

What this means, is that for the videographers out there, they can now silently and smoothly change their aperture as they shoot. No jumps or audible clicks. The addition of the 'iris lock' toggle also means that, as the name implies, the shooter can lock the aperture in, thereby helping prevent any accidental shifts when handling. Together, all these features are fantastic additions for cinematographers.
Finally, there are now two customizable focus hold buttons (up from one).
Image quality

I used the 24-70mm f/2.8 GM OSS II with Sony's A7 IV and Alpha 1, and not surprisingly, the results were really excellent.
Wide open (f/2.8) from 24mm to 70mm, the image quality was very sharp, and I didn't notice any unexpected or really bothersome barrel distortion, CA or vignetting. Sure, stopping it down a stop or two might have made a slight difference to sharpness, but nothing that jumped out with normal use.
And I know this may seem strange to many photographers, however I sort of liked that it didn't improve that much as I always ask myself 'why buy a professional f/2.8 lens only to then need to stop it down to get the quality I want?' And speaking of f/2.8 and shooting wide open, the bokeh was nice and now being able to focus much closer, I really enjoyed playing close up with a very shallow DOF - something I wouldn't normally consider doing in such a focal range.
Focus/zoom
This new lens has a Linear Response MF, which means that the focus ring responds directly and linearly to subtle control when focusing manually, and I found that worked well.
With a floating focus mechanism driven by four of Sony's extreme dynamic (XD) linear motors, when using autofocus, Sony state these motors improve the lens' autofocus tracking performance, and was told this could be up to two times better. How much better is it and is it, I couldn't really tell in field as wasn't flipping between the two, but what I can say is the autofocus was super quiet and most importantly, blisteringly fast. 
For the cinematographers, there is still some focus breathing when zooming, but Sony claim to have further minimised this as well as reducing focus and axial shift. And for those with compatible Alpha series cameras (e.g. A7 IV), the good news is that this lens can be used with their inbuilt focus breathing compensation, which will help minimise this even more.
And speaking of zooming and cinematography, as mentioned before, when set to 'tight', you can still zoom, but this increased resistance might offer some film makers improved smoothness when zooming. Having said that, I did find what I'll call a 'soft grumble' point (i.e. not silky smooth) when set to 'tight' and zooming between 25mm-35mmm, but maybe this will wear in and settle down.
The ratings
HANDLING ★★★★ 1/2
At this price level, you'd expect a premium build quality and the Sony doesn't disappoint. Great weather-sealing, good zoom torque, responsive manual focus, fast autofocus, light and small. A pleasure to hold and an ideal travel lens. I would have easily given it 5 stars if not for that very subtle 'grumble point' when zooming on 'tight'
IMAGE QUALITY ★★★★ 1/2
Sure, it's not a prime lens, has a little distortion when wide, and Lightroom doesn't have the profile to perfectly correct, but it does have impressive detail from wide open and to the edges at all focal lengths, offers great handling of CA, vignetting, has a nice bokeh when opened up.
FEATURES ★★★★1/2
I'm probably asking for too much, but I'd love to have also seen a DMF ability on this lens. But with faster and quieter AF, dedicated aperture ring (with the ability to turn the clicks off), improved minimal focus distance, better lens hood, two zoom torques, and fluorine coated front element, this lens has the features most professional cinematographers and many photographers will want in the field.
VALUE FOR MONEY ★★★★1/2
At $3299 RRP, and only about $300 RRP more than its (still available) predecessor, this lens is really good value and Sony have produced a vastly superior lens for a not so crazy price increase. 
Wrap Up
After a few weeks and a few thousand frames taken with the Sony 24-70mm f/2.8 GM OSS Mark II, it's simple to summarise by saying this lens is better in every aspect than the Mark I; weight, size, autofocus speed, sharpness, and all this with additional functionality. If you're paying RRP of $3299, that's only about $330 more than the RRP of the Mark I (which will still be available) and given this, the choice is a no-brainer.

The decision does however become more difficult when you see what the Mark I is now being discounted, and some places severely. I've seen $800 discounts and when you find these, the difference now becomes $1200 and then the decision becomes a question of whether: i) you have the money and ii) how important the upgrades and new features are.
I think if you are a cinematographer, again, it will be a simple decision. If you're a stills photographer and have the Mark I, that's much tougher. But if this is your first foray into a Sony 24mm-70mm lens, I'd say live a little, and get the best lens you can today.