Image Doctor: The critiques!
A regular part of Australian Photography magazine for more than a decade, the Image Doctors, photo educator Saima Morel and professional photographer Anthony McKee, can give constructive feedback on your images, with a selection of their favourite submissions appearing in print in AP mag every month.
This month's winner
TITLE: Dominance
PHOTOGRAPHER: Rosie Richards
DETAILS: Olympus E-M1 Mk II, Olympus 7-14mm f2.8 lens @ 9mm. 1/60s @ f2.8, ISO 400. 
"Taken during the annual giant cuttlefish migration in Whyalla, South Australia, this photo captures two males putting on a colourful show whilst competing for a mate."
Anthony's Tip: This is a beautifully captured image Rosie, made special by the fact that both the light and the exposure are perfect. One thing that would have made this image more interesting is if we could have seen the eyes of the two fish. I know this is easy for an armchair critic to say, but eyes are the one thing that most people look for in an animate subject, regardless of whether we are looking at humans, cats or fish. Had the photo been made just as one of the other fish was twisting towards the camera, it could have made the image just a little more captivating.
As this image stands, the one thing that I would do to improve the image is just to crop it slightly. Cropping the photograph about 10-15 percent from the edge of the frame will make more of a statement of the two. Aside from those thoughts though, this is a great image. Well done.
TITLE: Corella Reflections
PHOTOGRAPHER: Craig Baldwin
DETAILS: Canon 200D, Tamron 100-400 lens @ 300mm. 1/2000s @ f8, ISO 500.
"I have recently become interested in wildlife photography and this shot was taken not far from home in the Lockyer Valley, in South East QLD. The image was made on one of my first outings with a new Tamron 100-400mm lens. I would love some feedback on the shot".
Anthony's Tip: Hi Craig, I reckon this photo is very good for someone who is just starting out in wildlife photography, but there are two small suggestions I would make that would improve this image. The first would be to lighten the corella's reflection in the water; our eyes naturally go to the brightest part of the picture (the bird, not it's reflection) but if you were to select just the bird's reflection and then used the Curves tool to lighten the reflection to the same level as the actual bird, it would add some magic to the image.
Now, my next suggestion is to do with the cropping - I would love to see more blue on either side of this composition. If this image has been cropped then my advice would be to go back to the original file, maintain the vertical crop but see if you open the image wider so we can see those subtle waves and ripples in the water. Do that and I think this image would make a lovely piece of wall art.
TITLE: Merimbula sunset
PHOTOGRAPHER: Maria Spindler
DETAILS: Canon R6, 24-105mm lens @ 24mm. 3.2s @ f4, ISO 200.
This image was created using a tripod and remote control through my phone, using a Canon R6, 24-105mm lens. I set the ISO to 200, focal length to 24mm, exposure time 3.2sec with f/4. This is only the second time I have taken photos with a long exposure.
Anthony's Tip: Hi Maria, working with long slow speeds can be a wondrous adventure for photographers, in fact, myself and many other pros will often use ND filters to shoot long exposures in broad daylight.
There are two things I would adjust with this image. To begin with I probably would have increased the aperture to about f8 or even f11 so that your foreground was not so out of focus (this will increase your exposure time but you can also compensate with a faster ISO of 400 to 800).
My second concern though, is the dark foreground. Yes, you had the choice of exposing either for the sky or the foreground and you correctly exposed for the brightest part of the picture. If you were to shoot in RAW mode though, you can then use an adjustment brush to brighten the foreground. Alternatively you can just take this image into Photoshop, add a Curve adjustment layer to lighten the foreground, and then use a mask to brush back the sky.
Keep exploring with the slow shutter speeds, it is a fun adventure.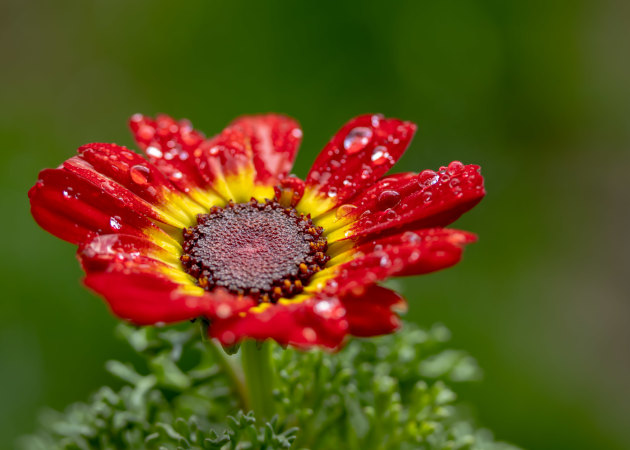 TITLE: Close-up of a red Chrysanthemum
PHOTOGRAPHER: Paris Mitchell
DETAILS: Canon 200D II, Canon 60mm f2.8 Macro Lens. 1/60s @ f3.5, ISO 100.
"The image consists of a red Chrysanthemum flower that I shot through a Canon 200D II, 60mm Macro lens. It was shot during the morning, with water droplets on the petals. I then edited it with both Adobe Photoshop and Lightroom".
Anthony's Tip: Hi Paris, years ago a fine art print company in London told me that flowers, along landscapes and nudes were their biggest selling works; my mentor later suggested I should be photographing nudes in the landscape holding flowers - but I digress!
The challenge in photographing flowers is to capture their elegance, but in this instance the flooded stamen (to which we are losing detail), the out of focus water on the lower left petal, and the fuzzy leaves just beneath the flower all distracting our eyes from the overall beauty of the subject.
Personally, I would be investing more time into your flower photos; try experimenting both with the design of the image and also the lighting. Some photographers will find flowers they like and then they will quite literally add coloured cards into the background, tweak away distracting foliage and even manipulate the light. Because flowers are such a small subject though, everything is manageable and photographing flowers can be a great way to explore design and light.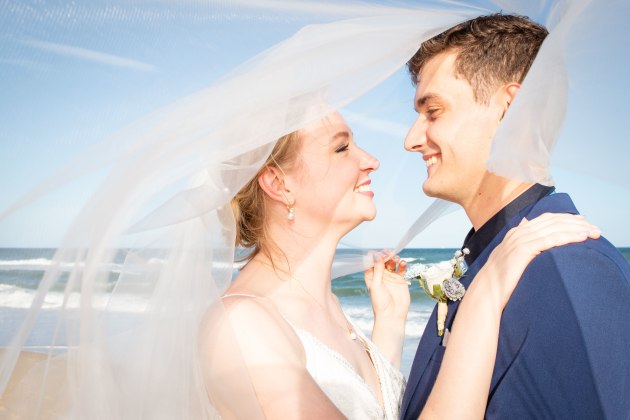 TITLE: Look of Love
PHOTOGRAPHER: Molly Foxcroft
DETAILS: Nikon D5600, 24-70mm lens @ 24mm. 1/160s @ f8, ISO 100.
"I had never photographed a wedding before, but was delighted when my friend asked me to shoot her special day. I really wanted to try an under the veil shot. It was a bit windy on the beach so I had to hold the veil with my left hand while trying to stabilise my camera and compose the image with my right hand. I am happy I captured their smiles as they looked into each other's eyes, but think the shadows on their faces and necks might be distracting."
Anthony's Tip: Hi Molly, photographing a wedding is a scary challenge for any novice photographer. One thing worth remembering though, is that the bridesmaids and groomsmen are there to help you, and if it is just you and the wedding couple, ask a friend to come help you with the shoot.
At the technical level my first concern are that the highlights (including the hands and the dress) are blown out. To avoid this I typically shoot in RAW mode and then use an adjustment brush to restore the highlights. Also, I would have moved back just a few inches more, or shot wider just to add to the sense of place. Otherwise, a good effort.