Sony announces $999 24mm, 40mm and 50mm full-frame prime lenses
Sony's rollout of new glass is rocketing along, with the Japanese company following up last week's announcement of the FE 50mm F1.2 GM lens with three compact full-frame E-mount prime lenses: the 24mm F2.8 G, 40mm F2.5 G and 50mm F2.5 G.
All three lenses have identical dimensions of 64 x 45mm, and are all lightweight, with the heaviest just 174g. The lenses are compatible with Sony's full-frame cameras like the Axx series, but will also work with the company's APS-C mount cameras like the Sony A7C, to make for a particularly compact and lightweight setup. 
On the inside, the three lenses use a combination of Aspherical and ED (Extra-low Dispersion) glass elements to help manage aberration and suppress colour fringing.
Autofocus is driven by two linear motors, and the lenses have a minimum focus distance range of 0.18m for the 24mm up to 0.31m for the 50mm. 
The lenses all feature a focus hold button which is customisable from the camera menu, a focus mode switch, aperture ring, and aperture de-click switch, a handy feature for video shooters. The lenses all feature Linear Response MF for more accurate control that 'feels immediate and intuitive'.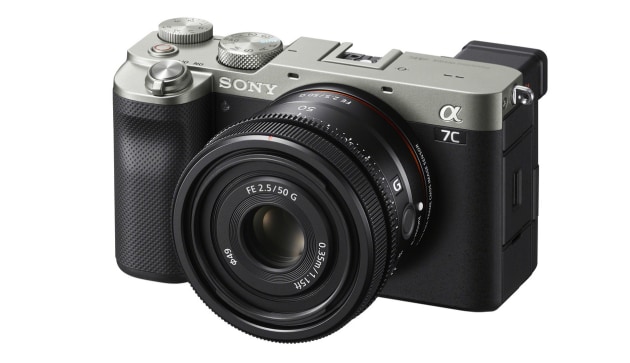 The lenses have an aluminium exterior, and all share the same 49mm filter thread, which allows the same cap and filter to be attached to both the hood and the lens barrel. The lenses are also dust and moisture resistant.
The FE 50mm F2.5 G, FE 40mm F2.5 G and FE 24mm F2.8 G will be available in Australia from early May 2021. Each lens is priced at SRP $999.00.