Review: Sony A7C
If there's one thing you could say about Sony's cameras, it's that they tend to stick to a relatively consistent formula – the A7 series is almost all indistinguishable save for a few incremental physical changes, and the A6000 cameras share a very similar DNA throughout the range.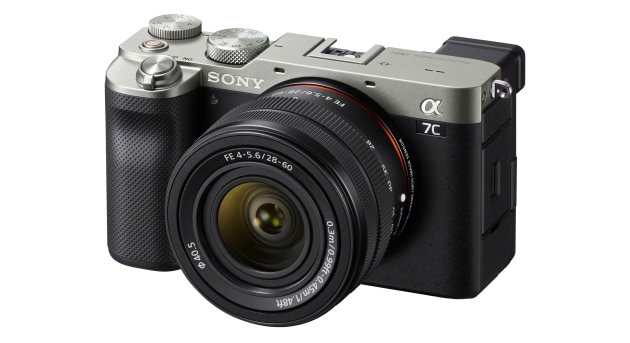 This means the A7C is quite an interesting camera for Sony – a completely new line that takes its design cues from APS-C models such as the A6600, but somehow squeezes a stabilised, 24MP full-frame sensor into a body of roughly the same size.
The A7C isn't the first compact full-frame camera we've seen before – with the most notable being Sony's own fixed-lens RX1R II – or more recently Sigma's fp, although that camera doesn't have a viewfinder or mechanical shutter like the A7C.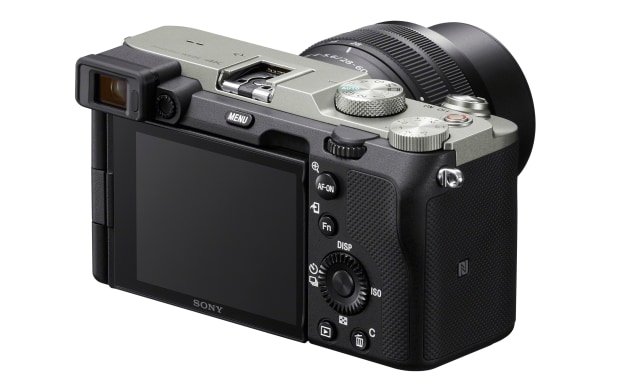 At launch, Sony also announced a new kit lens to go with the A7C, the FE 28-60mm F4-5.6, which we used alongside Sony's excellent 24mm f/1.4 lens for this review.
The body
Photographers familiar with Sony cameras will find the layout of the A7C immediately familiar, but that's not to say it's not without its quirks. On the top panel there's the familiar PASM and exposure compensation dials, but unfortunately there's no front dial, which can make switching between aperture and shutter speed a bit of a juggle in Manual mode.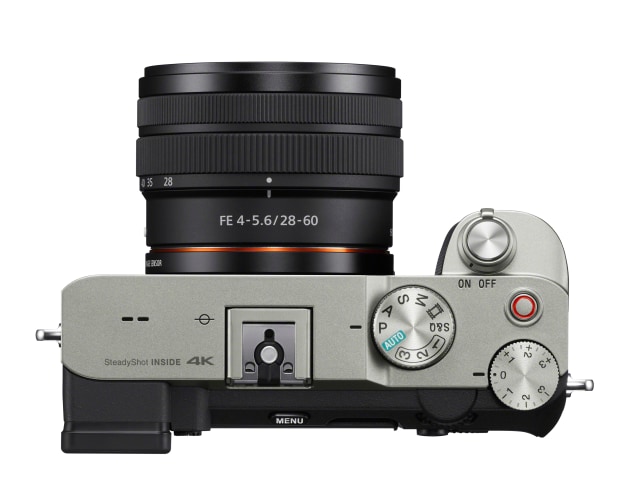 There are also no programmable custom buttons on the top panel which is definitely missed, as these can be great to map to things such as ISO or crop mode.
On the rear of the camera there's also no joystick for moving your focus point around, which is a feature I really like to use – although this is probably less surprising as the A6600 didn't have one of these either.
Speaking of the A6600, like on that camera there's no second card slot on the A7C. It's not a dealbreaker for me, but is definitely something to consider if you plan to use this camera in a professional setting. 
Otherwise, the body is comfortable to hold, and definitely compact. It's also great to see the inclusion of Sony's newer mirrorless battery, the NP-FZ100, in the A7C. It delivers fantastic battery life, to the point where I only charged the battery once for this review. If you're wondering, you can expect a CIPA rated 740 shots, or 225 minutes of video capture – very impressive.
Autofocus
With a mechanical shutter that can fire at up to 10fps and Sony's reliable autofocus, there's few surprises with the A7C. Autofocus is as tenacious as ever, even when light levels drop, and tracking AF is also very reliable.
That said, I did find myself favouring the rear LCD over the EVF for many of my shots as the EVF is on the small side at just 2.4-million dots, which leaves it trailing behind competitors such as the Nikon Z 5 and Panasonic S5.
On a positive note, the rear LCD is truly multifunctional – it now supports touch to focus and you can also navigate the menu with it. It's not the brightest LCD I've used, but it is responsive, and when combined with how good Sony's AF is, makes for a nice combo for shooting with the rear LCD.
Image quality
When I first get a camera in for review, I always go through a setup process – mapping buttons to a layout, setting up the autofocus system, that kind of thing. With the A7C, I forgot to change the file type from JPEG to RAW until about a week into the review, but I needn't have worried. Even the JPEGs from the camera deliver excellent results and low noise at high ISOs.
In RAW, up to about ISO 6400 delivers great results, with little to no notable fine detail loss, although this is probably to be expected in a full-frame camera in 2020.

Once you start shooting at 12,800 and higher, you'll notice detail and colour noise increasing, but the BSI-illuminated sensor does handle noise well – no surprise perhaps as it is the same as in the A7 III, which is still my personal camera of choice even two years on from its release.
Finally, Sony's 5-axis IBIS is also neatly integrated when you consider how small the A7C is. In use, I was able to shoot handheld at up to 1/8s.
Video
With its compact size and rear-facing LCD, Sony clearly see the A7C appealing to a videographer/blogger market, so it's a little surprising its video features are almost identical to that in the two-year-old A7 III, with 4K UHD recording at up to 30fps, and 1080p at 120fps.

It's also a little lacking when it comes to the more recent functionality built into the vlogger-friendly Sony ZV-1, with no sign of the smart metering mode and Product Showcase feature in that model. 
The wrap-up
I really enjoyed using the A7C, and can see its appeal for photographers looking for a more compact full-frame camera to use with their existing E-Mount lenses, or those who've been waiting for the right camera to upgrade from APS-C.
But at the same time, I would have loved to see Sony offer a little more value than the A7 III, which can be picked up for relatively cheap in 2020 and is still a fantastic camera for most applications.
But as it stands, the A7C is a great choice if you value size and weight but don't want to compromise on a full-frame sensor. Combine this with Sony's ever-reliable AF and excellent battery life, and the Sony A7C is a fine choice. ❂
Handling ★ ★ ★ ★
It definitely ticks the box for compact size, although I would love to see a few more dials and custom buttons on the body to make it truly versatile.
Features ★ ★ ★ ★
Solid, although maybe bordering on unremarkable when it comes to video. Some people may miss the second card slot and lack of a rear joystick.
Autofocus ★ ★ ★ ★ ★
Excellent. Sony continues to set the bar for autofocus performance and you'll find few subjects the A7C can't keep up with. However, it's probably not the best body for longer lenses.
Image Quality ★ ★ ★ ★
Very good. Although the sensor is likely an older one from Sony's A7 III, it still delivers excellent results in low light and nice, consistent colour.
Value For Money ★ ★ ★
This is a tricky one. With an RRP of $3199, this is a pricey piece of kit, especially when you consider the A7 III, a proven performer, can be purchased for less.