Review: Kingston XS2000 portable SSD
With many photographers relying on portable SSDs to manage their ever-expanding image libraries, the need for fast read and write speeds has never been greater. 
Kingston's newest XS2000 SSD is faster than most. It's rated to deliver both read and write speeds of up to 2,000mb/s, which puts it in the same category as the SanDisk ExtremePro we reviewed last year. However, the Kingston is even smaller, weighing in at a diminutive 28.9 grams despite still being a relatively durable unit.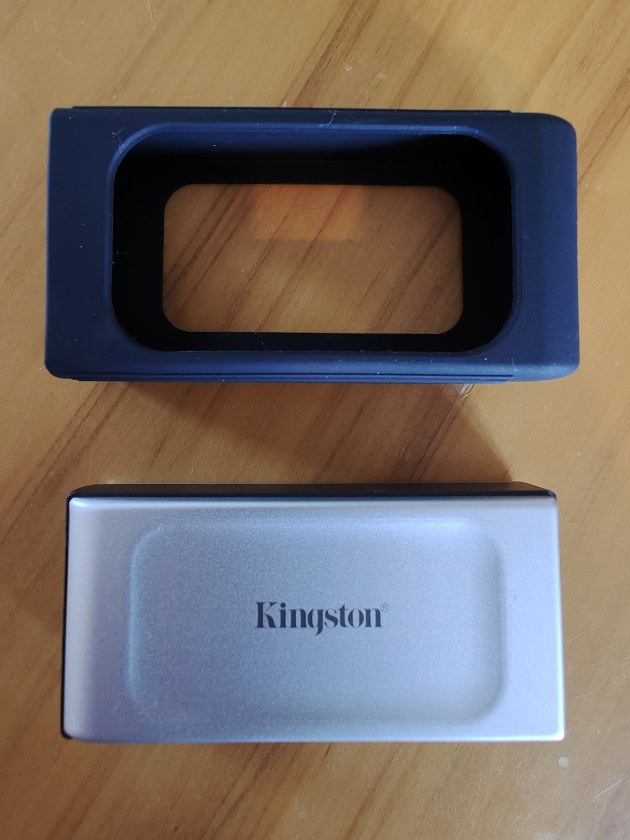 To add even more durability, Kingston have included a rubber sleeve in case the drive is dropped or thrown across the room by a grumpy 4-year-old - as in my case. The rest of the design is sleek and subtle, with a simple Kingston logo and a blue activity light next to the USB-C port. Included in the packaging is an 11.5" USB Type-C cable that's capable of matching the fast read and write speeds.
The 1TB model we were sent for review will set you back about $299, but there's also 500GB and 2TB versions available.
The drive is IP55 rated and shock resistant, although this only applies when the included rubber sleeve is on - so we suggest you keep it in place. 
Like the SanDisk ExtremePro, to achieve its highest transfer speeds, the XS2000 must be connected to a computer with a USB-C 3.2 Gen 2x2 port. This does limit its versatility, as the availability of this standard is still very limited, especially in the laptop world.
However, the drive is still backwards-compatible with USB 3.2 Gen 2 as well as USB versions 3.1 and 3.0, and will automatically default to the highest speed your system allows. 
Moving stuff
The Kingston XS2000 series is the first portable SSD family to use Silicon Motion's SM2320 platform. This new platform eliminates a USB bridge chip typically required in more traditional designs to lower cost and power consumption, which results in an SSD that is more streamlined with no loss of speed. 
Despite not being able to test the drive at its fastest transfer rates, I was greatly impressed with the speed of the XS2000. The drive made short work of a 48.9GB file, moving it from the SSD to my Mac and back in less than two minutes. This was confirmed when I ran it in Black magic design's Disk Speed Test, which gave Read and Write speeds averaging around 850mb/s - fast enough for most users.  
Kingston backs the XS2000 with a five-year warranty, and although some might be put off by the lack of AES 256-bit hardware-based encryption, the drive has found a welcome place in my camera bag as my new favourite backup device.