Review: SanDisk Extreme Pro Portable SSD 1TB
SanDisk's newest and fastest portable SSD may look a lot like its predecessors, but that's just about where the comparisons end. Under the hood it offers serious performance for photographers, video editors and data hoarders who need the fastest possible USB 3.2 standard to move big files quickly.

But this comes with a caveat - to really take advantage of its capabilities you'll need to have the latest transfer tech at hand.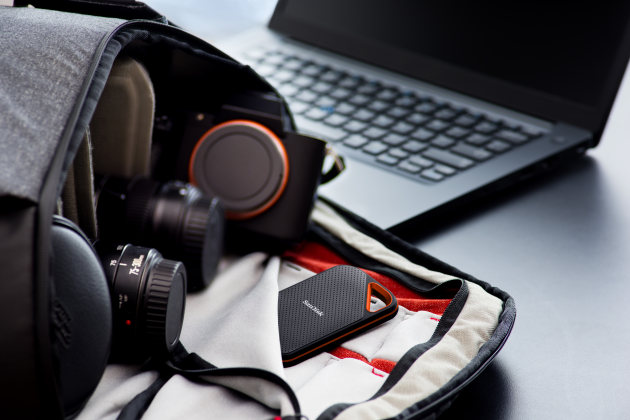 On the outside
Visually at least, the SanDisk Extreme design is largely unchanged from what we've seen before: it keeps the ruggedised rubber outer with orange carabiner/keyring clip, and in the hand it's still nice to hold. It's a compact unit too, with our 1TB review model measuring up at 11.2 x 5.8 x 1.15cm.

The drive is IP55 water and dust resistant, but it's worth noting that the port at the bottom remains exposed – leaving it a possibly entry point if you're unlucky enough to expose it to liquid.
Inside the rather minimalist packaging you'll find the drive and two 9-inch cables: USB-C-to-USB-C and USB-C-to-USB-A. That's better than an awkward converter dongle.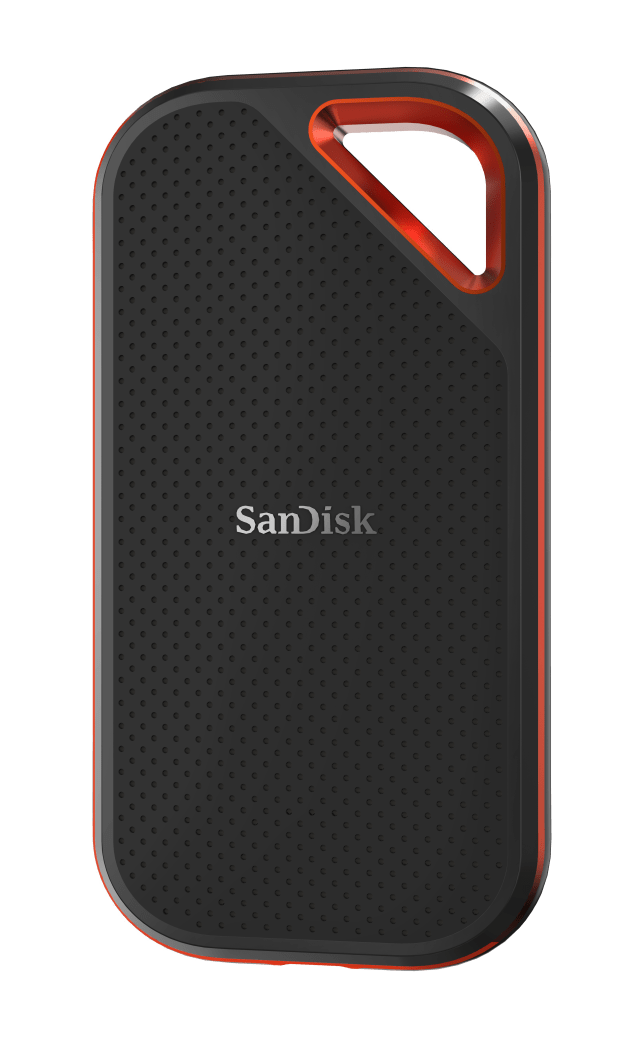 Moving stuff
Sandisk recommended I test the drive on a USB 3.2 Gen 2X2 port in order to avoid bottlenecks and experience the full performance benefits of the drive, but unfortunately my 2016 Macbook Pro only offers Thunderbolt 3 (USB 3.0), so I was limited with my testing.

That said and even with this bottleneck, speeds were still impressive – around 930MB/s, with the drive moving a 90GB file in about five minutes. The drive remained nice and cool to the touch throughout my testing as well.
Really the only problem with the Extreme Pro isn't a fault of it per se, but current market limitations. As of June 2021, there's not a huge number of devices on the market that support USB 3.2 Gen 2X2, and it means you'll likely need to look at a costly upgrade with an expansion card for your PC if you're serious about getting the highest 2,000mb/s speeds the drive is capable of delivering.

For everyone else, I think transfer speeds of around 1,000mb/s are probably enough for most applications – although you'll need to decide if future-proofing your storage now is worth the increase in price over the older Sandisk Extreme Pro SSD which are about $100 cheaper, and still max out at 1050mb/s. ❂