Review: Fujifilm X-T5
Shutter, ISO and aperture dials might seem retro to most of us, but for many photographers they are still exceptionally useful tools. At a glance you can quickly check and adjust your exposure settings, and be ready for your next shot - even when the camera is turned off!
One company with a strong commitment to dials is Fujifilm; their X100 and X Pro cameras are exceptionally popular with street and doco photographers and their latest offering, the X-T5 (RRP $3,099), should prove just as appealing.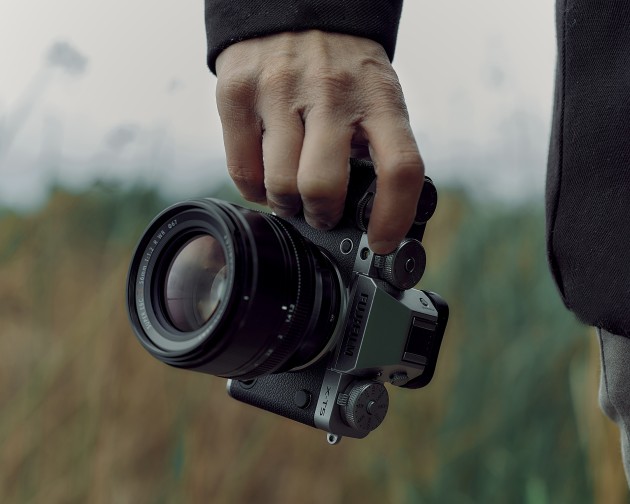 The build
As with previous X-T models, the X-T5 has an ISO, shutter speed, and exposure compensation dial across its top deck but now the X-T5 also shares the same 40-megapixel BSI CMOS sensor as Fujifilm's flagship APS-C camera, the X-H2.
When comparing specs, the X-T5 and X-H2 are quite similar; both share the same hybrid autofocus system, the same ISO range and same maximum capture rate of 15 frames-per-second. Both also have 7-stops of built-in image stabilisation and can capture 160-megapixel files using multi shot mode.
Where the X-T5 differs from the X-H2 though, is in size, storage and video performance; the X-H2 is larger with a deeper handgrip, and it has a CFExpress and an SD slot, (the X-T5 has two SD card slots).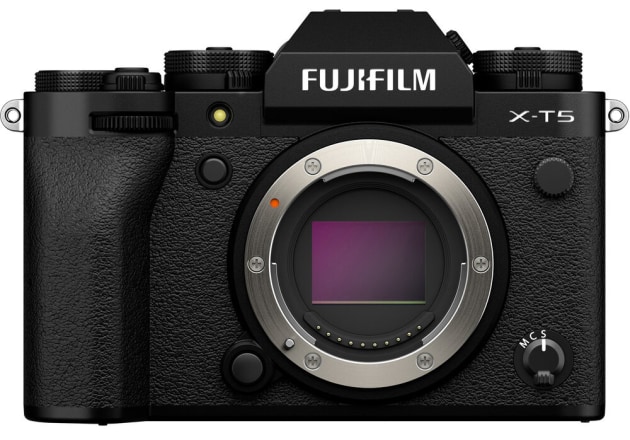 The X-H2 also captures video at 8K/30P while the X-T5 captures video at 6.2K/30P. So, if making meaningful photographs is more important to you than capturing video, the X-T5 is definitely just as capable as its larger sibling. 
I tested a black bodied Fujifilm X-T5 with a Fujinon XF 14mm f2.8 lens (equivalent to a 21mm lens in full-frame) and it was pretty easy to fall in love with the camera. Despite the small handgrip, the camera is comfortable to handle and it was easy to adjust exposure settings for the various light conditions as I walked through the city, even with the camera turned off.
I never had to worry about missing a shot either; the X-T5 turns on in just 0.49 of a second.
The X-T5 suits photographers who enjoy working in Manual mode, but Aperture Priority, Shutter Priority and Program modes are just a click away. Aside from the primary exposure controls the X-T5 also has front and rear command dials that serve a variety of functions.
In Manual mode the command dials can tweak your exposure in 1/3rds of a stop, but the command dials can also be used to manage ISO and exposure compensation.
The ISO dial is marked from 125 to12,800 ISO, but using the command dial this range can be extended to 64 and 51200 ISO, and the Exposure Compensation dial covers +3 to -3 stops, but this too can be extended to +5 and -5 stops.
The shutter dial covers 1-second through to 1/8000th, and again, the command dial gives you speeds as slow as 15-minutes in Manual and Shutter Priority mode, 60-minutes in Bulb mode, and up to 1/180,000th of a second when using the Electronic Shutter (useful for when you're working wide-open with Fujifilm's ultrafast f1 and f1.2 lenses lenses in bright light).
The command dials can also be pressed to activate other functions including the ability to zoom in quickly on an active focus area, or to switch be between adjusting the ISO or EV values to adjusting the aperture settings.

The LCD and viewfinder
The X-T5 has a 0.5 inch, 3.69-million dot OLED viewfinder thats easy to use, even when you are wearing glasses. Where the X-T5 differs from the X-H2 and its predecessor, the X-T4 though, is that is has a 3.0-inch tilting LCD display as opposed to the "selfie" style articulated LCD which can be awkward to use in a hurry.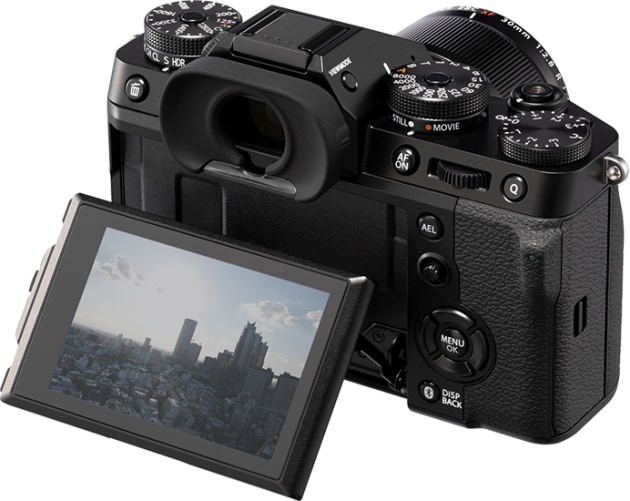 I normally use the viewfinder when composing conventional images, but the tilting LCD panel on the X-T5 is perfect for street photography, particularly when you want a lower viewpoint to help make your subject stand out from the background.
The X-T5's 1.89-million dot touchscreen LCD can tilt upwards or downwards when working in the horizontal position, and upwards when the camera is being held in the vertical.
Autofocus
Autofocus on the XT-5 is smooth and reliable, although this can be a relatively subjective topic, given it depends on what settings you like to use.
For my street photography, where I'm often grabbing moments, I frequently let the camera work in the ALL (focus-points) setting to decide the best point of focus, and in most instances it got things right for me.
When things got tricky, I used the touchscreen to nominate my point of focus and again, this worked well. I did find the focus stick on the rear of the camera to be rather small but you do get used to it.
One thing you notice about using the black X-T5 for street photography is that it is relatively inoffensive. Unlike some of the larger cameras I use, the X-T5 is small enough to be innocuous, particularly when you are working with the prime lens, and it is also quiet.
With street and doco photography it is usually the moment that predetermines everything, and being able to crop a 40-megapixel file is exceptionally useful.
The photograph of the young boy at the photo booth is a great example; the image was shot with a 21mm (equivalent) lens but I cropped down to about 28mm (equivalent) and still ended up with an extremely useful 24-megapixel file.
Image quality
Overall image quality from the X-T5 is excellent, offering some of the best looking files you are likely to see from any APS-C camera. JPEGs are clean and noise-free across the better half of the ISO range, although some noise starts creeping at 1600 ISO and above.
Overall sharpness is excellent too, though Fuifilm suggests that some Fujinon lenses are going to perform better with this camera than others, but thats common in most systems as sensors keep improving. 
What I dislike most about the Fujifilm X-T5 are the film simulations and complicated image control options that consume so much of the camera's menu. Seriously, who's going to be wondering "should I use Acros or Astia" when your subject is passing by and the light is changing?
I would be much happier if Fujifilm simplified the menus (or provided the option of a Basic or Enhanced menu system), and instead created some amazing film simulation plug-ins for Photoshop and Lightroom that Fujifilm users, in fact anyone could subscribe to.
Let's not forget, Fujifilm owes its existence to the millions of Nikon, Canon, Olympus and Pentax camera owners who were using Fuji film long before digital cameras were ever a thing. It's not too late to keep sharing the love!
Overall the X-T5 is a great street and doco camera, and its also ideal for travel and landscape photography; the slightly smaller size lets it easily fit into a small backpack and the weather sealing ensures you'll keep the dust and rain out in most situations.
Would I use the X-T5 for sports or wildlife photography? No, but I wouldn't use a Leica M-series camera to photograph sports and wildlife either. But like the Leica, the Fujifilm X-T5 has been designed for those photographers who enjoy capturing life's nuances, and for this the XT5 is a great camera.
The wrap up
Handling ★★★★
This X-T5's compact form is comfortable in the hand and the analogue controls make it easy to manage your exposure options. Quick start-up time also means you should never miss a shot.
Features ★★★★

The 40.2MP X-Trans CMOS sensor and new X-Processor 5, and 7 stops of Image Stabilisation provide photographers will a strong tool set for making great images. The tilting LCD display (as opposed to the articulating display on the X-T4) should keep people happy too.
Exposure and autofocus ★★★★
Getting the exposure right is relatively easy with the X-T5, regardless of wether you are working in Manual or the auto-exposure modes. The auto-focus is good and reliable for most applications, although I would probably not rely on this camera for shooting complex action and sport.

Image quality ★★★★★
The X-T5 provides remarkably good image quality, and when using some of Fujinon's better lenses, the 40-MP sensor could easily deliver images that are as good as some full frame cameras. JPEGs also have that beautiful colour and punch that you expect from Fujifilm.

Value for money ★★★★
At $3099 (RRP) the Fujifilm X-T5 is not cheap, but it is pitched at people who think as photographers and know what they are doing with a camera. I don't think those people are going to mind paying for this next level of Fujifilm camera and the image quality it delivers.
Final word
The X-T5 is never going to be all things to all people, but the image quality that this camera delivers is definitely going to keep a lot of Fujifilm devotees (and a few converts) very happy.