Review: ASUS PA279CRV image-editing monitor
A year ago we reviewed ASUS' PA279CV image-editing monitor, and at the time we wrote that we were impressed by its low price (about $850) and solid performance, so much so that we awarded it our coveted Gold Award.
But now ASUS have gone and updated that model, with the PA279CV now replaced by the PA279CRV (note the 'R'). So, what's it all about?
Well, the first thing to note is that the winning formula remains almost the same in the new model. It's still a 27-inch widescreen with a native resolution of 3480×2160, and it still provides 4K resolution, a 60Hz refresh rate, and supports HDR 10. It'll also still set you back a similar price, as it has an RRP of $849. 
The changes over its predecessor are an improvement in the USB-C power delivery (from 65 watts to 96 watts), along with the addition of a DisplayPort-out port, a space-saving base that's 33% smaller than its predecessor, and a 30% slimmer profile that measures just 8mm at its thinnest point.
The build
Out of the box, the PA279CRV is a striking monitor, with that slimmer profile showing itself via bezels that are almost non existent on three of the edges, with the bottom edge a sleek brushed metal panel with seven buttons.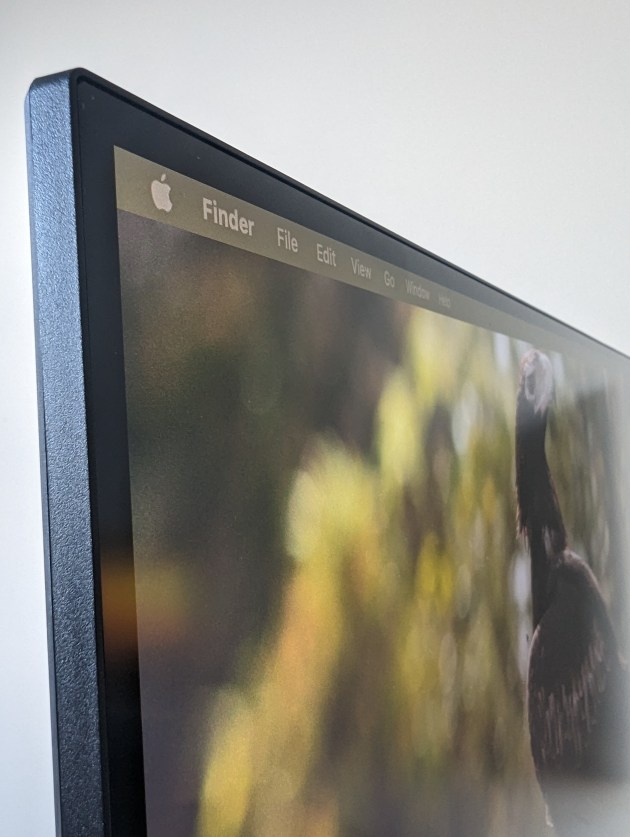 From left to right there's an on/off switch, five identical menu buttons, and a directional pad for navigating around the menus.
The buttons can be backlit which is a nice touch, but it does seem a little redundant that all five buttons in the middle perform the exact same initial action, which is bringing up the default menu.
From there, the buttons then serve to access different settings, but it does feel like just one 'menu' button would have been enough.
Luckily the on/off button is also textured, as it's the same size as the menu buttons so you probably won't accidentally turn the thing on and off unless you're particularly ham-fisted. 
The metal stand is solid, and also quite small, taking up precious little real estate on my desk. It's also easy to adjust between vertical and horizontal orientations with a twist of the monitor itself, although you'll need to first raise it up to avoid scratching the screen against the base.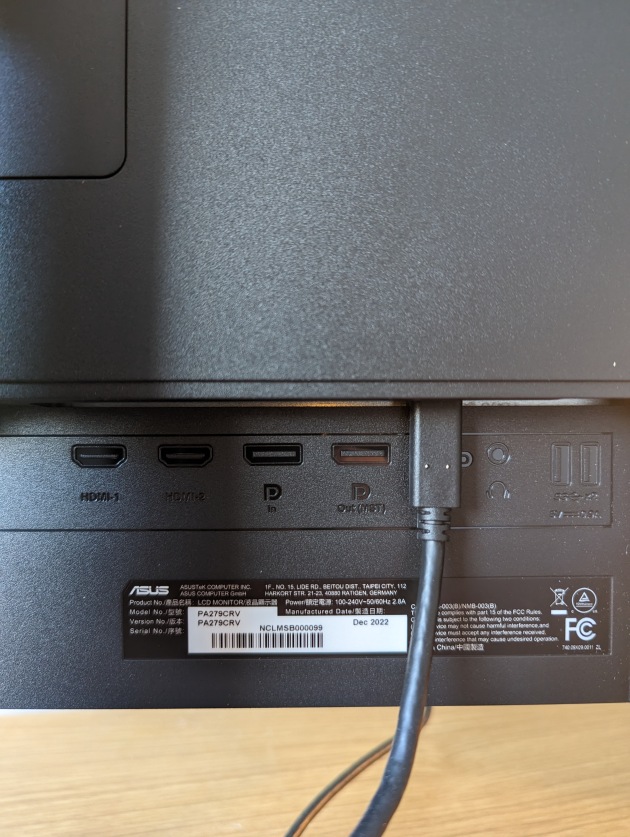 Onboard there are also two 2-watt speakers, but these aren't worth writing home about - they're pretty tinny sounding, but are typical of bundled monitor speakers. 
Finally, it's worth mentioning that the monitor can also work as a USB hub. A built-in USB 3.2 hub at the bottom of the monitor includes one USB Type-A port and a USB-C port, allowing easily connectivity for a variety of devices and peripherals, as well as charging compatible devices like cameras.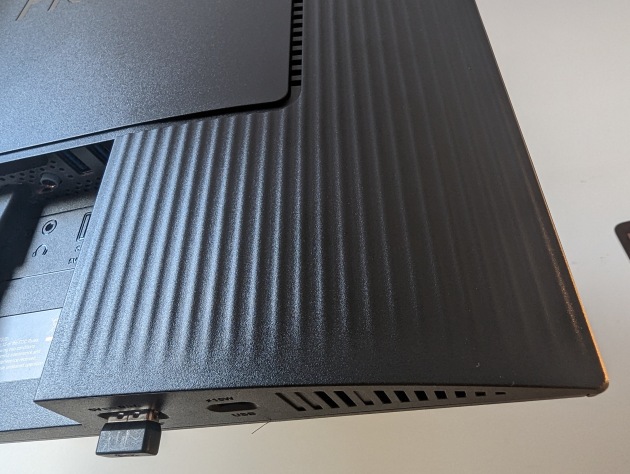 I've use the USB-C port to charge both my phone and camera, and I also added my wireless keyboard and mouse USB Type-A dongle to the Type-A port to further reduce the number of cables on my desktop. The addition of these ports alongside the 96W USB-C power delivery to charge a laptop (for example) really reduces the number of cables you'll need on your desk. 
Image quality
As you'd probably expect, with a 3480×2160 4K resolution, the PA279CRV is sharp as a tack, and it's also bright enough that you shouldn't have any issues using it even in full daylight.
That said, peak brightness is actually lower than its predecessor at 366 nits compared to 402 on the PA279CV. 'Nitpickers' (sorry...) might be put off by this, but I still found the monitor bright enough in my home office.
In regards to colour gamut, the PA279CRV spans 100 percent of sRGB, 99 percent of DCI-P3, and 98 percent of AdobeRGB, which is up considerably from the 84 percent of AdobeRGB coverage you'll find on its predecessor.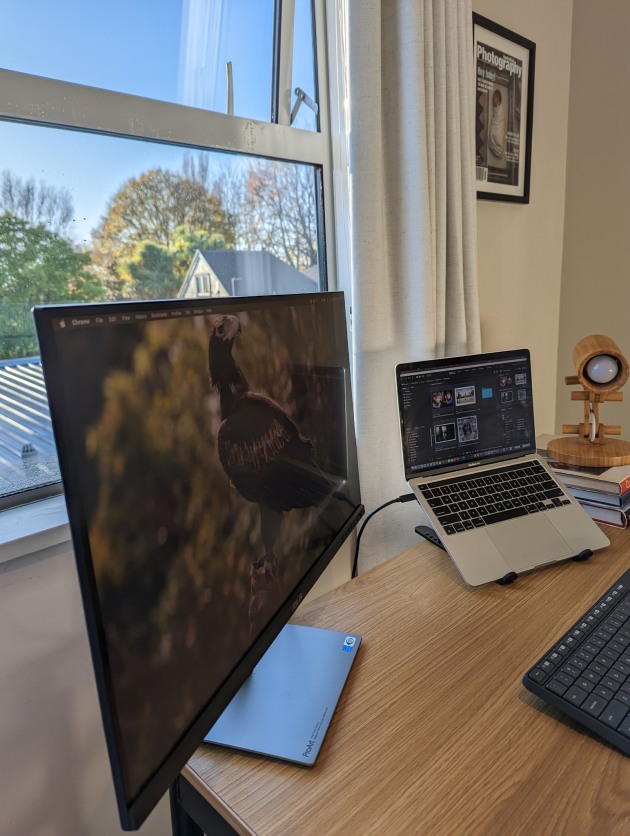 Colours are rich and vibrant, although I did find the blacks could lack contrast on occasion, and I have read some reviews that were critical of the PA279CRV's colour accuracy. 
However, for my uses at least, which includes judging photo competitions, image editing and general home use, I found the colours acceptable for most tasks straight out of the box, and the monitor's extensive customisation options will help picky users tweak the colour accuracy to their heart's content if necessary.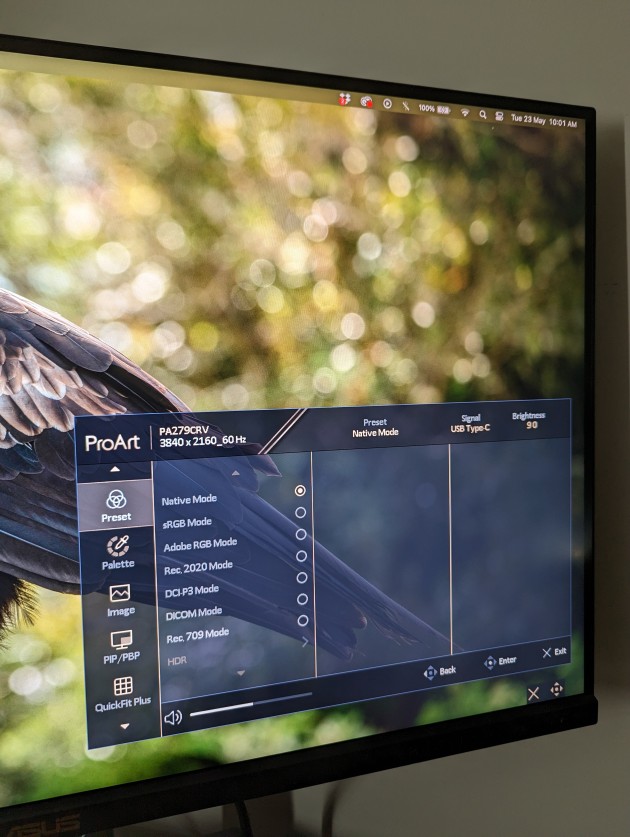 Speaking of the menus, delve in and you'll find extensive image calibration and tuning options. ASUS includes multiple preset modes for sRGB, Adobe RGB, Rec.2020, DCI-P3, DICOM, and Rec. 709 colour gamuts, so if you're working in these colour spaces, configuring the monitor is quick and easy and simply a matter of choosing the appropriate preset.
In addition, further customisation can be achieved through a "Palette" sub-menu, which provides dedicated Brightness, Contrast, Saturation, Hue, Colour temp, Gamma, RGB tuning and Black Level adjustments, which can be helpful if you fancy finessing results even further. 
If you shoot and edit 4K, being able to edit at native resolution is a nice bonus. The PA279CRV is VESA DisplayHDR 400 certified, which means it can display HDR content, although its worth noting this is at VESA's lowest tier of certification.
I tested HDR by watching YouTube videos in 4K via the Real 4K HDR channel. With these, fine detail was excellent in both the standard (Medium) and Dynamic Dimming HDR modes, although if HDR content is important to you and your workflow you'll likely look elsewhere to a panel with greater brightness and better dimming technology.
The wrap-up
Set-up and Handling ★★★★
The monitor is easy to set on the stand and will only take a minute or two. It's solidly built and feels premium. 
Features ★★★★
The addition of the USB hub features and 96W charging are great, especially at this price point. 
Image quality ★★★★
The screen is sharp and displays good colours out of the box, and the addition of a pre-calibration report in the box is a nice touch. The matte screen is great for bright spaces.
Value for money ★★★★
At just $850, the ASUS ProArt PA279CRV is a great value for money.
Final word
Although it may not be a huge update over its predecessor, the ASUS ProArt PA279CRV offers impressive bang for your buck, a sharp screen, solid colour accuracy, and a lovely build quality that makes it a compelling choice in the entry-level image-editing monitor market.
For many photographers, a monitor like this is probably all you really need, although users into gaming or serious about viewing HDR content would probably want to look at other models which perform better for these tasks. 
If you're in the market for your first image-editing monitor or a screen to expand your home desktop, the PA279CRV is a solid option.
Plus, if you purchase before the end of August 2023, it will also come with a three month subscription to Adobe Creative Cloud, a nice bonus. 
You can find out more at ASUS' website.