Review: ASUS 27-inch ProArt PA279CV monitor
There are a tonne of photographers out there who are now eagerly eyeing up the monitor market. Why? Well, the mighty Apple Mac Studio has recently launched and it doesn't come with a decent monitor (sigh).
But also, there are many laptops powerful enough to be a photographer's 'main' computer today – though most will find their tiny laptop screens are not conducive to spending long days in front of the computer.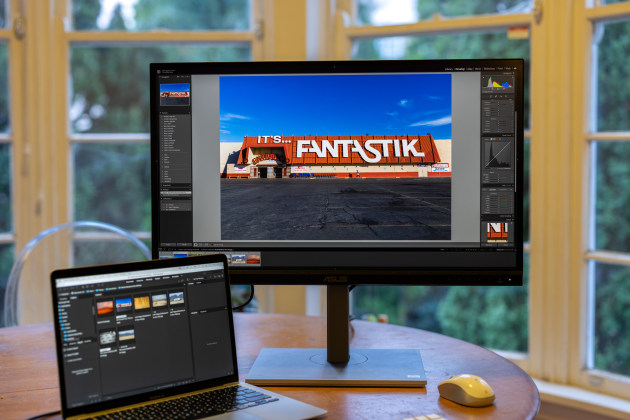 But there are other reasons for wanting a new monitor. You may just need another monitor for more screen real estate; or perhaps you want a colour calibrated screen that you may use exclusively for soft proofing & printing.
Whatever the reason, the ASUS PA279CV is a decent monitor which may fit the bill. Or more to the point - won't cost you a lot of bills. It's insane how much you can spend on a monitor these days. Personally, I'm not ready to sell a kidney for a $30,000 Sony Trimaster Pro Monitor. Nor can I really justify the $4K-$10K range at the moment. Then there are more semi-pro monitors from $1500-$3500. Amazingly, the PA279CV sells for around $850!
Framed
The ProArt PA279CV is a low to mid level IPS monitor which may be the pick of the bunch in its price range. The frame is fairly non descript, and and like most good frames it fades into the background due to the 'frameless' design. The bottom bezel has ruler markings which are probably not really necessary and more of an interesting inclusion. In Photoshop you can 'view rulers', but then again, the monitor's rulers are an easy, quick way to see standard print sizes.
Like most monitors, it doesn't look great from the back, but most monitors have that part facing a wall – so no real problem there.
The monitor ships with a faux metal stand. It is solid and wobbles a tiny bit if you shake the table (along with my other monitor). Reviewers have complained when a stand wobbles a bit, but what are they doing wobbling their tables around – who does that!? The stand can tilt, pivot, rotate and you can even adjust the height easily. It really puts overpriced Apple monitors to shame with its functionality.
Control of the menu is via a row of neat square buttons on the front and are fairly easy to navigate between the tonnes of different settings.
Where the monitor does shine is with its 65W USB-C port which makes it very easy to attach to a laptop and charge at the same time. You also have HDMI, USB-A and Display port 1.2 as well as the obligatory 3.5mm audio output.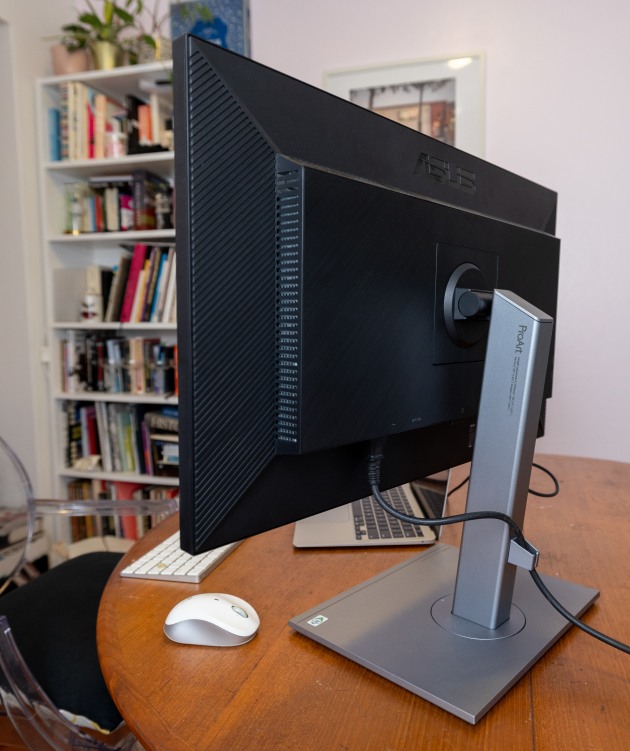 Finally, the pair of built-in 2W speakers are not going to melt your ears off, and it is questionable why they are located at the top of the monitor frame facing up to the ceiling. You would think they might face down so they would bounce soundwaves off your desk. My advice is to use other external speakers if you can – or like I do – headphones.
Visuals
When you read a lot of monitor reviews, it's easy to forget that screens like these are very capable viewing monitors as well. To test the PA279CV, I watched Bladerunner 2049 and Once Upon a Time In Hollywood in 4K and both looked amazing. Each movie had loads of highly detailed dark shaded images with pops of neon colours and warm California sunlit vistas.
Lots of people talk about colour accuracy like it's the be-all and end-all– but in reality I've never met anyone who says things like 'Pretty sure that green is a slightly 0.003% lighter shade in 'reality'.
I mention this because there is a scene in Bladerunner where someone says 'talk to the guy in the green jacket'. I have watched that scene on four different monitors and none of them really display his jacket as what I'd consider to be 'green' (it is a shade of murky black green at best).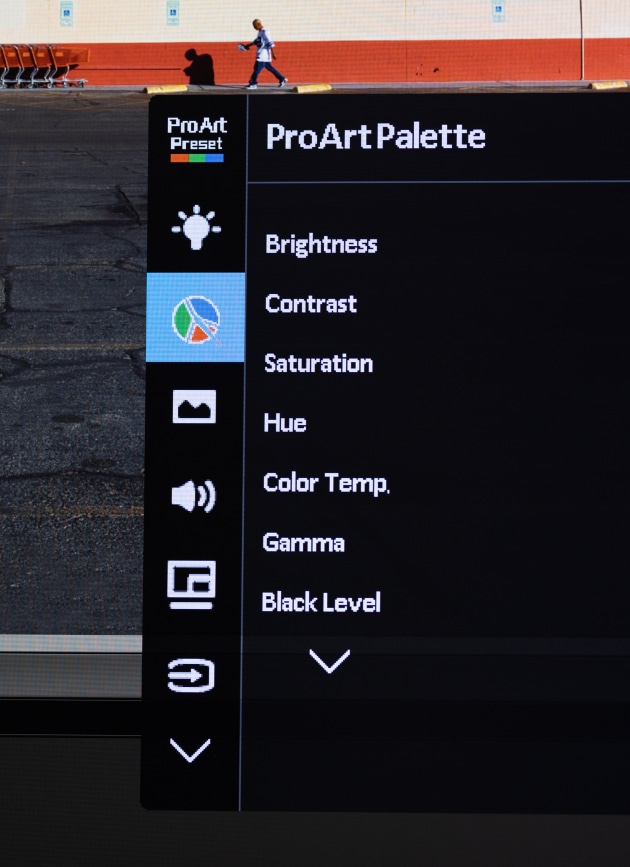 But where colour accuracy really does matter is when you are printing / soft proofing with Adobe RGB (this monitor is 84% of Adobe RGB), or you are colour matching / grading film. Generally, sRGB is going to get the job done in most cases and this monitor accommodates 100% of sRGB gamut and Rec 709 (the video standard version of sRGB).
Using sRGB mode with Lightroom is most likely most photographers 'go to' set up. It means that your outputted work will be displayed on phones, TV's and other generic monitors very accurately.
The panel itself is fairly uniform and good for its price range. Text is crisp and although not 'retina' or 218ppi, you won't notice at normal viewing ranges. It is very bright at around 400 nits (peaked) when turned up fully – but I'm not sure if it is true HDR as claimed on the box. To get a real 1000+ nits HDR monitor you are looking at a much much higher price range. 
The 10 bit colour FRC (Frame Rate Control) is standard for this price range – in fact most monitors are FRC. It's quite interesting how it works. Just say the monitor can create two very subtle (8 Bit) shades of green but can't create the actual 10 bit colour between those two subtle shades.
The monitor will flicker so quickly between those two subtle shades to create the shade in between, thus giving the imperceptible effect that you have 10 bit. Sure, I'd like to have true 10 bit – but will you really notice it, or will you only notice the lack of money in your account?
Finally, the matte screen dulls reflections down a tonne. As per usual, it's best to set up your monitor where there are no lights or windows behind you, but if that is inescapable, this screen's brightness is more than sufficient to deal with normal office lighting conditions. 
The Wrap-Up
Set-up and Handling ★★★★★
The monitor is easy to set on the stand and I did it solo. But if you consider yourself to be clumsy – do it with assistance. USB-C makes attaching your computer too easy. Front button controls are also easy to operate and understand. 
Features ★★★★
A 4K IPS screen with frameless design that has a range of other ports on the back means you can attach other peripherals to the monitor (printer / mouse / back up drives) and just plug your laptop in and be ready to go in seconds. Being from the ASUS ProArt range means it is definitely a step up from other basic office monitors when it comes to other photographic features.
Image quality ★★★★
Being Calman colour calibrated out of the box is a good bonus with an actual pre-calibration report in box. Images and text look good. It is also flicker free and has low blue light for long hours at the desk. Being 100% sRGB isn't revolutionary – but it is good to be assured that it is.
Value for money ★★★★★
With a recommended retail price of just $850-$900, the ASUS ProArt PA279CV is one of the best 27" 4K monitors in that price range - simple. 
Who is this for?
You really can spend insane amounts of money on a monitor. Expert / professional level monitors start at around $3000 - $9000. I recommend this monitor for photographers on a budget who the majority of their work will be seen online, or someone who just wants another decent, reasonably priced second screen. If you do end up upgrading to a pro level monitor in the future, this will be a more than decent second screen. Plus, ASUS are currently running a promotion where you'll get there's a three month Adobe Creative Cloud subscription with each purchase. More here.  
Specs
Panel Size: 27 inches
Panel Aspect Ratio: 16:9
Native Resolution: 4K / UHD / 3840 x 2160-pixels
Refresh Rate:  60Hz
Panel Technology:  IPS
Viewing Angle: 178 degrees
Brightness: 350 cd/m2
Static Contrast: 1000:1
Gamut: 100% sRGB and 100% Rec. 709.
Connections In: 1x USB 3.1 Type C upstream with 65 watts power delivery. 4x  USB 3.2 Gen 1 Type A, 2x HDMI 2.0,  1 x DisplayPort 1.2 and a 3.5mm stereo headphone jack.
Power: 100-240 volts
Power Consumption: <32W
Supplied in box: Monitor, Stand and Base, Pre-calibration report, USB-C cable, DisplayPort cable, power cord and Warranty Card.Dimensions (HxWxD) w/o base: 614mm x 369.9mm x 59.9mm
Weight 5.7 kg without stand, 8.6kg with stand
Price: $850-900
More info: asus.com