Nikon announces its fastest ever lens: NIKKOR Z 58mm f/0.95 S Noct
After teasing its development last year, Nikon has announced its fastest lens ever: the NIKKOR Z 58mm f/0.95 S Noct.
Described as a "stellar design of form and function with outstanding point-image reproduction, elaborate rendering, and exquisite bokeh," the Noct (latin for night) promises the highest rendering performance in NIKKOR lenses and should be a potent tool for well-heeled photographers who like working in low light. 
The completely manual focus lens comprises 17 elements in 10 groups. There's three aspherical elements, as well as a nano crystal coating to help control flare and ghosting.
Despite the relatively long focal length, Nikon expects the lens will be popular with astrophotographers. The company says that the lens will reproduce point light sources across the entire image area, and crisp images can be captured even when a light source is located within the frame.
Physically, the Noct is huge. Machined from a metal ingot, it weighs 2,000g and measures 102 x 153mm. There's a massive focus ring, and at the top of the lens barrel an information panel display that can show confirmation of aperture, focus distance and depth of field, even in dimly lit environments. Like the other S-series lenses, the customisable control ring offers access to aperture or exposure compensation.
Completing the design of the lens is anti-fouling performance courtesy of Nikon's fluorine coat applied to the front lens element, helping repel dust and dirt even when it adheres to the lens surface. There's also dust- and drip-resistance built-in.
And finally, the price. Nikon Australia hasn't announced local pricing yet, but in the US the lens will retail for an eye-watering $8,000 ($11,860 AUD). It should be available from late October. 
You can see some images taken with the Noct courtesy of Nikon below. 
Meanwhile, the company also shared the latest roadmap for upcoming Z-mount lenses, with a 70-200mm f/2.8 and 100-400mm lens in the works.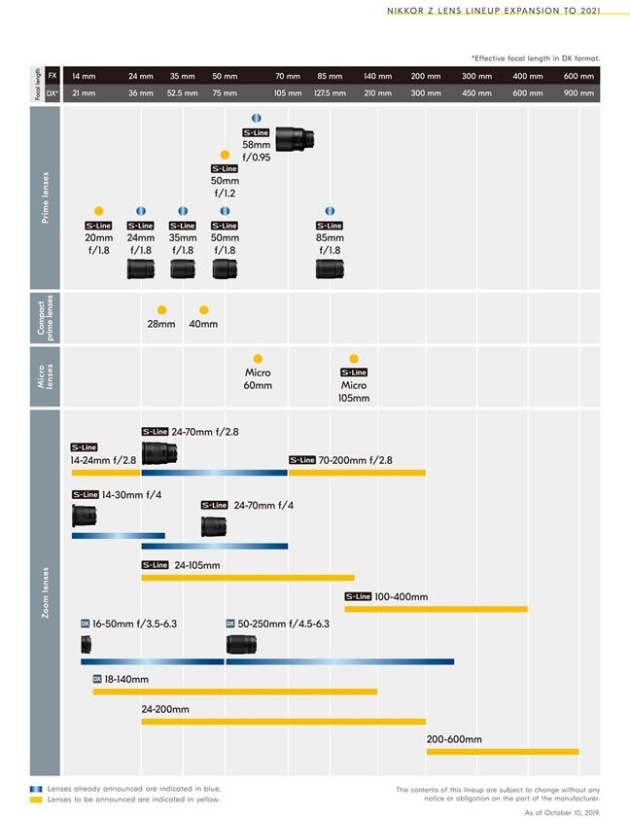 You can find out more about the NIKKOR Z 58mm f/0.95 S Noct on the Nikon website.