DJI launches RS 3 gimbal and new transmission and focus system
DJI has announced the next iteration of its consumer gimbal line—the DJI RS 3 and DJI RS 3 Pro, as well as a new transmission and focus system, although these are only compatible with the higher end model.
Let's start with the RS 3. It's slightly lighter than the RS 2 we reviewed last year, but surprisingly it comes with a smaller payload (3kg) than its predecessor the RS 2 (4.5kg). That's a not insignificant 1.5kg less weight. 
However, DJI does claim that there is a 20% improvement in performance over the RSC 2 thanks to a new RS Stabilisation Algorithm, but it's hard not to think the 'upgrade' is a little limited here when you consider how important payload is to a gimbal's operation.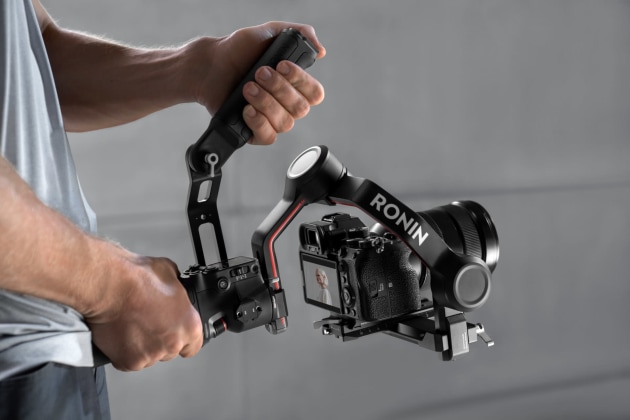 What the RS 3 does gain is a redesigned automated axes-locking system. When turned off, the gimbal is automatically locked into a fixed position for travel or storage. But when turned on, the gimbal unlocks itself and moves back into a resting position. 
Other additions include a new 1.8-inch OLED full-color touchscreen (something the RSC 2 never got), allowing for setup without the need for a mobile app. There's also a physical gimbal mode switch which can toggle between pan follow, pan and tilt follow, and FPV modes.
Battery life maxes out at 12 hours with the brand-new battery grip, and there's also PD fast charging at 18W.
The RS 3 Pro is really where the money is though. It has the same automated axes-locking system as the regular RS 3, but also gains options for locking the gimbal in a ready position, which should mean a much faster startup. And, unlike the regular model, the Pro can also lock the same way in an inverted position.
The total weight of the RS 3 Pro is 1.5 kg, and it has a payload of 4.5kg, roughly the same weight and capacity as the RS 2. It has the same 1.8-inch OLED touchscreen and gimbal mode switch as the regular RS 3.
Along with the two gimbals, DJI has also released its first-ever video transmission system, the DJI Transmission, a transmission and monitor/receiver unit that was developed on top of the experience gleaned from the Ronin 4D and its video transmission technology.
Transmission combines reception, monitoring, control, and recording into one unit, and according to DJI, offers a 20,000ft on-ground transmission distance with end-to-end ultra-low latency. Transmitted video is limited to 1080p/60fps and provides live audio monitoring at 16-bit, 48 kHz.
The RS 3 Pro also can take advantage of DJI's same LiDAR focusing technology found on the Ronin 4D in the DJI LiDAR Range Finder (RS). DJI says this attachment is capable of projecting 43,200 ranging points within a 14-meter indoor area. It combines with a high-torque focusing motor to give manual lenses autofocus capabilities.
Both the DJI RS 3 and RS 3 Pro will be available in July from authorized retailers and at www.store.dji.com. The RS 3 starts at $839, and the DJI RS 3 Pro starts at $1299.
DJI Transmission will be available for purchase this September for $3299. Full details can be found at www.dji.com/transmission.