DJI announces 8K RAW capable Ronin 4D
DJI has announced the Ronin 4D, a fully integrated camera and gimbal solution that can capture 8K RAW or 6K RAW video, and also includes a built in transmission system.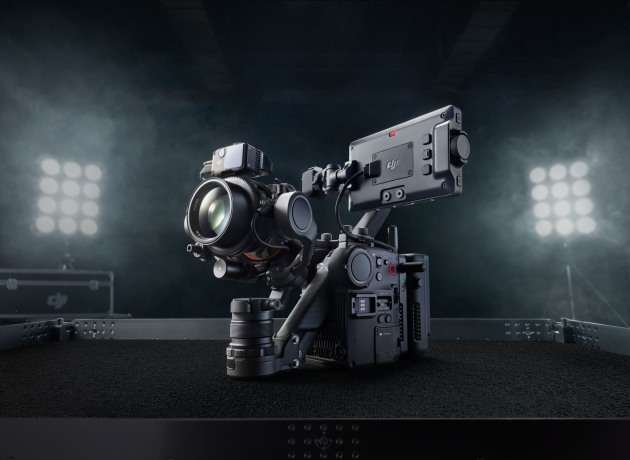 Two versions of the DJI Ronin 4D are available now, the 4D 6K and 4D 8K. Both share a similar design, and aim to give users an all-in-one stabilised camera solution. 
The Ronin 4D combines an all-new full-frame Zenmuse X9 gimbal camera, a 4-axis stabilization system, a LiDAR focusing system, and a video transmission and control system in a single unit.
Both of the gimbal cameras can internally record Apple ProRes and ProRes RAW, while the Zenmuse X9-6K supports up to 6K/60fps and 4K/120fps, and the Zenmuse X9-8K up to 8K/75fps. Both have over 14 stops of dynamic range.
The models use an industry-first 'active Z-axis' to eliminate vertical camera shake. according to DJI, this technology allows the operator to shoot while walking, running, or moving around dynamically, with no need to practice pacing or rely on external equipment.
The company says that videos taken in complex spaces like stairways or uneven ground will be smooth without any trace of the operator's footsteps. 
The devices also use a new focussing system. DJI says the newly designed LiDAR Range Finder generates laser measurements to make for a more reliable focusing experience. It simultaneously casts over 43,200 ranging points reaching as far as 10 meters. Because LiDAR measures the distance to the subject without relying on surface textures or hunting for edges, DJI says it obtains a faster focus speed without compromising image quality.
The included 4D Video Transmitter outputs a 1080p/60fps feed to remote monitors, and has a transmission range of nearly 20,000 feet. 
The main body of the Ronin 4D is made of an aluminum-magnesium alloy, while the Z-axis arm is carbon fiber like on the Ronin-RS. The devices weigh 1.45 kg, however, the whole set-up weighs 4.67 kg after installing all modules in the combo, excluding a lens and storage card.
The DJI Ronin 4D is available in both 8K and 6K combos. The 6K version features the Main Body, a Zenmuse X9-6K Gimbal Camera, LiDAR Range Finder, High-Bright Main Monitor, Hand Grips, Top Handle, TB50 Intelligent Battery, and Carrying Case; it is priced at 10,699 AUD and will be available from store.dji.com and in other channels starting in December.
The 8K version features a more powerful Zenmuse X9-8K Gimbal Camera and a 1TB SSD; it is priced at a whopping $16,399 AUD and will be available from store.dji.com and other channels at a later date.