Canon launches VR-ready RF 5.2mm F2.8L dual fisheye lens
Well here's something we did not see coming - Canon has launched a bizarre looking dual fisheye lens that lets EOS R5 owners shoot 180-degree Virtual Reality (VR) video.
According to Canon, the adoption of VR technology continues to grow and the new system aims to create an 'immersive experience that draws viewers into the heart of the action by providing professional image quality and higher levels of realism.'
Up until now, capturing VR has required two cameras with two lenses, and the ability to synchronise the different viewpoints and files together. 
The new RF 5.2mm F2.8L changes this, and, perhaps unsurprisingly, is also the world's first lens for digital interchangeable lens cameras enabling 180° VR shooting with one camera to a single sensor.
The lens has been designed for the EOS R5 in particular because of that camera's 8K sensor. Combined with the lens, users will be able to capture high-resolution VR in formats like Canon Log 3, for high dynamic range, and also shoot in low light thanks to the lens' wide f/2.8 aperture.

The RF 5.2mm F2.8L works by taking two ultra-wide 190-degree field of view images at 4K resolution, which are then projected onto the camera's single sensor and aligned and synchronised straight out of the camera. By utilising the lens in this way, VR setup is simpler than a traditional two-camera system.
Capturing two images on a single sensor also means that both images have the same characteristics, avoiding subtle variances such as image quality and exposure that two sensor systems can suffer from. Additionally, Canon says there are two EMD (aperture) units, one for each lens, that maintain a consistent exposure onto the sensor – helping to reduce post-production to correct errors. 
On the exterior, the lens features an SWC coating to help suppress ghosting and flare of sunlight – a commonly encountered shooting condition in VR capture. There's also a gelatin holder across the rear elements, and third-party gelatin ND filters can be fitted to maintain 'normal' shutter speeds and apertures when shooting in bright conditions.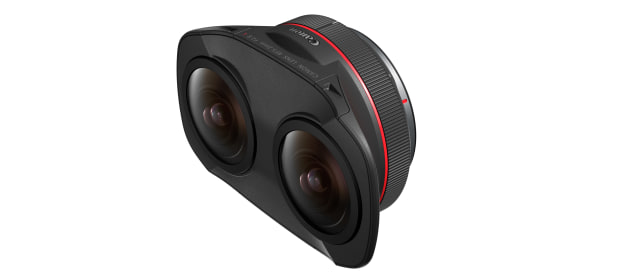 Canon says the new RF 5.2mm f/2.8L Dual Fisheye is part of a new EOS VR System, which includes a new Canon VR software app (called EOS VR Utility) and an EOS VR plug-in for Adobe Premiere Pro.
What Canon didn't elaborate on is the market for such a lens - we'd expect that there would be some business applications where the technology could be useful, such as real estate, but it's hard to see VR suddenly becoming the new drone photography overnight. 
If you'd like to get hold of one, the RF 5.2mm f/2.8L Dual Fisheye has an RRP of $3,849, and will be available in Australia from December. You can find out more at canon.com.au.