Review: Canon EOS R5
Unless you've been living under a rock for the last six months, you'll be well aware of the enormous expectations swirling around Canon's newest full frame mirrorless camera, the EOS R5.
First, there was the announcement that it would shoot 8K video, then there was the confirmation that this would be 8K at the full width of the sensor along with a 20fps drive speed and Animal Eye AF.
The slow release of the headline specifications meant that by the time of its release in July, hype was at fever pitch. And for better or worse this noise has only got louder since, with tech reviewers and bloggers all over the world spending thousands of hours closely scrutinising the R5's video capabilities (and shortcomings) in particular.
However, we wanted to focus on the EOS R5 from a stills image perspective. For this review, we used the EOS R5 with Canon's stunning RF 24-70mm f2.8L lens, as well as an EF 100-400mm f4-5.6L lens paired with Canon's EF-EOS R mount adaptor. If you want to check out some more of the headline specs for both the EOS R5 and R6, check out our first look here. Otherwise, let's dive in.
The body
We'll try to limit our comparisons to the R5's little brother the EOS R6, but it's worth mentioning before we delve into the details that aside from the sensor, the EOS R5 is almost a carbon copy of the R6, save for a slight weight increase (738g vs 690g).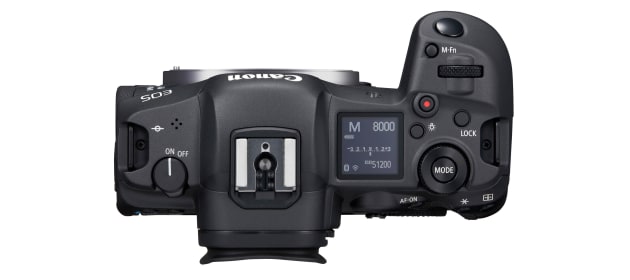 Both cameras share a well-thought-out button layout, with the most obvious feature the lack of the EOS R's innovative Multi-function Bar, now replaced by a joystick on both models. The people have clearly spoken, and this is probably for the best – the touch bar never quite worked for us.
However, for the extra cash for the R5 you do gain a bright top panel display as well as a slightly different button array with a customisable mode dial and light for the top panel.

The flippable rear LCD on the R5 has a solid hinge and at 3.2inch and 2.1 million dots is bright and contrasty and is also fully touch capable.
Finally, it's worth mentioning the newly-designed EVF on the Canon EOS R5– it's simply stunning, and at 5.76 million dots you can see every detail of the subject in front of your lens. If you have any friends who are still wedded to their DSLRs and haven't tried an EVF - show them this one. It's that good.
Autofocus
You know that thing I said about showing your friends this camera? Wait until they get a load of the AF. With Dual Pixel CMOS AF II processors, Canon says the R5 offers the world's fastest AF focusing speed of 0.05 seconds, and I'd wager they're telling the truth with that one.
Low light, moving subjects, turning subjects - seemingly every situation we put the R5 through, the AF barely skipped a beat.
It's fair to say it's a complex and advanced system – bringing with it 1,053 AF Areas covering approx. 100% of the frame, along with up to 5,940 individually selectable AF points covering approx. 90% x 100% of the frame, and f/22 max aperture lens combination autofocusing capability (albeit with reduced AF area coverage). Luckily Canon allow for fine-tuning of the AF system, and you can set its sensitivity to your liking and subject matter.
It's worth mentioning just how solid the Animal Eye AF is too. There's something very futuristic about watching that little square perfectly stick to the eye of a bird no matter where it goes, or watching it grab and hold focus even in near dark.
Unlike its rivals, the system doesn't seem to mind what animal species you're shooting either, and we've seen it just as tenaciously holding focus on a goldfish as it does a lion at the zoo.
For wildlife photographers, this feature alone is arguably worth the price of entry. Note that when animal subject detection is selected via a menu setting, the camera will select animal eyes over human eyes when possible, so ensure that your setting is correct before you shoot.
Finally, there's 20fps shooting with an electronic shutter and 12fps with mechanical, which is plenty fast enough. If we were to be picky, we'd love to have seen a no blackout EVF like on the Sony A9, but that's a minor quibble.
Image quality
Inside the EOS R5 is a newly developed 45MP full-frame CMOS sensor. Dynamic range is impressive, certainly on par with the 5DSR, and I was able to easily lift shadow detail up to two stops with very little noise making an appearance. Zooming in, images are packed with detail, and offer plenty of latitude for tonal adjustments.
We've always liked Canon's colours straight-out-of-camera, and along with the pleasing colours and great high ISO performance, there's lots to like here, not the least of which is the ability to crop with a camera that spits out images with a native resolution of more than 8000px on the long side.
Stabilisation
For the first time in the EOS series, the R5 incorporates a 5-axis In-Body Image Stabiliser.
Like Panasonic's system in the S-series cameras, The EOS system works in tandem with the attached lens, with RF lenses and the sensor working together to correct pitch and yaw while the sensor on its own corrects X-Y and roll movements.
It's a future-proofed system too, as it works with select EF mount lenses (including lenses with IS and lenses without), so even those old telephoto lenses you have sitting in a cupboard can take advantage of the technology.
In use, I was shooting at half a second handheld at the long end of the 24-70mm, which is impressive.
Video
We won't look to add too many column inches to the discussion about the R5's video capabilities, except to say that in our testing footage from 8K, 4K HQ and 4K 120 looked great, but may also be impractical for some users due to overheating and cooldown restrictions.
It's worth noting that Canon have been transparent about the recording limits in video modes right from the get-go, and a recent firmware update does appear to address some of the concerns from videographers.
The wrap-up
Canon's EOS R5 has generated a lot of press, and not all of it good. But put aside the issues with its controversial recording limits in 4K and 8K modes, and you'll find a stills camera that is easily one of the best we've used, with an autofocus system that is simply streets ahead of that in the EOS R. Combine this with a great build quality, excellent ergonomics and impressive battery life, and the Canon EOS R5 is a fantastic camera.
With all that said, if you're a hybrid shooter keen to exploit the R5's video capabilities, this might not quite be the best use of your money and the price is not exactly small change either. But for everyone else, this is simply one of the best mirrorless cameras money can buy, and importantly, a true successor to the 5D Mark IV. ❂
More images