The 93-year-old photographer still chasing the perfect bird shot
Jim Thompson - the Birdman of Maitland - was struggling through the rainforest to Mt Hypipamee, one of the crater lakes in Queensland's Atherton tablelands.
As usual it was before dawn, and Thompson was carrying a camera and 800mm lens, plus a wheeled trolley over the tree- root-strewn track to the summit.
The day before, one of his bird-watching mates had teased him with the words: "I don't suppose you'd like to photograph a pair of peregrines with a couple of nesting chicks?"
It took three days and two equally arduous early morning treks for Thompson to capture the shot he wanted, of the parent peregrine
feeding its chicks on an insurmountable ledge on the far side of the 58 metre chasm.
Thompson, a former plumber and self-taught wildlife photographer, has won numerous awards, internationally as well in Australia, for his distinctive photos capturing what the legendary French photographer Henri Cartier-Bresson called "the decisive moment"
His former darkroom, once filled with dangerous chemicals, now holds most of his awards, though they are so many they spill to every section of his home.
So it's not all that surprising such a dedicated amateur would power up to a volcanic caldera three times before dawn to get "the shot".
Except that the Edinburgh-born Thompson is 93-years-old and has a dodgy knee - which means he can no longer kneel to photograph insects or fungi as he used to. So he now exclusively concentrates his lens on Australia's bird life.
"See that rock?" Thompson says, showing advanced computer skills defying his age, as he brings up his favourite image from the Mt Hypipamee shoot. 
The two fluffy white chicks being fed are protected in their nest by a rock that looks as if it was placed there by a human.
"But no human could have got down to that ledge, so we think it must have been placed by the parent birds themselves."
Many of Thompson's favourite images of birds have taken hours or days in the field, often in excruciating hot or cold conditions, to get the all important action shot.
"My photos tell stories, mon," he says in a Scottish brogue uninfluenced by eight decades since he, his late wife Lily "and our two wee bairns" came out as Ten Pound Poms on the advice of his older brother who had played football for Maitland "Magpies".
"I'm not one of those bird photographers who go and take pictures of a bird on a stick. That does nae do much for me."
"I do take portrait shots, but only if they're rare birds, and the background is exciting."
Thompson discovered both his photographic talent and his interest in birds by accident.
A decade after the family arrived - and one of only three plumbers in the Maitland area, so there was no shortage of funds - Jimmy and Lily decided to take their children back to Scotland "to show them what we'd enjoyed growing up".
A fellow Scot and a member of the East Maitland Camera Club scolded him, saying he needed to buy a camera to record the immortal Scottish landscapes. 
So Thompson bought a Pentax - and was hooked (like the fly fisherman he was in Scotland and remains today).
When the family returned to Maitland he joined the camera club, perfecting his new skill.
Soon family holidays were spent dragging Lily ("She was nae a bird watcher"), their children and their caravan up to Queensland or Northern Territory locations so he could disappear on bird shoots before the kids woke up and return in time for dinner to be served.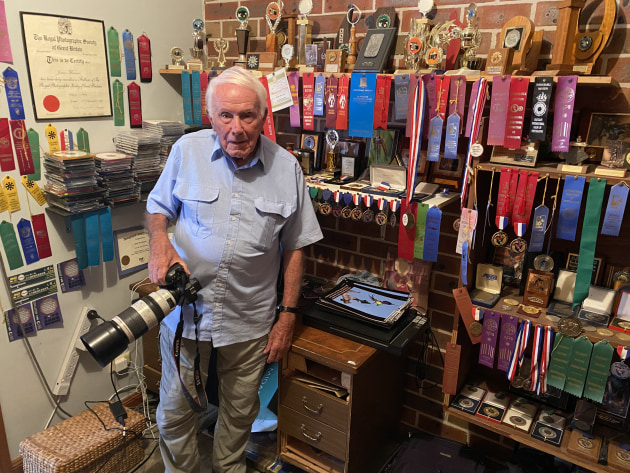 Many of Thompson's finest shots were captured either in the Hunter or the Central Coast - and some more or less on his doorstep.
However his signature images tend to come from the northern states.
Take his photos of Brolgas in the Mist.
Brolgas (also known as Australian cranes) are the nation's largest water birds, famous for their huge wingspan and their bizarre dancing rituals which seem to come straight from a Jane Austin novel.
"There's another of the Atherton tablelands craters which is known for the thousands of brolgas which come in from feeding out at sea everyday to rest in the bottom of the crater, which is a wetland," Thompson says.
"At night thousands of brolgas come into the crater. I was there one evening with fellow bird lovers, a couple who were teaching in Papua New Guinea.
"The three of us realised that if the brolgas came in at dusk they must fly out around dawn.
So we decided to come back the next morning which meant the three of us - including the lady - had to squeeze under the fence of the viewing platform to set up our tripods and cameras."
However the crater was cloaked in thick fog.
"I had the shock of my life," Thompson recalls.
"What I hadn't realised is that brolgas climb slowly up the crater during the night so they have sufficient altitude for their first morning flight. So the birds were all among us in the fog."
As the first light pierced the fog, "gangs of them soared down into the crater".
The intrepid trio thought they had spent another fruitless encounter.
"But through the fog, we could hear a swooshing of wings, and then the brolgas appeared right over our cameras."
Before Covid, Thompson got a call one November from a friend who has a property west of the Atherton tablelands.
"Jimmy, the Paradise kingfishers are back to breed from Papua New Guinea," Thompson recalls his mate saying. "He knew I'd never photographed a Paradise kingfisher."
Thompson told his friend to call him once chicks were born, knowing these migratory birds build their nests in termite mounds and are notoriously difficult to film.
In January, Thompson got the call and left Maitland the next morning for a three day drive to Far North Queensland.
His mate warned Thompson these birds were "particularly timid". 
But, over confident, Thompson arrived at the site before dawn, set up his camera equipment, and retired to the shade of a tree ready to press his remote shutter once the parents flew back to feed their hungry chicks.
After three or four hours in the hot Queensland summer sun with no action, Thompson realised the parent birds were all in the tree above him, watching his every move.
Everyone needs a Plan B. 
He walked back to his camera equipment, installed a sensor triggered by sound movement, "put it up to 97 per cent volume" - and retired 500 metres away.
He'd hardly got back to his hideaway before his relay device started beeping. "I got a hundred shots of the parents coming in to feed their chicks that day," he says.
Not all of the birds Thompson has photographed are favourites. The "damned" Indian mynah, for example, is "anathema to native birdlife"- and he has a photo to prove it.
"I saw its beak sticking out of a tree and wondered what it was up to," Thompson says. "Then I looked down and saw the hole where a Grass parrot had made its nest.
Ever alert to "a photographic story", Thompson waited for the inevitable chase when the Indian mynah chased off the parrot, grabbing its nest like a hoodlum squatter.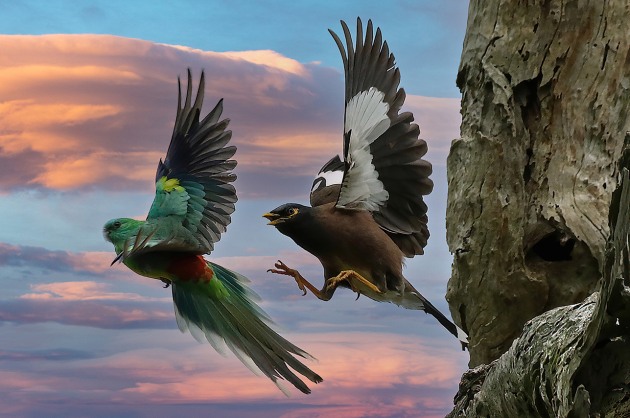 "I nailed it," Thompson says immodestly. "That image won a Gold Medal award in a Beijing competition."
There's also his image of a pair of Blue-faced honeyeaters suddenly aware they're about to be attacked by a peregrine on the branch below them.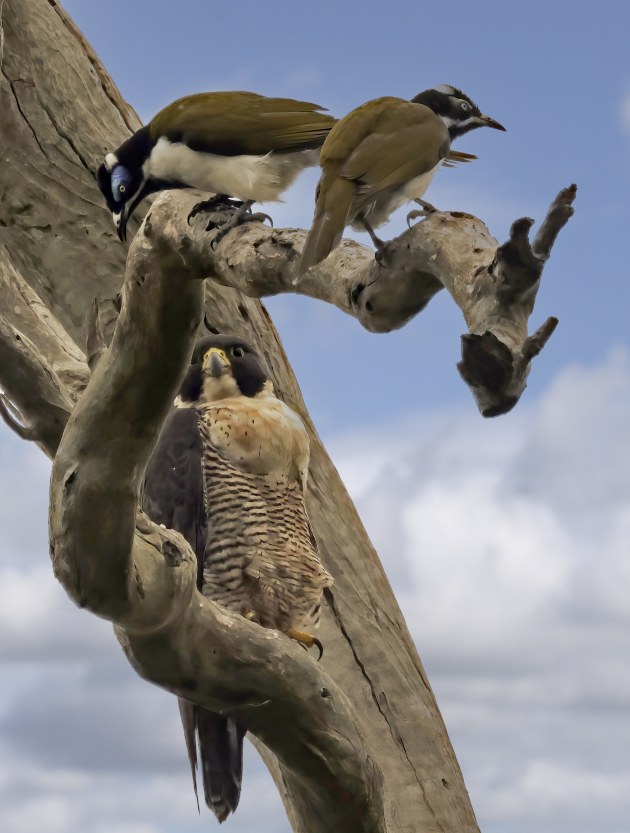 Thompson recognised the danger they were in long before the two honeyeaters did. However he bided his time until the decisive moment when one of the honeyeaters looked down and saw doom awaiting them. 
Snap!
"That was the shot," Thompson explains. "Each of the honeyeaters escaped a different side of the tree, followed by the peregrine. Perhaps one survived?"
His portfolio of classic bird images is extraordinary. His photo of the Pacific baza, with wings outspread, was taken from underneath a tree when a rainstorm broke ("Look carefully and you can see the rain drops on its wings").
Then there's his portrait of an Azure kingfisher with a frog in its mouth. Plus countless other images of birds devouring their prey (and in the case of raptors, other birds).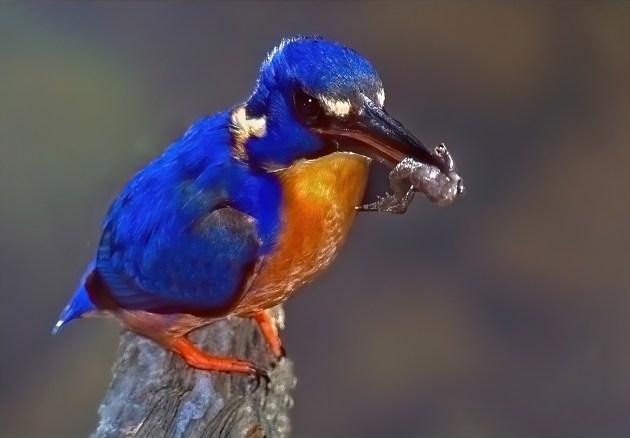 There are photos of courtship, like the display the male Bird of Paradise puts on for its prospective (but bored-looking) mate.
Or the interrupted honeymoon when one male Red backed grass parrot attacks his rival for the affections of the "newly-wed wife".
There's even one X-rated photo of two Rainbow Bee eaters doing the business (although, unlike many humans, they didn't know they were being photographed at the time).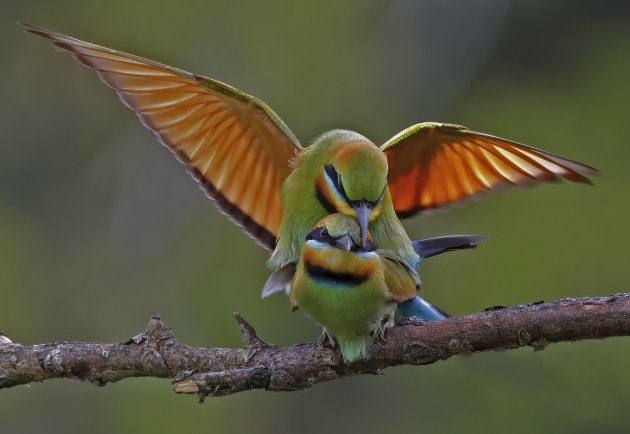 Australia has apparently the most bird species in the world, around 830.
"I'd have photographed most of them,' Thompson says - though he's not chasing a Guinness Book of Records entry.
So what is the bird image he most craves?
"There's still one I need to get. I have plenty of shots of the Azure kingfisher which flies about a metre above the water.
"But I have never got the shot of it diving into the water, or coming out of the water with its catch.
"I've come close, but the focus is too soft.
"But then I never get satisfied. Each time I take a cracker of a shot, I want to see if I can get a better one."