Profile: Warren Keelan
Peruse seascape and ocean photographer Warren Keelan's website and you'll realise he has a distinct way of seeing and capturing images of Australia's powerful southern coast.

And while the Wollongong-based shooter's portfolio showcases stunning contemporary wide angle seascapes, much of his recent focus has been on images that are less about the location and more about a mood, a feeling or moment in time.
These photos could be described in a number of ways - "painterly" or "arty" spring to mind - and possibly evoke a view of the sea that many of us might never imagine. Perhaps similar to visualising shapes and faces in clouds, Keelan seemingly conjures magical form and beauty from the saltwater he's immersed in from sunrise every day.
As a result of this obvious talent, Keelan's signature up close and personal view of this watery world has won him acclaim in Australia and overseas. In 2013, he opened a successful gallery in the heart of his home town where he now spends much of the working day, when not out riding the Illawarra coast swell. Warren Keelan recently took time out from his busy schedule to chat to Australian Photography about his photographic career thus far.
From a "how did you get into photography?" perspective, Keelan says he's always been fascinated by nature, "especially the ocean and its ever changing forms".
He tells AP his first foray into surf photography came about around 20 years ago when he purchased a disposable waterproof camera to take shots of his surfing mates. That eventually led him to upgrade to a second hand 35mm film camera, a Canon AE, which provided great memories for Keelan and is a camera he wishes he still owned today.
Prior to delving into photography, Keelan spent 10 years as a touring musician in a heavy alternative progressive four piece band.

"I haven't played for years but it is still an important part of my life and as strange as it sounds I find music has a great influence on my visual work."

It wasn't until he purchased his first DSLR camera that he realised photography could be both a powerful and cathartic medium.
"I discovered, like with music, you could channel emotions and thoughts into photography and realised this was a journey in which I was meant to embark."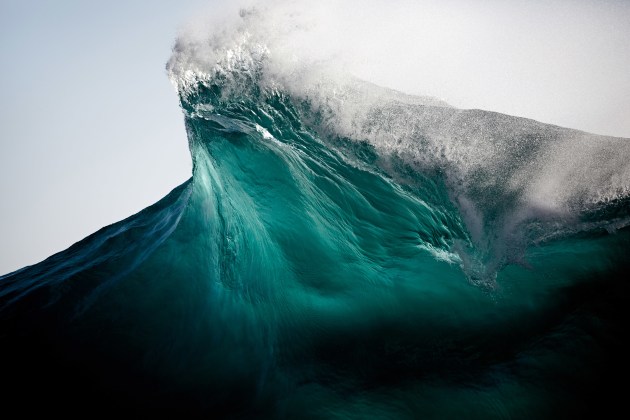 Seeking the spray
After enjoying capturing landscape images, Keelan lugged a tripod around ocean rocks for a couple of years before deciding to venture into the water with his camera and try and "create seascapes from a different perspective. Seawater and sunlight became my focus and I felt compelled to make images which I feel translate the different moods and emotions of the sea," he says.
 Like many photographers who've tried it, Keelan always finds shooting images of waves very challenging and is one of the main reasons he has such a passion for the artform.
"Apart from the physical demands of swimming in larger waves, trying to compose photos in unpredictable and adverse conditions can really test you. However, the reward far outweighs the effort when you can make something you're truly happy with. As much as I'd like to shoot weddings, I think for me that would have to be the most challenging form of picture making."e.
When it comes to technique, Keelan has honed his ocean photography skills to a degree that allows him to best represent the interesting shapes and texture that the southern ocean produces.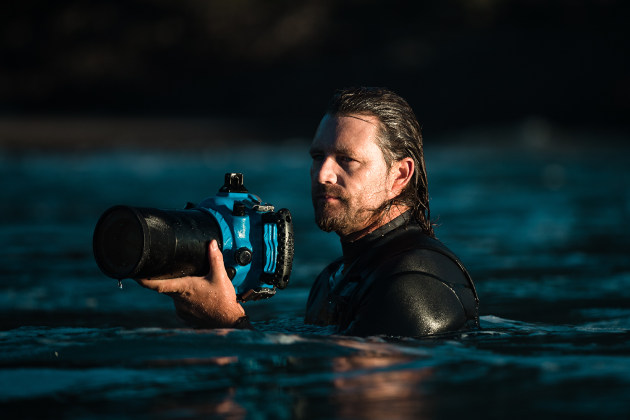 "Much of my photography focuses on the relationship between moving water and light, interpreting what I see using very fast or slow shutter speed techniques and presenting what I create as a form of visual art, rather than simply documenting waves and water.

I've found by using certain lenses and methods, and by exploring different perspectives, there's much to discover in terms of the ocean's personality."
Keelan's focus on the finer details of the relationship between water and light takes his work into another realm. In this space, like an abstract painter, he uses his camera to brush a surreal quality over his pictures.
"I am captivated by moving ocean water and enjoy the challenge of making images that tell a story and are somewhat less obvious at first glance. The methods I use to capture waves can result in images that look as though they were painted by brush and I find these images most personally rewarding. If you look at the camera as a tool to create art rather than to just take photographs, you can open the door to new realms of visual creativity," he says.
Like any great photographer, it's clear that Keelan spends a lot of time visualising the images he wants to capture before he shoots them. But the unpredictability of the ocean's form often surprises him.
"I love everything about the sea. But mostly I am fascinated by the way energy moves through the ocean in the form of waves and the amazing shapes and textures they produce once they reach the end of their journey. I guess it's the unpredictable and ever changing nature of waves which inspire and challenge me to capture and collect moments which I feel are unique and interesting. Moving ocean water and sunlight is a magic combination."
While some seascape photographers may have to travel distances to ply their craft, Keelan is fortunate enough to live only a few minutes away from the stretch of Wollongong's coast where he shoots the majority of his photos.
"The southern coastline is peppered with unique and beautiful waves and ocean anomalies to photograph," he says.

"Give me some beautiful moody light and textured ocean anywhere and I'm a happy man."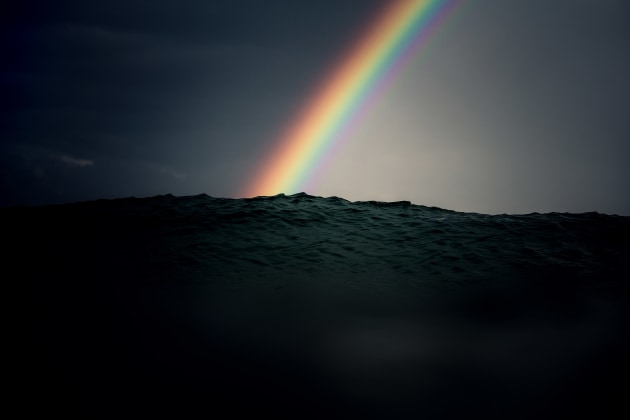 Learning curve
Like other photographers gifted with a natural eye for an image, Keelan says while he's been given helpful advice along the way from fellow photographers his current skill set is largely self-taught. In saying that, many photographers and artists have been big influences on his work.
Keelan readily credits the likes of renowned ocean photographers Ted Grambeau, Trent Mitchell and Jon Frank along with musician and artist Adam Jones, Steven Wilson, painter and artist Alex Grey and surrealist painter Hans Rudolf Giger.
He adds, "but it's really my closest friends and family that have the most effect on me personally, especially my loving wife Michelle. I find a great deal of inspiration from these genuine and motivated humans."
The idea of learning new techniques is also something that appeals to Keelan.

"I'm always open to trying and learning different forms, styles or genres of photography. I think to evolve as an artist, you really need to step outside your comfort zone and see what is possible. For me, this would include night photography (stars and trails) and portraits, so I'm keen to see what the future brings in terms of direction and growth."
Like any professional surf photographer, Keelan has built up an arsenal of quality equipment that he can rely on to produce the sort of images he requires. He told AP his first rig was a Canon 5DMKII with a 24-70mm lens which saw regular use during his time as a photojournalist for fishing and lifestyle publications. As his love for photography grew, so did the amount of gear he owned.

"I am currently using Canon 5DMKIII bodies with various L Series lenses including a 16-35mm f/2.8, 24-70mm f/2.8, 70-200mm f/2.8, 50mm f/1.4 and a 15mm Fisheye f/2.8. I use Aquatech Water Housings for my water photography with various lens ports, and an Aquatech Strike Housing for my Canon 580 EXII flash units.

I've also had a custom Matt Smith 12" acrylic dome made for my over under work. I also use Nautilus travel cases, Agent 18 wetsuits for warmth and Dafin swimfins for propulsion in the ocean."
As a keen photographer, Keelan has an expensive gear wish list which currently includes Canon prime lenses such as: "an 85mm f/1.2, 50mm f/1.2, 400mm f/2.8 and maybe a macro or two".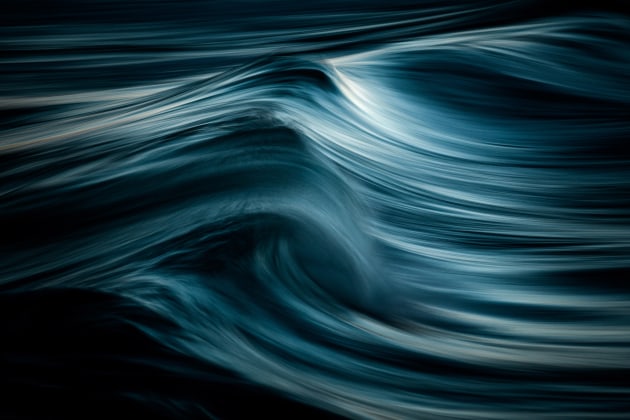 When asked about how much post processing of images he does, Keelan explains that, firstly, he tries to visualise what he wants to create before entering the water. He does, however, "enjoy seeing how images can take on new forms after some adjustments in Lightroom or Photoshop.

As for time spent on post processing I try not to sit in front of a piece for too long. I find the longer I stare at an image, the more my eyes tend to lie to me and I need to get up and walk away from my screen in order to readjust."
Ultimately like most good photographers, Keelan strives to get the image right in camera.
Going further, he says the best advice he would offer anyone taking up photography is to "just be yourself. Think of the camera as a tool to create. To make images of what you enjoy seeing. But most of all try shooting everything and with every style until you find something that works for you.
Experiment with different settings in different environments and don't ever give up. With so many people owning digital cameras these days it seems almost impossible to come up with something new, but there's always something you can do to make an image your own."
For photographers keen to pursue a professional career, Keelan says a strong work ethic is vital for success.
"I believe nothing good comes easy in life, and so I began to invest money and long hours each day in order to create a lifestyle around my work and passion."
While he believes social media is an important tool for photographers to promote their work he stresses the importance of having a personal connection for interacting with potential clients. To that end, his Ocean gallery showcases his printed artworks that have been sold locally and internationally since its opening.
He finishes with some sage advice that any photographer could do well to remember: "Take time to learn the ropes, photography is not a race.""At the end of the day you need to have a vision, believe in yourself and sacrifice a lot to get where you want to be.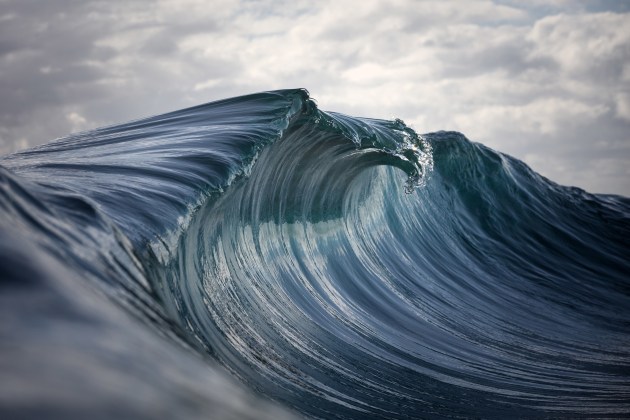 Shark focus
While it might be reasonable to expect surf photographers would want to be out of the water when sharks are around, Warren Keelan and a mate made sure they were right amongst it during a recent trip to South Australia.
Having always been fascinated by sharks, Keelan told AP he and Canadian ocean and sports photographer Dave Sandford visited the renowned great white shark hotspot of the Neptune Islands out from Port Lincoln.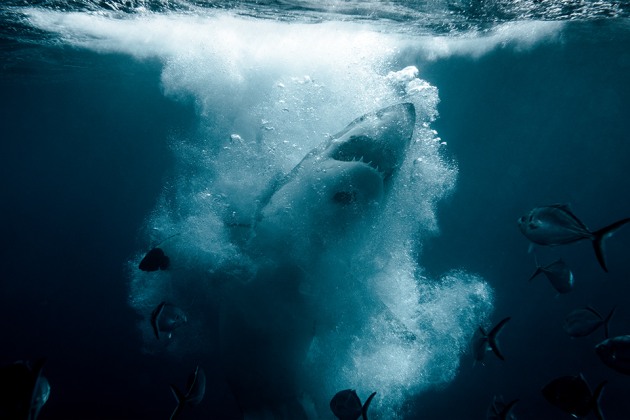 "As an ocean photographer, I have seen some pretty amazing things in the water, including the odd shark or two, but nothing as large and majestic as the great whites in which the Neptune Islands are famous for. I'd seen a number of videos and images from other friends and photographers prior to visiting the islands, but nothing could prepare me for the exhilaration of seeing these creatures first hand."
While the pair shot images of the massive sharks from the protection of alloy cages, Keelan says he'd possibly like to have the experience of free-diving with great whites.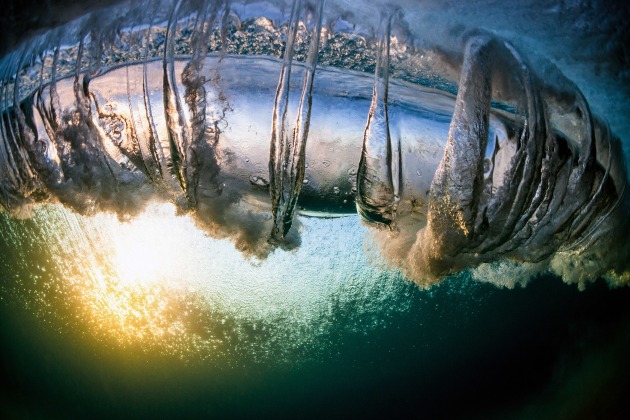 "Don't get me wrong, there's a huge difference between free-diving with sharks, and having the protection of an aluminium cage to view these great animals. The free-diving stuff I might do one day but for now I'll leave that to the professionals…".
The cage diving experience also presented a number of difficult challenges for the photographers to overcome, as Keelan explains.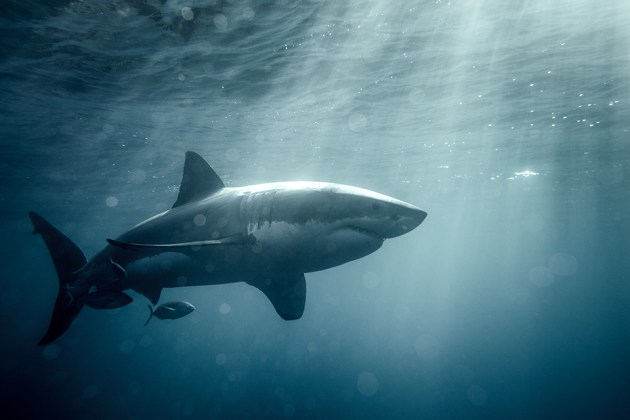 "For the three days we were there, we had quite a bit of swell bouncing in and around the islands, causing the floating cages to roll about and make it a challenge to compose and shoot through the viewing gaps. You have one hand holding you in position while you lock your feet in the bars at the base of the cage, all while trying to track and shoot passing sharks with the other hand.
I was using a Canon 16-35mm f/2.8 at 16mm which made it a little easier but most of the time these sharks would appear out of nowhere and leave you with only a few seconds to make a shot. On top of this, you also have to remember to calm your breathing and not expel air as you're looking through your camera housing's view-finder - it helps to be able to see what you're shooting!"
While popular perception of great white sharks might paint them as nothing more than dangerous cold-blooded killers, Keelan says he came away from the cage diving experience with a renewed respect for the majestic creatures.

"Sharks have unfortunately gained a reputation as man-eating killing machines whose sole purpose is to eat anything and everything in its path, and it's simply not true. They are one of the most intelligent, calculating and inquisitive creatures in the ocean."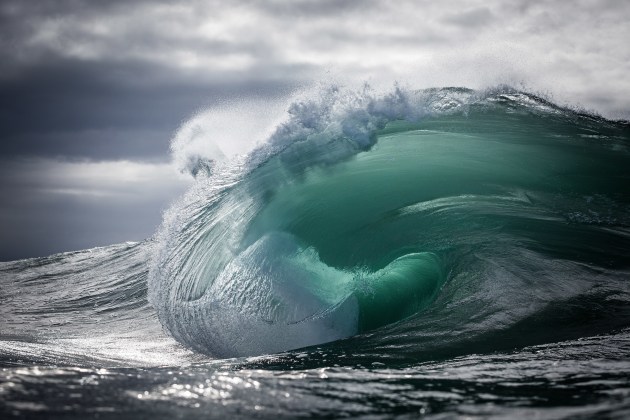 Reaping awards
While winning major photography awards might be a sign that "you've made it", for Warren Keelan being recognised by his peers has been the real highlight of his achievements.
His growing awards list includes: Finalist - 2018 Tokyo International Photography Awards, 1st Place - 2018 International Memorial Maria Luisa Photo Awards, Gold - 2018 Moscow International Photography Awards, Finalist - 2016 Australian Photography Awards; Finalist - 2016 Australian Geographic Nature Photographer of the Year; 2nd Place - 2016 La Grande International Photo Awards; Finalist – 2016 Siena International Photography Awards; 3rd Place – 2015 Landscape Photographer of the Year; Finalist - 2015 International Fine Art Photography Awards; Finalist - 2015 International Monochrome Awards; 3rd Place - 2015 International Photograph of the Year; 2nd Place - 2015 International Photographer of the Year; Finalist – 2015 Siena International Photography Awards.
"I've been extremely fortunate to have had my ocean images recognised and awarded by judges in international photography platforms. I know it's all subjective and you should create images for yourself first, but it's really humbling when your peers are seeing your work and feel it worthy of a place in a competition."
While his local coast has supplied more than enough inspiration to keep jumping out of bed very early every day, Keelan has ambitions to expand his craft further afield.
"I always want to travel further and explore new locations around Australia and abroad. There's a few places I've had on my list and always dreamed of visiting (Tonga, Tahiti, New Zealand, Hawaii) each of which boast amazing seascapes and ocean creatures."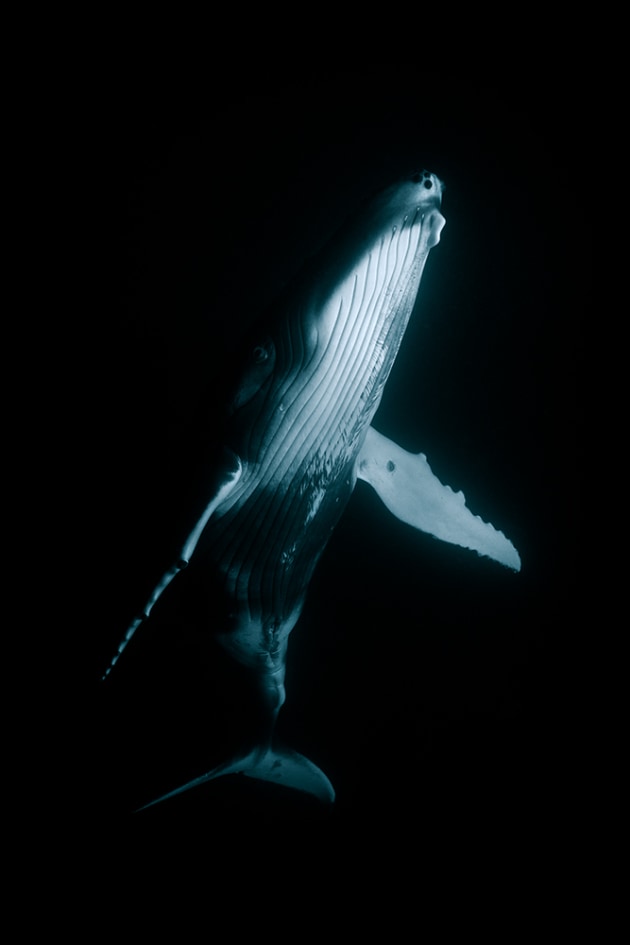 Keelan says he has plans to delve into ocean portraiture in the future. "Above all, I just hope to continually work to improve on my skills and techniques in order to interpret the ocean and create pictures that evoke thought or feeling. There's always more to learn."
Whichever direction his photography takes him, the many admirers of Warren Keelan's work are sure to be watching.
See more images at warrenkeelan.com, or visit the Warren Keelan Seascapes & Ocean Art Gallery, 84C Kembla Street, Wollongong NSW.