Profile: Seth Reinhardt
Motorsport photography is a challenging medium that normally involves shooting fast cars with long lenses. Mick Fletoridis talks to Seth Reinhardt, a photographer who takes a different approach.

As an amateur photographer with an interest in motorsport, I've attended several events at race tracks such as Bathurst, Eastern Creek, Phillip Island and others. Most of the shots I've taken at these circuits were from typical vantage points on corners or fence lines and mostly feature competitor vehicles whizzing past in race mode.
Over the years my camera kit grew to include longer zoom lenses, mostly for shooting motorsport. Going by some of the pro motorsport photographers I saw at race tracks, if you didn't at least have a 400mm lens you weren't taking it seriously! As enjoyable as shooting motorsport is, I haven't done it for quite a while and possibly know why.
Looking at these images now they bring back good memories but I realise they are mostly just shots of cars and bikes doing their thing on a track – they don't really paint a picture of what it was like to be at these race meetings. I didn't really think about this until a recent interview with Sydney-based motorsport photographer, Seth Reinhardt, a man who effectively uses his camera to tell stories.
Thirty-two-year-old Reinhardt has been involved in motorsport for as long as he can remember, courtesy of his father Syd who has competed in club racing events in a Porsche 911 for many years.

"I've been around cars my whole life, Dad has basically raced since he was a kid. He races historics and I would tag along to some of those events," Reinhardt told Australian Photography.

Reinhardt first got involved with photography in high school and later while studying Fine Arts at university. "I kind of forgot about it for a while and then got back into it three or four years ago", he says, adding the first camera he bought was a Canon 5D MK11.

As part of his role as a freelance web creative, Reinhardt says being able to use a camera has been beneficial to the services he can offer his clients. This has led to regular coverage of club racing events where he shoots both stills and video for posting on club websites. "Whenever I get an opportunity I just get out and do it," he says of his enjoyment for shooting club events.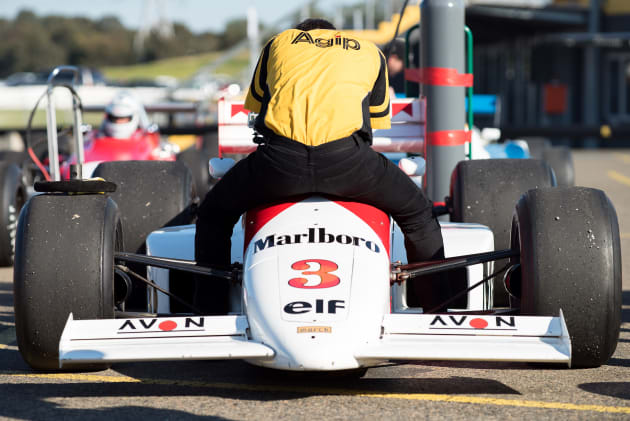 Not all fast cars, fast action
Going online to view Reinhardt's motorsport photography reveals quite a different perspective of the sport. Many of his images portray more of a 'behind the scenes' and candid view of motor racing. He takes shots from different angles and viewpoints which show more detail and give the photos a unique and interesting look. It's apparent Seth Reinhardt's not the typical motorsports photographer you might see on a track's perimeter with monopod and long lens trained on the fast approaching competitors.

"I'm more interested in telling the story and capturing the atmosphere of what's going on," he says.

"I started thinking recently that my approach had become more documentary storytelling in a way – documenting this community of people. A lot of them are older and they're driving these cars [of which] some of them are 50 to 70 years old and they're preserving them and keeping them going."

He says the goings on around the race, rather than the race itself, interest him more.

"Most of the photographers you'll see at motorsport events will have a big 400mm lens on a monopod and they'll be shooting on a corner somewhere. They'll stay there until the light's wrong and then move on to the next corner to where the light's right. No one really looks at the people who make up the event," Reinhardt says.

"I find the people much more interesting and I spend most of my time wandering around the pits and the paddock where they hang out to try to tell a story about what it was like to actually be there."

He adds he does get out on the track and take shots of the cars going by because "people want to see their cars and their driving" but it's not an aspect he focuses on to a great extent.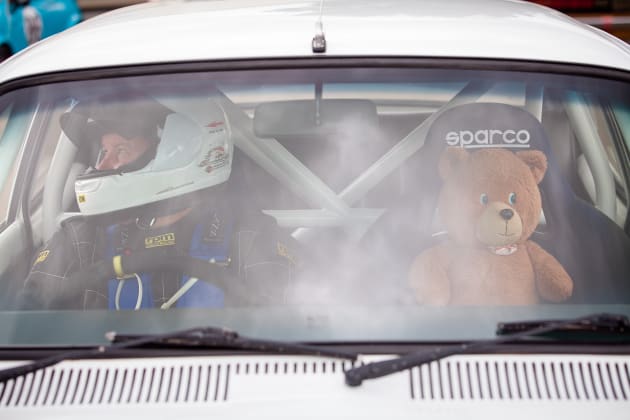 Travel and people
I ask Reinhardt if he has any favourite race events. "I did the Phillip Island Classic one year which I quite liked, I've photographed the Formula One in Melbourne before. I enjoy opportunities to shoot new events in new locations."
He explains that finding something interesting and different to shoot at tracks and events he frequents often – such as Wakefield Park and Eastern Creek as part of NSW state club rounds – is a challenge, which is why he appreciates travelling interstate to a track like Phillip Island.
He finds shooting through "fresh eyes" often produces new and different images. "I'm not super fussy," he says of the events he covers as long as there's something interesting to shoot. "I had a great time doing a little Porsche club event two weeks ago which had 80 people, but for some reason no one was paying attention to me and I could just take the pictures I wanted to take."

Much like street photography, Reinhardt says he likes to shoot candid style images where people are less affected by someone pointing a camera their way. Unfortunately, every photo opportunity doesn't pan out the way he hopes.
"I'll be taking a picture because I like the combination of elements; there might be emotive conversations going on, someone might be sitting on the car in a funny way. I try and have the car and the people and frame it in an interesting way, and they'll see me and go 'oh you're taking a picture' and will move so I can take a picture of the car. I'd much rather people are absorbed in what they're doing so I can capture that story."

Of Melbourne's annual Formula One race at Albert Park, Reinhardt recommends the experience to any photographer who's never been. He says the atmosphere at the Formula 1 is remarkable and it's difficult not to be stirred by the competing cars' high pitched wails that can be heard in Melbourne's CBD. While he has covered motorsport at Bathurst, Reinhardt usually attends the historic circuit for Easter club events, rather than the famous V8 Supercar race held in November.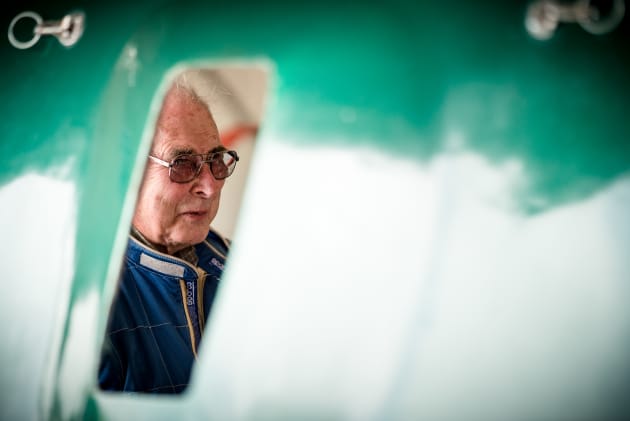 Assessing the shoot
When he arrives at a track to cover a meeting, Reinhardt likes to firstly wander around and take note of any potential locations and photo opportunities.

"I'm a bit haphazard and probably should have a shot list, but I usually just start looking at what the light's doing," he explains.

"You get really hard shadows and contrasts because there's a lot of stuff outside in the open sunlight as well as in tents and garages where it's much darker – there's often a huge dynamic range to work around. There's some points where first thing in the morning you might have quite nice light going into those enclosures. If I know something like that I'll work out when it'll be good to be there."

Planning shots around available light direction and time of day is a vital aspect of his motorsport photography. "I might say I like the way the elevation changes here and the foreground and background elements, but I need to be here in the afternoon because if I'm here in the morning the light will be pointing straight down the lens," he explains.

"You can go to the same place five times and not notice something about it, for me it's more about exploring and seeing what's going on."

He adds walking around a track and looking for interesting compositions, rather than staying parked on the fence and waiting for cars to go by, usually provides more interesting results. Shooting with a buddy on the day too can be highly beneficial as you can bounce ideas off each other which often helps the final result, as well as being a lot of fun.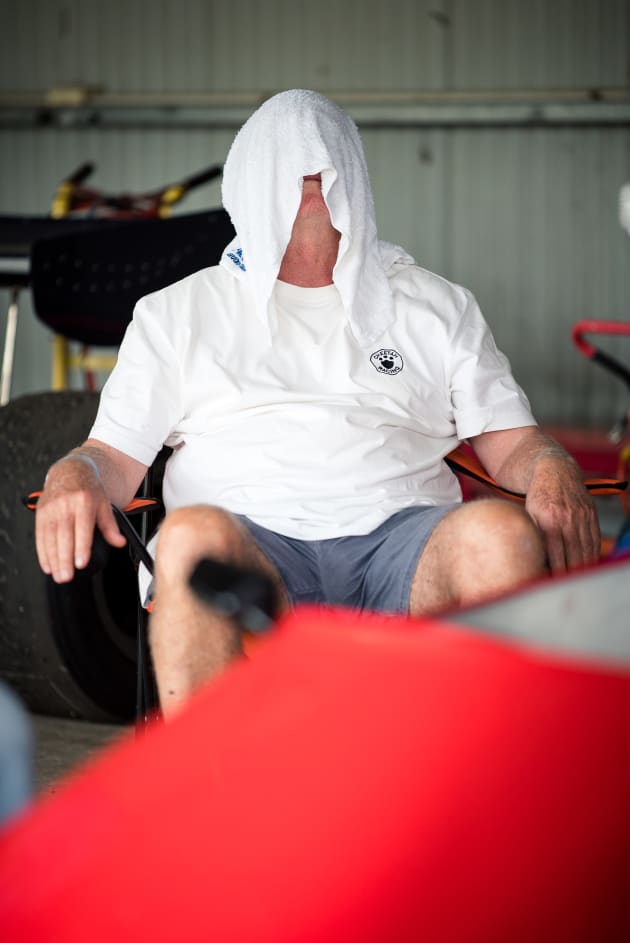 Driving a manual
These days Reinhardt shoots with a Sony A7s mirrorless camera which replaced the Canon 5D MK11 he describes as "bulletproof"'. The main advantage of the Sony he says is that it's "nice, small and light". The A7s he shoots with his much loved Zeiss prime lenses, previously used with the 5D MK11, a 21mm f2.8 Distagon and 135mm f2.0 APO. There's also a new 35mm Voigtlander F1.7 Ultron lens with helicoid adaptor for reducing minimal focus distance by around 50 per cent.

A Canon 70-200 f2.8 ISII L series is Reinhardt's only "long lens". He explains; "I only pull that out when I want to shoot long out on the track or for video, because it's my only stabilised lens. I see a lot of images I could take if I could shoot longer when I'm out on the track, just because of the way you can use compression and depth of field when playing with foreground and background elements."

He adds that as he uses the 70-200 so infrequently for his style of motorsports photography, he's thinking of replacing it. "I'd like something very wide like a 14 or 15 [mm]. Most of my shooting is on the 35 or the 135."

While motorsport photography might conjure thoughts of motor drives and fast shutter speeds to freeze action, Reinhardt slows the race scene down to his own pace, which is probably to be expected as he mostly uses manual focus lenses, which presents its own challenges and can be 'hit and miss' as he explains.

"I have to be quick to nail focus in time. Sometimes I'll rack focus to bracket a bit if I have to be very fast. I'll also grab a shot quickly to capture a fleeting moment, and then continue shooting the scene for a while afterwards to make the image I had in my mind initially and see what else happens.

I have found that my keeper rate is actually a lot higher than what it was with my autofocus lenses. And I more consistently hit focus on very specific elements, like eyes, than what I found with the somewhat indistinct focus points of the 5D Mark II." Reinhardt says he doesn't feel disadvantaged using manual focus and mostly shoots with his autofocus lenses set to manual. "I'd say that manual puts you in a more measured, thoughtful shooting mode," he explained.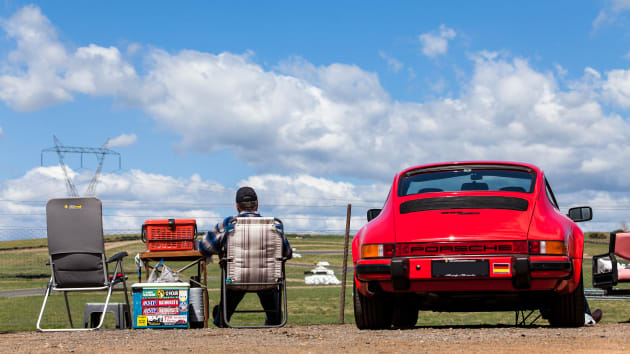 Another advantage of using the smaller camera and lens is easier access to crowded or confined areas for shooting behind the scenes images.

"When I'm just shooting for myself I'll just be walking around with the 35mm [Voigtlander] and that's great because it's small, unobtrusive and light. I also find it less cramped than a 50mm, especially in small spaces, although I do miss my 50."
Reinhardt doesn't spend a lot of time on post processing of images after an event, instead just focusing on getting the right balance of colour and contrast.

"I'm not thrilled with the colours of the Sony, they're just not as consistent as the Canon. I mostly just get the colours I want and the contrast to be natural."

For any photographers thinking of getting into shooting motorsport, Reinhardt advises: "Try and find your own eye, it's all about what's interesting to you and what you enjoy about whatever you're covering. Find the things that challenge you and condense that down into good images".

Taking a step back from a scene and looking at it in a different way can also add a lot more interest to your photos. "When I first started I was often punched in quite close capturing a moment, but the more I've shot, the more I've pulled back to include what's happening around the moment and bring in more interesting compositional elements. I think this makes for more interesting stories."

These days a collection of Seth Reinhardt images from a club racing event is likely to include a lot of periphery detail and not a lot of fast cars racing around a track.

"I've put up photos of cows and landscape photos and all sorts of stuff besides the cars in my motorsport galleries. They fill out the story of what it's like to be in that place and in those moments."

As well as providing images for his regular clients, Reinhardt has also done his fair share of journalist work, covering everything from product releases to race event reports. He confesses though, he much prefers driving his camera than a keyboard. ❂