Profile: Matt Dunbar
If one were to choose a place on Earth to start a career as a professional surf photographer, Sydney's Northern Beaches would surely be near to your first choice.
With twenty-something world class surf beaches frequented by a collection of local world champions and big wave-riders, simply strolling down to your nearest break on a Saturday morning is half the battle in capturing magazine-worthy surf photographs.
But the trouble is that a lot of photographers already know this, and so do the surfers. Among a sea of amateurs all vying for tripod real estate on the beach on a Saturday morning, few are afforded the respect of local champions like Laura Enever – something achieved only by a handful of photographers who through sheer time and consistency prove their commitment to telling the full story of surfing.
Matt Dunbar is one of those few. In recent years, the Northern Beaches local has finally begun to reap the rewards of many years honing his craft photographing the surfers, surf culture, locations, and stories of the surfing community around his home.
Further proving his commitment to his subjects, he has jumped at several last-minute, get-yourself-on-a-plane-as-soon-as-possible sort of opportunities that have seen him jet-setting around the world, living the dream as a professional surf image-maker.
But all the while, Dunbar has maintained an ability for what set him apart in the first place: not enchanted by the glitz and glam of the corporate side of surfing, nor the first-class tickets to Tahiti – instead, he has remained focused on the art of storytelling and revealing the true struggles, issues, characters, triumphs, and failures of those lives spent among the most ferocious waves our planet can conjure.
In the process, Dunbar is proving himself as a formidable visual storyteller with goals that reach well beyond the shoreline.
Riding the wave
Matt Dunbar's first forays into photography came around the same time as his discovery of the ocean, recounting that it was his grandfather's collection of Canon SLRs that first prompted his fascination with documenting his surroundings.
"At every chance, my cousin and I would try to hijack his cameras and take them off to shoot. Now, we both have careers in photography," Dunbar recalls.
"Around the same time that I started getting into photography I discovered the beach as well, getting into surfing. I started realizing how special and how beautiful the moments I was seeing out in the ocean were, so I really just started putting two and two together."
At the time, it was arguable that the Northern Beaches was at its peak of surfing fandom and growth. Surfer professionals lived in the area at the time – including Kelly Slater – and several surfing magazines were also headquartered locally, meaning that before long, Dunbar had a use and a market for his photographs while he continued to build his skillset and consider the craft as a viable career path.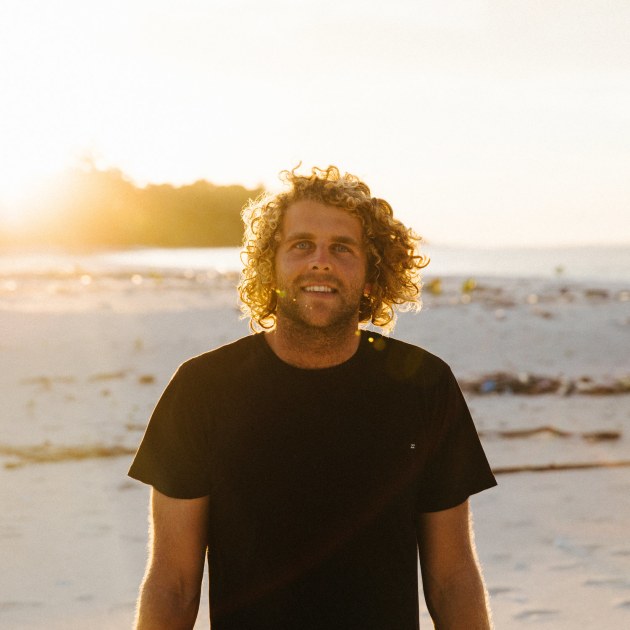 "Through school I did a TAFE course where I was able to learn Photoshop and get my technical skills together. Not long after that there was a women's' World Tour surfing event here on the Northern Beaches," he recalls.
"My mum basically talked me into calling the media manager and telling him that I wanted to lend a hand. He gave me a shot and that contact was really the building block for where I am now. I've just progressed from there over the years.
But surf photography really is very competitive, and it certainly wasn't without many years of sleeping on couches and funding trips off my own back before I really started to see some returns on what I was doing." 
Fast forward a number of years and in 2018 and 19, Dunbar describes what were for him "a dream few years". Co-producing a feature-length movie documenting local surfer Laura Enever's evolution into a big wave surfer, Dunbar spent months following the superstar surfer to endless remote locations driving from Sydney to Western Australia in search of the most rugged coastlines they could access.
It was during this time that he also secured his first magazine cover – an image of Enever that was the final reward for their efforts in the Australian desert.
"It probably took about 15 to 20 trips driving down to a particular spot before we were able to bring all the elements together- the wave, the light and the angles," Dunbar says, noting that the achievement was emblematic of his career reaching new heights among a series of projects he had been working so tirelessly on.
"At that time, I was also photographing the WSL (World Surfing League) and having those sorts of opportunities to shoot competitions overseas. In 2019, I shot all the Australia events as well as Bali, Tahiti and Taiwan. So, there I was really feeling like I'm getting to the top of my game but it was obviously unfortunate to see what the next year had in store."
Rough waters
Living out of a suitcase for much of 2019, it was impossible to forecast that 2020 would see such a drastic change in lifestyle for Dunbar who was becoming very used to a life on the road chasing waves. "Just prior to the pandemic I was on a SurfAid trip to remote parts of the Solomon Islands. I had months of travel and another big year booked for 2020 but I came home first to shoot a surfing event in Manly," Dunbar recollects.
"We managed to get through five days of the event and had two days left. I turned up one morning and there were whispers going around the event site. It was an eerie feeling and a lot of people who work in surf industry – freelancers and contractors - were freaking out. We were all like 'holy crap, we're about to lose all of our work for the year'".
The event would conclude, but as the hundreds of participants – surfers, photographers and media packed up and scrambled to fly home, Dunbar feared the worst for the foreseeable future of professional surf photography.
Not long after finally realizing his dream to travel the world with camera in hand, the COVID-19 pandemic had now stranded Dunbar back in his home of the Northern Beaches. Battening down the hatches, Dunbar turned to refining his craft in other ways, practicing portraiture and taking time to re-assess and upgrade his equipment.
"I've just upgraded to the Canon EOS R5 which has been a dream. I also have my own home office now, which I never had before," he boasts – adding that new parameters to his career also prompted the need for some extra creativity.
"With surf photography basically being grounded for a few years, I really had to start turning to other areas of photography. It's been a good thing in some ways because it's forced me to look outside of surfing and to expand my horizons a bit. I've started buying studio lights and have been working on my portrait work a lot."
Stories from the sea
While the COVID-19 pandemic all but paused Dunbar's career as a surf photographer, during his time of forced domesticity his drive for visual storytelling was both re-kindled and re-framed.
With the opportunity to slow down and take time to look back on his career to date, Dunbar remembered a handful of events that had served to remind him of the power of storytelling but also the power he now possessed as a successful photographer with a rapidly growing audience.
One standout was an opportunity to photograph the return of professional surfer Owen Wright to the contest for the world crown after suffering a brain injury during training in 2015. In late 2019, Dunbar was invited to photograph Wright with exclusive access at the Tahiti pro – an event where Wright would prove victorious and, in the process, end a four-year period of recovery, criticism and trauma.
"It has taken me ten years to gain access to some of the best surfers in the world at some of the best waves in the world so I'm quite proud to have documented this," explains Dunbar.
"This was the final at Tahiti where Owen Wright and Gabriel Medina were battling it out for the title, but Owen Wright was also recovering from a brain injury. He had to learn to walk again, and he was one of the only guys wearing a helmet in this contest. Wright and Medina were sitting out the back when the heat ended and suddenly Wright realised that he had just won.
He had his head in his palms and I'm only metres away from him with my 24-70mm lens. It was just such an incredible spectacle. To be at the base of those mountains with just me and the two competitors in the water – that's a dream I've always had. My camera allowed me to witness that special moment and give me that access and I'm incredibly proud of the photos as well."
Since then, Dunbar has been prompted to look well beyond the wave to find images, while thinking about both the power and responsibility that photographers have when visiting remote regions of the world.
Working with organisations like SurfAid, Dunbar has begun to tread a line between surf photographer and documentary photographer.
"I have a lot of passion for storytelling in photography. In surfing, the challenge is; if there aren't any waves, where is the story?
I've spent a good three or four years in the Mentawai Islands which is a paradise for surfing, but you have all of these communities whose homes are capitalised upon by the surfing community, so SurfAid are finding ways for us to give back."
Over the horizon
Taking his storytelling well beyond the scope of surfing, Dunbar has also photographed bushfires in Australia, while continuing to evolve from his roots in the surf photography world into a photographer concerned with the issues around him, using a skillset refined by the ocean.
"Moving forward I want to take all the opportunities I can to focus on storytelling with my camera," he says.
"It's an incredibly important time for photographers to pitch in where they can. I want to do more than just shoot surf photos. I want to bring more meaning to my images. For the moment, I'm just keeping my eyes open." ❂
Matt's tips
• Extreme low angles can give a normal scene a unique look. Try shooting on the ground to get reflections in puddles, or shooting surfing low with a sand dune out of focus in the foreground and the surfing action in focus for the rest of the frame
• Experiment with long lenses. Don't just shoot front on to a subject, try and move yourself to bring in a different angle and backdrop from what everyone else is shooting
• Try and simplify your frame. Bring focus to a subject by using depth of field, open up the aperture and use long lenses and prime lenses. A 50mm 1.8 is a great cheap lens for this purpose.