Profile: Alex Cearns
Picture this: you're face-to-face with a bird-eating spider the size of your hand. The room is tiny, it's hot, and you have to get as close as you can because it's your job to capture every inch of the little guy's personality with your camera while his owner breathes down your neck. Sound like the stuff of nightmares? It's just another day in the office for Perth-based pet photographer Alex Cearns OAM.
Today, Cearns's successful pet portrait business, Houndstooth Studio, stands as one of Australia's most well-respected, and she has won hundreds of awards for her photography from all over the world.

It is all the more remarkable because photography isn't her first career and something she only began taking seriously just 14 years ago.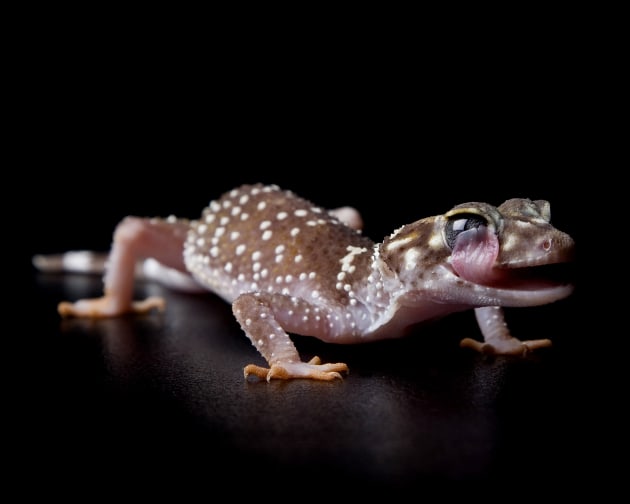 "It was my interest in animals that came first, well before the photography," she explains, speaking down the line during a rare break from shooting at the studio. "I'm an only child and I grew up around animals my whole life. In many ways they were my first friends."
And although a lifelong love of animals would later become key to her work, it's also a world away from where she started out – 14 years with Western Australia Police, and five years with the Federal Government before deciding photography could be a career that might just have legs.
Finding that "thing"
Step back to 2006 and Cearns had just bought her first DSLR.
"At first I thought I'll just photograph everything," she says. "But I quickly found myself gravitating towards animals. Looking back on it now, it was really all I ever wanted to do."
But there was a problem – she needed subjects and her own pets weren't enough.
"I did some research and saw the RSPCA in Perth didn't have a photography partner," says Cearns. "So I went and asked them if I could photograph their rescue cats and dogs, and then I went and did the same at a local wildlife rescue centre."
Part of this was to practice and improve, but it also tapped into her intrinsic belief that if she was to profit off animals as a photographer, she should also give back to the communities that support them.
Around the same time, she took a trip to Cocos Keeling Islands where she captured a beautifully hypnotic photo of blue underwater clams. It began to attract attention.
"I entered that image in a few competitions and it was recognised, and I started to think maybe I was doing something right," she remembers. "People suddenly wanted to buy a copy of it."
On the strength of that image and some of her early pet portraits from the rescue centres, she was contacted by two galleries offering to represent her work. The offers were fortuitous. At that point she had already started selling some of her photographs, with a CD of 100 pet images just $95 – a business model she laughingly admits was "not the best".
On realising that Perth had no dedicated studio pet photography businesses, and with a few clients up her sleeve, she decided to take a punt and launch her own business. The seeds of Houndstooth Studio were sown.
In the studio
"I started off by putting an advertisement in the newspaper for $800, and from that I booked eight clients," explains Cearns.
Word quickly spread. In the first six months she had 20 clients. By year's end, 100, and the following year, 400. Today, Houndstooth Studio photographs more than 1300 pets a year, with all creatures great and small welcome.
Human or animal, a great portrait is one that tells us something about the subject. With pets, it's no different – a raised paw here, a lolling tongue there – it's the unique moments that Cearns seeks to capture in her studio.
Remarkably, from start to finish, a client and their pets will be in the studio for just half an hour. Cearns takes about 300 shots in 15 of those minutes, which means that by the time most of the animals realise what's happened, they are already back in the car on their way home.
This ability to work fast and minimise the animals' (and their owners') stress levels while also ticking off a shot-list is a real skill, but a few tricks-of-the-trade for photographing pets definitely helps the process.
"With 1300 animals a year, I get all sorts," she says. "Take dogs, for example – I get dogs who bite, dogs who are terrified, dogs with anxiety issues, dogs who want to sniff around the place – everything!
"I spend five minutes winning them over and getting them relaxed," she says. In the studio, there's a comfortable 19-degree environment for them to settle into, and the 15-minute shooting part is designed to be over as quickly as possible.
"I sit about a foot away from them with a 24-70mm lens, right at the minimum focus distance. For the dogs especially it can be quite tiring as it's a bit like a training session. I have the camera in one hand and a treat in the other, and from there it's a matter of keeping them focused on me."
Cearns's lighting setup remains the same throughout the shoot – one or two lights when shooting on black, and two or three lights when shooting on white.

For her black backgrounds, the lights will be positioned either side of her, pointing at her subject. For her white backgrounds, one light will be next to her and two will be used to blow the background out.
One of the challenges with shooting similar subjects in similar situations many times over is bringing something new to every shot. Is it always creative? Well, not always.
"I'm always shooting to a client brief," explains Cearns. "The clients will have seen my previous work, and they want the same for their pet.

This means I have to get the same range of shots, and in my mind I work through a list that I check off as I go – half face, looking down, looking up, side profile, tongue out, tongue in, eyes closed, etc." At times, she'll be the first to admit it can be repetitive and stressful in equal measure.
"Where it's exciting is every interaction is different," she says. "Animals are living beings, and they respond to me in different ways. Sometimes they give me an expression or pose I've never captured before." And of course, experience helps.
"I can look at a dog and tell you verbally what a dog is thinking, and the owners will laugh and say to me, 'That's exactly what they were thinking!'" 
Perfect pet pictures
Great portraiture always requires a good relationship between the subject and photographer. And for pet portraits it's no different.
"I think of it as a team effort," says Cearns.
"Whatever they can give me, I can get. If they usually give paw, and on the day they decide they won't give paw, I have to work with it. I never force them to do anything, there's always a mutual respect.

If a dog is wary of strangers, I can get them to relax in the studio, but there will still be elements of that character trait in the images because that's their true nature.
The key to a great portrait, says Cearns, is something that shows the animal as a sentient being, and perhaps more importantly, as beautiful.
"I see my goal is to take a picture that captures what the owner sees when they see their pet. The fine line of course is capturing the pet how I see it, which is also hopefully the same way they see them. And of course, no two pets are ever alike.
"I could have puppies, and then a baby kangaroo, a snake, a rottweiler, and a couple of rats all in the same day. Each will
require different knowledge of their behaviours to successfully photograph them," she says.
The style
Cearns style of photography is very deliberate – in the studio she shoots on a white or black background, with the intention of showing the viewer "everything" of the animal. There are no distractions – just the animal in its purest, cleanest form.
This is something that comes from her background in photographing rescue animals – the right photograph of the right animal at the right time can mean the difference between an adoption or a donation, or awareness being raised.
Interestingly, this minimalist style is also something she aims for when working outside the studio, where she often finds herself favouring clean, unobtrusive backgrounds.
"My wildlife photography is often very clean and simple, and I use natural elements such as grass and sky for my backgrounds. I don't like man-made elements in my images and often aim for a solo portrait rather than a group shot or action shot," she says.
The gift
At the heart of everything Cearns does is the idea of giving back. It's clear her charitable work is a hugely important part of who she is, but it's also remarkable when you consider she not only runs a busy photography business, but also works as a business coach and mentor, is a published author, keynote speaker, an ambassador for a number of photographic brands, and acts as a judge for many photography competitions, including our own Photographer of the Year and The Mono Awards.
In total, she partners with, or provides sponsorship to around 40 animal charity and conservation organisations around the world, and in 2019 was recognised with a Medal of the Order of Australia (OAM) in the Australia Day honours list for her service to the community through charitable organisations.

Of all her interests, it's this she will not compromise on.
"Let me put it this way: if I couldn't do all the beautiful things [having my own] business allows me to do for charity, I wouldn't photograph people's pets. My driving interest in doing this job is it allows me to give back to charity. I've always thought if I can support them, I should."
Cearns is quick to confirm the old saying that charity begins at home.
"You don't have to be a pet photographer to give back to charity – it could be just about any professional service – you could put out a call on social media for towels or blankets, or stand there rattling a tin at a donation drive. There's lots of different things people can do. I'm just very blessed that my day job and my passions align." ❂