Adam Ferguson didn't even own a camera when he first decided to become a photographer. Ahead of a return trip to Afghanistan, Mike O'Connor discovers how in just 10 years he has become one of our country's finest conflict journalists.
"I met a photographer who had studied at the Queensland College of Art and literally decided that I wanted to be a photographer on the spot," explains Adam Ferguson, speaking down a crackly line from his temporary base in Adelaide. "So I borrowed mum's old film camera, quickly put together a portfolio, and submitted it. It was a bit of a surprise, but I was accepted. I only found out later they let in everyone who enrolled that year!"
It was a fitting start for the kid from New South Wales looking for a way out from a rural upbringing, and a stepping stone to a career that would eventually transport Ferguson and his camera to conflict zones around the world.

But back then, he wasn't even sure where the course would take him. "I remember looking in the college library in the first semester – there were books by photographers like Don McCullin and Sebastião Salgado, books of black and white street photography, long form documentary photography books," he remembers. "Flicking through the pages I could suddenly see that this could be an outlet for my social conscience and a tool that would allow me to reconcile my own position in the world. I knew then for sure that photography was what I wanted to do."

Under the mentorship of photojournalists Gary Knight and Christopher Morris, Ferguson progressed quickly. A visit in 2007 to Churachandpur District in North East India led to a series documenting the devastation caused by the heroin trade. But his hunger for bigger and better things was already taking hold.
Ferguson knew he wanted to contribute to narratives on war, but in his own way. "Most photojournalists have covered war at some point in their career, and I felt drawn to this too," he explains.

So after India, in 2008 Ferguson bought a ticket to Kabul, Afghanistan. It seemed like a crazy decision. And at first, it definitely felt like one. "I had no work when I arrived and I just walked the city, looking for subjects and stories – what I discovered was a people going about their business despite the ever present pressure of a war right on their doorstep. It was surreal." Yet slowly but surely Ferguson picked up assignments and as time passed, began to find his feet. "Afghanistan really got me. I kept going back
– for weeks at a time, then months."

Drawing on his experience in India, Ferguson first focussed on a project on heroin users in Kabul. His pictures are stark and gritty – discarded matches and tinfoil; men huddled in a corner grabbing a fix.

"It was a challenging environment, I didn't speak Arabic, I was way out of my comfort zone, and the cultural gap was huge, I really just tried to capture the plight of the people caught amidst a very challenging environment," he says. "I also felt a pull to get out to the so called 'frontline' and see the extremities of the war up close."
Ferguson's work was making waves, and he soon had what he wanted. "I applied for many embeds over the years, and eventually I was approved and able to get out into the corners of the war, places where I could experience life with the soldiers or marines, but also see the dynamic between the Afghans and coalition forces in the districts." With these embeds came a different style of working.

"I suppose I had this expectation war would be all go, all the time, but in many respects it can be quite mundane," Ferguson reflects. This monotony led to a more introspective photographic style. "I'm not interested in the technology and the spectacle of war, so I made a conscious decision to avoid documenting weapons and gung-ho carnage. What was more interesting to me was trying to understand the young guys who are away from their families and thrown into this crazy environment." he says.

It's in the long periods of down time where routine lapses and honesty surfaces that Ferguson found his stories. One of his series is simple portraits of soldiers taken in the media room – faces lit only by computers, eyes fixed intently on the typed words being sent from their families back home.

As a side effect of the embed, he got to know the soldiers well. "When the troops would patrol, I'd go with them, and when the soldiers would storm a house, I'd run in alongside them and receive the same bewildering stares from the locals – in a sense I was part of it all."

He describes the vivid experience of being caught in an ambush in 2011: "It was chaos, guns blazing, and I'm trying to take photos when one of the soldiers, Sergeant Daniel Quintana, is mortally wounded." At the time, Ferguson's audio recording of the battle reveals a soldier telling him to back off with his camera. "I know that despite the hostility, as a photographer, I have a role to fulfil," he explains. "But it's never easy to become friends with these guys then upset them by taking pictures during a tragic moment."

"I remember a conversation with a colleague where we talked about how the eyes of these young soldiers would change in a matter of months – sometimes less," he says, thinking back on his time at war. "Nothing can prepare you for what it's like to see your friends die."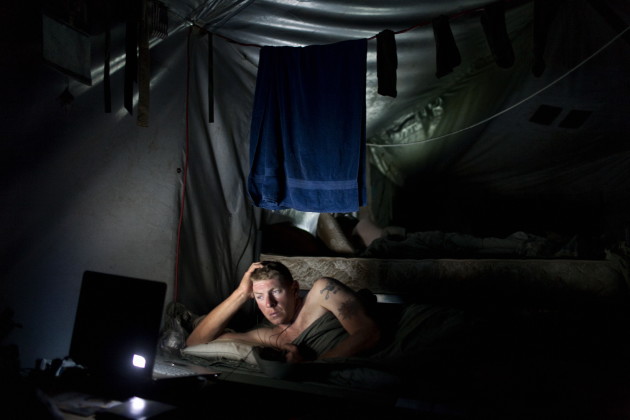 And like the soldiers were changed by Afghanistan, so was he. "After a while I didn't feel the work was contributing to anything positive, the war seemed to me a total quagmire. I felt like I was taking but not giving. I guess I was disillusioned."
By the time he finally left Afghanistan in 2012, Ferguson's photos from more than four years in the country had graced the covers of Time magazine, the British Journal of Photography, and The New York Times. It was a remarkable progression.

In the years since, Ferguson has continued to work as a war journalist, visiting Iraq, Jordan, Israel, Palestinian Territories, Nepal and Pakistan, among others. But he is still clearly drawn to Afghanistan, and has been working on a book about his time in the country. He hopes to finish it when he visits later this year. "It's a war diary that explores my time with both the Afghans, and US forces, then a focus on the security forces, left to try and hold together a fragile democracy," Ferguson says.

"I see it as my role as a photojournalist to present a narrative around conflict that isn't obvious," he explains. "It's important for people to go out and explore topics themselves, especially so if they have been heavily covered in the media."

In taking photos, regardless of at war or at peace, Ferguson believes it's the less dramatic that is often the most interesting. "I do like to take pictures that are unexpected and that present a view of the world that isn't necessarily what you see on the front page of the newspaper. I try in my work to produce something more timeless, to look behind the curtain."

"People always say photography is dead, I feel the opposite. More photographs are being made now than any other time in history. It means photography and information is more democratised – the world is not dependent on a privileged
few with cameras to tell us the story". It's more accessible than ever and I think it's the most universal language we have," he says.
For now, it seems there will always be one more battle, one more conflict, and one more war – and the desire for people to view it through the photographer's lens will remain.

"Could I do it if it didn't excite me? I don't think so," Ferguson says.