One frame: Surfers at sunset
Each month Australian Photography showcases an image by a member of the Australian Photographic Society. In the October issue of the magazine, John Hodgson shared the story of this image, which he captured during an unplanned 10,000km road trip in 2020.
Since I retired in 2012 the principal driver of my photography has been travel, both in Australia and overseas. The onset of Covid in early 2020 put paid to most of my travel plans, but an array of border closures in the middle of the year saw me traversing nearly 10,000 kilometers across six states and territories.
It all began in June, when my wife and I drove from Adelaide to Melbourne to see our daughter, who'd just had her third baby. A Covid outbreak in Melbourne saw us head north into NSW via the ACT, to avoid having to quarantine when we returned to Adelaide.  Further border closures forced us to continue heading north into Queensland, then across Queensland into the Northern Territory, from which we returned to Adelaide in late July, avoiding the need to quarantine.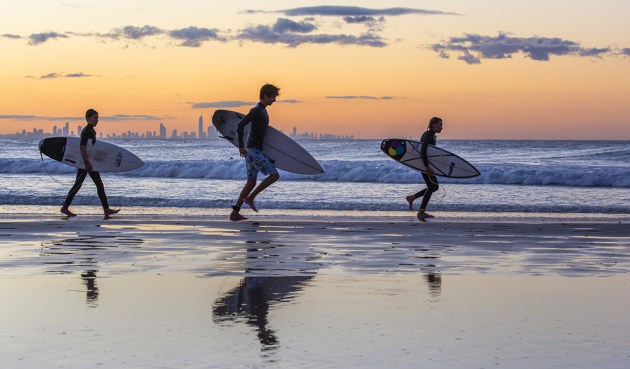 The trip afforded us lots of photographic opportunities in all the states and territories visited, but the most productive spell was in Coolangatta, where we spent five days staying on the beachfront in beautiful winter weather, highlighted by walks along the beach early and late in the day to watch and photograph surfers.

This image was taken at Coolangatta late in the afternoon, looking across the water towards Surfer's Paradise. What I wouldn't give to be able to travel there again! ❂

About the Australian Photographic Society
The Australian Photographic Society (APS) is for people who are passionate about photography and caters to photographer of all experience levels from beginner to advanced. The APS will not only help you improve your photography, it's a great way to make lasting friendships with other photographers in your area and around Australia. To be part of it, all you need to do is take two simple steps: first, join the Society; and second, get involved in some of the activities the Society has to offer.
Find out more at a-p-s.org.au