Tips for better understanding shutter speed (Part one)
Shutter speed is one of the most important settings to know as a photographer, and understanding it will also make you more creative. Here's some different ways to mix up your shutter speeds at your next shoot.
Our modern cameras are technical marvels that can do much of the hard work when it comes to taking a photograph. In most cases, you can take any new camera out of the box, point it at something, and get a "good" exposure in most situations with no defects due to choosing the "wrong" settings.
However, there's so much more to photography than simply choosing the "right" settings and pointing the camera at things. Each setting we have at our disposal can be used to creatively enhance our images. In this article, we're going to look at shutter speed and how it can be used for more than just letting in the desired amount of light.

To begin, let's consider what shutter speed is. Simply by doing that, we can begin to cook up ways to use it creatively right away. Simply put, shutter speed is a measure of how long your sensor (or film) is exposed to light. If you open the shutter for 1/8000 of a second, a very thin sliver of time will be recorded by the sensor. This will "freeze" almost any moving object in place.
However, if you "drag" or keep the shutter open for, for example, 4 seconds, the camera will not get a clear picture of anything that moves during that time as it will be recorded partially in different areas of the image. This is also why we get blur from camera shake if our shutter speed is too low. Beginning with those ideas, let's jump into ways to make use of those extremes and everything in between.
Freezing Action
Perhaps the simplest creative use for extremely fast shutter speeds is to freeze action. By using faster shutter speeds, we can capture still moments that even the human eye cannot see.
This can be a great way to reveal a world hidden to us. Think about images like the beat of a hummingbird's wings or a drop of milk jumping back out of a cup of coffee. These are the results of the use of a fast shutter speed. However, just what is a fast shutter speed and how do we know what speed to use? Like everything in photography, the simple answer to that is "it depends."

Unfortunately, this somewhat unhelpful answer is where we need to begin. The factors that play into our ability to freeze action are shutter speed, focal length, the distance to the object, how fast the object is moving, and what direction it is moving in. Imagine trying to calculate all that before pressing the shutter button! Thankfully, there is no need.

Experimentation and experience are the answers to making these decisions quickly and knowing the effect that different shutter speeds will have. Let's consider a simple example to get us started, though. Visualise a jogger and a speeding motorcycle moving through your composition. Both are at a distance of around 10 metres from the camera. If you choose a shutter speed of 1/250, you will likely freeze the jogger in place but not the motorcycle.
Now bring the jogger much closer to the camera (let's say, 2 metres). Even to your eyes you should be able to see that they appear to be, relatively to you, moving at a more similar speed. It's likely at this distance, 1/250 will not completely freeze the jogger, either. Keep this in mind going forward.

Fast Shutter
So, back to freezing action.
A great example of something that needs an extremely fast shutter speed to freeze it is liquid falling through air. We never see with our own eyes exactly how water coming out of a hose or milk out of a carton actually interacts with the air around it (or for that matter, how droplets of it bounce back out of our coffee in the morning), so photographing these can make for quite interesting images.
By using a fast shutter speed, we can capture individual droplets coming from a garden sprinkler or the "crown" as the first drop of whisky hits the top of an ice block. Streams of liquid also interact with the air around them and almost look like noodles when photographed at high speed.
The same applies to wisps of smoke. Paying attention and knowing that we can reveal a world we normally don't see allows us to begin using the normally mundane shutter speed setting to our creative advantage.


Slow Shutter
On the other hand, by using a slightly slower shutter speed, we can introduce movement into some objects but not others, as we talked about in the beginning of this section. Let's consider rain for a moment. While we know that rain is small droplets falling from the sky (just like that garden sprinkler), we don't really perceive them that way. The motion is so fast that our brains remember rain more like a streak across our vision.
Take a pencil and draw both water droplets and streaks on a page. Which one feels more like a rainstorm? Most will likely say that the streaks feel that way. So, how can we express this in a photograph?

Remember that moving things blur if we use slower shutter speeds. For example, if we choose to use a fast shutter speed of 1/4000, it is likely that any rain will be frozen as droplets in the resulting photograph. However, if we slow that shutter speed down to 1/250, the rain will render as short streaks.
As we slow the exposure time down to 1/125, 1/60, or 1/30, those streaks will get progressively longer as the droplets are able to move further during the chosen exposure time. By using this technique, we can make image that feels like it is raining rather than looks like it is raining.

Long Exposures
When working in the automatic mode our cameras provide, one of the things the camera will try to avoid is a blurry image. This is seen as inherently bad by the camera's internal calculator. It wants to give you an image free of camera shake and render the world in front of it technically perfectly.
But what if you want that silky smooth ocean surface you've seen in fine art images or the blur of passing people in a city shot? What if your night cityscapes are so full of digital noise that you can't make out the fine details in them? These are all jobs for long exposures.

Again, there is no specific definition for how long a long exposure is. In order to get a sense of it, we'll look at several different shutter speeds and how they can affect things in our images. The goal here is to consider why you might want to use a long exposure over a short one.

The Ocean
When photographing the ocean, there are many different approaches we could take. For example, imagine a scene with waves crashing over rocks in the foreground. We can use our choice of shutter speed to decide how much detail will be retained in the crashing waves.
By using a shutter speed such as 1/4 second, we may end up with tendrils of whitewash flowing over rocks and spray flying through the air. If we want a less violent rendering of those same waves, we could choose to add a strong neutral density filter in front of the lens and leave the shutter open for 30 seconds or more.
Over the course of that exposure, different waves crashing will result in a misty appearance where we see the violence of the crashing waves and a glassy surface where our eyes perceive the ripples in the water.
Night City Scape
As we saw above, the decision of how long you need to leave the shutter open should very much be an artistic one rather than a technical one. In the past, we were somewhat limited by slow film speeds and lenses with slower maximum apertures.
Now, the combination of an f/1.4 lens and ISO 102,400 can be used to make perfectly good hand-held images in even the darkest of scenes. So, why then would we choose to lug a tripod along and make 2 minute long exposures in the dark. Aside from the technical benefit of being able to use a lower ISO value in order to reduce noise in our images, we can also use it to say different things with our images, just like with the ocean.

When photographing a night cityscape, we could choose to use a shutter speed of 1/125 to render the people and cars as our eyes see them in the photograph. This might give the viewer the sense of the sheer number of people and vehicles there are and how close together they are moving. It may also give the sense of a traffic jam causing stress.
However, we can abstract this same image from reality by using a long exposure to talk about the passage of time. No matter how slowly that traffic may seem to be moving while we're in it, it is moving. We can use that knowledge, along with our knowledge of how shutter speeds blur moving objects, to give the same scene a much more fast-paced feel.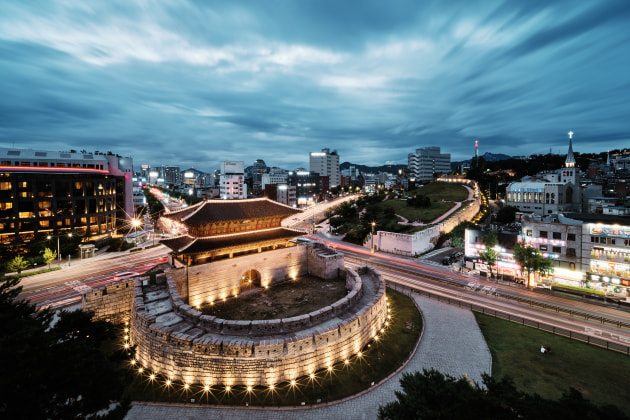 Short Long Exposures
Long exposures do not necessarily have to be extreme like the above examples, however. They can simply be long enough to render certain elements differently to how a viewer might expect. Even a relatively short shutter speed like 1/30 might be enough to blur leaves swaying in the wind or cars speeding down a highway.
We can use this, just as effectively as an extremely long exposure, to give clues about how the scene felt to us or even how the weather was when making the photograph. Thinking about how quickly things are moving and how much blur we want in the final image can allow us to get creative with what's in front of us.