The hybrid shooter: Mirrorless video tips (Part two)
This is part two of a two part series on shooting video with mirrorless cameras. You can see part one, from last week, here. 
4) Lighting for Stills and Motion
A strobe speedlight is one of the revolutionary inventions for photography. Small and lightweight – they are the perfect solution for creating a lot of light. But obviously for film they are useless! So how do you replace flash with 'constant lighting'?
If you are shooting people in daylight situations, try to shoot in the shade as the light is softer. You can also use reflectors to add light by catching the sun. Or, if shooting in the sun, you can use an overhead scrim to soften or even block the light.
Better still is to shoot at daybreak or dusk to get even soft lighting. Ideally the shoot day would be overcast. In fact, many major films wait for hours just for a bunch of clouds to show up - they use a ND filter to locate the sun and see when the cloud breaks are coming up.
For shooting indoors, using higher ISOs and a fast lens will get you by. Using domestic lights are ok – but be prepared for strange colour casts / poor colour 'accuracy'.
Fortunately, the price and quality of LED lights have become very affordable. I have an Amaran 100D LED and three battery powered Aputure AL-F7's in a Pelican Case (along with my sound gear / ND filters and all video related gadgets).
For more powerful lighting, you are now beginning to enter larger budget, true filmmaker territory.
The latest generation LED lights are crazy powerful, can be used with battery or mains and are usually compatible with a Bowens mount so you can add generic studio flash modifiers – just make sure the built for strobe modifiers can handle the heat of constant light.
Another interesting option for lighting is that many of the latest generation of flash monoblocs come with daylight balanced LED modelling light that are semi powerful so you can also use them as a constant light source for film.
One other thing that is critical while exposing is to monitor the Histogram. In harsh lighting conditions, it's often hard to see whether your highlights and shadow details have enough information in them (the loss of detail is known as clipping and turning on 'Zebra settings' will show where this occurs on your image).
Finally, you'll want correct exposures so you can grade the footage in post later. You may want to add a small monitor recorder to your camera to enable you to see more detail – but just be aware that it adds bulk to your camera rig and starts to take away that true hybrid feel. 
6) Recording sound
Uh oh! Now you are entering a new world of non-photography gadgets. One of the biggest rookie mistakes for first time filmmakers is getting terrible sound. This is because inbuilt camera mics are kind of terrible!
What you want at a minimum is a short shotgun mic which slots into the flash hot shoe and feeds into the cameras AUX port. This is a big step up - but it does come with a caveat. Pointing a shotgun mic does give you a narrow 'pick up angle' (eg 30/ 50/ 70 degrees depending on the length of the mike 'interference' tube) but you will also pick up random unwanted sounds from the whole room / environment. For example, shooting an interview at an event will lead to lots of background chatter.
To solve this, you can use the shotgun mic 'off camera' on a boom pole and point it both directly at the source of the sound but at an angle down facing away from other noise.
Another other option which I prefer for 'talking head' videos is to use an omnidirectional lapel lavalier mic (lav mic) on a wireless transmitter. It does take a bit more time to set up on a person and to make it look neat, but it's great for cutting down on extraneous sounds. The drawback is with multiple interviews, you must spend time setting up the mic and transmitter on each person.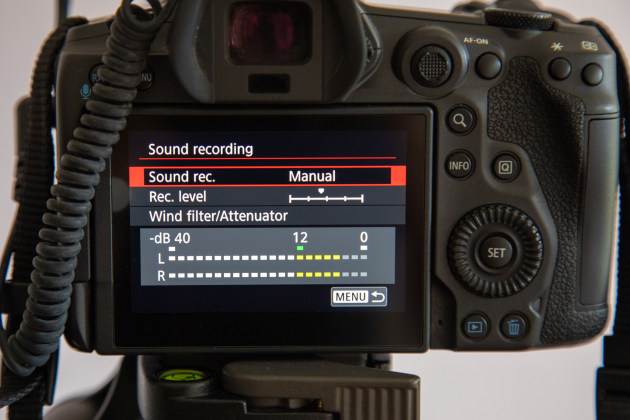 Which brings us to the handheld mic. This enables quick interview style reporting and keeps background chatter down. One simple gadget is from Australian company Rode - the Wireless GO II. It's a great first starter kit and has an array of uses and features to get you up and running. It can also be plugged into a special reporter's mic holder.
And don't forget – you will need some wired headphones to check your sound levels (best to record in manual mode) Test to see if the sound 'peaks' in the red – and dial it down so it usually doesn't go over orange. Basically, you want your recording levels to be -12 to -10 DB.
7) Editing Software
With photography, postproduction is much easier when it comes to cropping, removing blemishes, balancing lighting, with dodging and burning on just one image using Lightroom or Photoshop.
As mentioned before, a film is just a series of images shown sequentially – so you can enhance your images (even frame by frame) in Photoshop! But this requires more work and advanced skills – so it's better to do everything in-camera and use dedicated video editing software.
On the low end I can recommend Apple iMovie – but realistically you want to use Final Cut Pro (FCP) (one off purchase), Adobe Premiere (subscription based) or Da Vinci Resolve (great free version with a pro upgrade version) I prefer FCP as it is the fastest at rendering and playback on MAC, and the learning curve isn't as steep as Premiere.
I recommend buying a keyboard shortcut cover which will greatly speed up your work process as many of the tools you need to access regularly are hidden away in drop down menus or buttons with nonsensical logos.
Regardless of the software you use, the biggest learning curve is using the Timeline interface which is where you drop all your footage (clips), sound and graphics. It may take you three or four video edits to really begin to get the hang of it. One tip is getting used to zooming in and out of the timeline to get into the intricate Cuts and Transitions in place between clips.
Also, it's best to lay down all the clips first then add the soundtrack (unless you are specifically cutting a music film clip.) Finally, the format to export to is H.264 as this is a universal format that can be read by all computers and phones. ❂