Photographing the Blue Mountains (Part two)
This is part two of a two part series on photographing the Blue Mountains. You can see part one, from last week, here. 
Rocky Walls
The Blue Mountains and the Great Dividing Range were formed about 50 million years ago when the area was uplifted. More recently, volcanic flows covered large areas of the mountains in basalt. Today, this Basalt has largely worn away, leaving only occasional outcrops on the high peaks.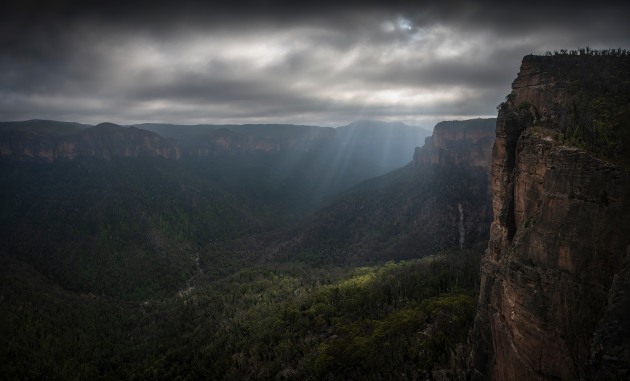 This unique geology has created valleys and surrounding rocky walls across the entire Blue Mountains region. And, as it happens, these areas are fantastic for photography. The following photos were taken during several overnight backpacking trips.
Hanging Rock. It was a windy, full moon night when I camped at this very tight spot near the cliff edge. I woke at 3am and observed that the full moon was just high enough in the sky. The moonlight shone on one side of this giant rock wall, where the stars and clouds were interwoven together. I got out of my tent, set up my camera and took a shot of this beautiful scene.
Canyons
So what do you do when you've seen everything above ground the Blue Mountains has to offer? You go below. In the Blue Mountains, there are two types of canyons: dry canyons and wet canyons. It is relatively simple to explore a dry canyon – it is more or less like a normal bush walk except in a very narrow space. Exploring and photographing wet canyons, on the other hand, can be very tricky.  
Firstly, accessing wet canyons is usually difficult. This is because many wet canyons are located in remote mountain areas and you would usually have to hike a long distance to just reach the entrance of the canyon. Many times, you would also need to swim to cross various deep-water pools inside a canyon, and abseiling is a very common way to enter, navigate, and exit the canyon. Water in a canyon can be extremely cold, so wearing a wetsuit is always recommended for wet canyon explorations.
Secondly, wet canyons can be very dangerous places. Without any marked signs, it's easy to get lost inside a wet canyon and the risks are very real. 
In December 2020, a group of canyoners entered the Blue Mountains Wollangambe canyon – a relatively easy wet canyon. But recent rain had caused a series of unexpected underwater currents, and during a water pool crossing, two participants lost their lives. It is strongly recommended that safety training, clothing and equipment preparation and wet canyon research be undertaken prior to exploring these environments.       
For all my canyoning trips I travelled with Eagle Rock Adventures, based in Katoomba.
Finally, once inside a wet canyon, keeping cameras and lenses from soaking is not simple. Almost all so-called water-proof bags do not really work when fully submerged in water. I have found that the best equipment for protecting cameras and lenses is a Pelican Case.
Although bully, these are watertight, temperature controlled protective cases that are extremely strong. A Pelican Case will not only protect cameras and lenses from water, but also protects these items from crashing against the hard rocky walls and surfaces inside the canyon.
About the author: Yan Zhang is a Sydney based passionate landscape photographer and an outdoor and mountaineering enthusiast. Yan's photographs have been published in professional photography, geographic and travel magazines such as Practical Photography, Popular Photography (Chinese), Landscape Photography Magazine, New Zealand Geographic and Colours. Yan is also an editor and regular contributor to the e-Magazine of 1x.com – the world's largest curated online photography gallery. See more of his work at yanzhangphotography.com.