Photo tip of the week: Master landscape compositions
Photographing nature can be a very rewarding and fulfilling experience. A creative outlet that depends on you escaping the confines of the city and getting out and about in the natural elements.

But it is also challenging. The location you are wanting to get to may be difficult to get to, or being in the right location when the elements line up may take numerous attempts. These are all things we have little control over.
However when all of the elements do align, one thing that cannot be overlooked is the importance of a strong composition. Knowing how to place subjects within your frame is critical to making a great photograph.

I would argue it's much more important than the equipment you're using, or I would suggest, the light nature presents you with.

A basic understanding of how to compose a photograph and some of the general guidelines is important and something that should be practiced.

I am going to go through a few of the things I look for and consider when setting up a composition and also the things that can further enhance how you have arranged your shot through the use of lighting and considerations in post-production.
The classic compositions
I have no shortage of wide-angle photographs in my collection. When I am using my 16-35mm lens I am often looking for a few of the more traditional landscape photography elements. These being leading lines, a balance from foreground to background, and framing possibilities.

Leading lines can be literal and obvious. We have all seen a dead straight highway or a jetty to lead you into the frame. But there are many more ways to lead the eye into the frame that may not appear so obvious at first, or until you use them through the distorted perspective of a wide-angle lens.

A fallen tree may provide a curving introduction to a frame, leading your viewer through to the subject of your image. The crests of sand dunes or the ripples below them can do the same. A little bit of experience in experimenting with these things can go a long way. You may be photographing near water where the waters movement may not seem to offer much at first, however with a slower shutter speed, the movement of the water through the frame may paint in some direction for the viewer.

While shooting these more traditionally composed landscape photographs, also consider maintaining interest through the foreground, mid-ground and into the background. Determining which part of your composition deserves the most attention will help narrow down the options of where you will need to stand and at what height you will need to position your gear to capture your vision.
Generally speaking, you don't need too much dead space in an effective landscape image. Is there too much space to the left or right of your subject? Is there too much sky in your frame that really doesn't add to your image?

It is useful to remember that what you exclude from your composition is as important as what you choose to include. This craft of balancing your photographs will come with practice as well as studying what leading photographers do.

More commonly, when I throw a longer lens on that will compress the scene, I am looking for repeating patterns, layering lines, or abstract compositions. A common example of this is the layering lines of sand dunes. There may be considerable distances between their peaks, however with a long 200mm lens for example, these distances appear compressed.

Sometimes these images start to move towards a more abstract appearance. When attempting to create compelling abstract images, it is important to have a complete lack of an anchoring point. Converse to the wide angle approach we considered before, here you will likely be trying to have the viewers eye simply wander through the image, not really being drawn to one particular position.
Finding such compositions is much easier said than done. Creating a sense of calm, simplicity and balance in the natural chaos of nature can prove to be challenging. For example, fallen autumn leaves on a forest floor may look good to the eye, but deciding on what area to focus on may take some time. Move around the scene with camera in hand before settling on a composition. Look for a composition that feels balanced through your viewfinder before setting up your tripod.

Other than the physical elements of a photograph's composition, it is important to also consider the light falling on the subject. This will greatly influence where the eye wants to start and finish. The use of brightness and darkness, colour and contrast are all very significant.
The eye will naturally go to areas that are brighter, more colourful, or contrast the surrounding elements. Contrasting the surrounding elements may actually mean that rather than being the brightest point, it is the darkest, as it contrasts an otherwise very bright frame. Similarly it may mean it is a contrast of colour. An example may be a red-leaved tree contrasting against a backdrop of yellow-leaved trees.

This is why you may often see images with darker foregrounds and skies both of which have little colour, while the peak of the mountain for example, is in full colour and lit up by the last light of a warm setting sun. Your eye can't help but be drawn to the peak, before then considering the rest of the image. These are things you can also build on in your post-production processes.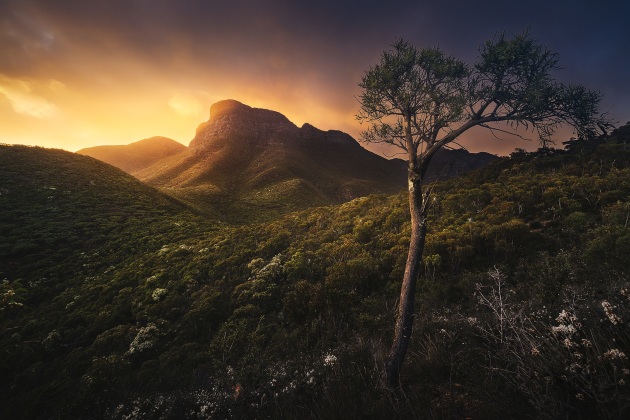 The composition or the light?
Sometimes you may have arrived to your location nice and early. You may have already spent some time scouting it and found a very strong composition. You setup your equipment and now you just have to wait for the light to do its thing.

However lets say when the light starts to turn it on, its not happening over your composition. The great light may be behind you, or to the right. So do you abandon your composition and scramble to shoot a lesser composition with great light or do you commit to the 'ok' light but a top-notch composition?

Now of course our modern cameras make it a little easier to move around freely. However for argument's sake, lets imagine you shoot on large format film, so scrambling and quickly setting up a composition is a little more challenging.
Which should you choose?
I would suggest the strong composition with 'ok' light will often be a more compelling image than an average composition with great light. How many photographs have you seen of an insane sunset with little else of interest in the image? And how many photographs have you seen of the milky way over an otherwise boring landscape? These aren't the images that stay with you, and I'd argue they don't hold your attention for long either.

Some of my favourite photographs from my own, and other peoples collections, always have a strong composition. Of course sometimes they have some extraordinary light too, but just as often the light isn't 'epic'. It is just enough to compliment the scene and in doing so, the result is a stunning photograph.

Now of course, with modern cameras if the light over the scene your camera is pointed at really is flat and lifeless, you might scramble to find something else, or just return to the location another time in hope of better light. This is the joy of landscape photography.
The wandering eye
So you've shot your image. But how do you know if your image's composition takes your viewers eye through the image as you were hoping? You may now have been looking at the image for hours on end, and your perception of the image becomes a little distorted.

I always suggested sitting on an image. Leave it over night and come back in the morning with fresh eyes. Often you won't believe the things you missed or that you have pushed way too far in post production. Your weary eyes the night before had become so adjusted to it that it all looked good at the time.
Once you feel you are happy with the final product, a great way to confirm where your eye is naturally drawn to is to flip the image upside down. Initially your brain will struggle to register, rather than just going to the focal point you're used to looking for. And now the strength of your composition will be revealed. This will hopefully confirm or showing weaknesses in the way your eye wants to wander through the image.

If you still aren't sure, one of the best solutions is to show the image to other photographers who you admire, and who will provide honest critique. Often they will see distracting elements instantly that you could have missed because you have become a little numb to them after staring at the image for so long.

Just be sure these photographers you ask for critique also understand your style and what you are trying to achieve. Otherwise, they may just tailor your work to look more like theirs. ❂
About the author: Dylan Fox is an award-winning Australian Landscape Photographer based out of Perth. Having always loved to travel and witness nature's finest moments, it was only a matter of time before he started capturing them in the form of photographs. His aim is always to capture photographs that provoke emotional connections. For Dylan, the photograph must tell a story and truly captivate those that see it. In 2016 he was awarded first place in the nature category at the international black and white photography awards, has been a finalist in the ANZANG awards for the last three years and has been a runner-up in Capture magazine's emerging photographer of the year competition. see more of his work at dylanfox.com.au.