Photo tip of the week: How to shoot incredible architecture images
Beautiful buildings
Next time you're near a place popular with tourists, take a moment to look around you at what people are photographing -chances are architecture will be high on their priority list. Architecture encompases the built environment and with more and more of us living in cities, there's never been a better time to start thinking about how best to photograph what's on our doorstep. Here are ten tips to help you get great photos.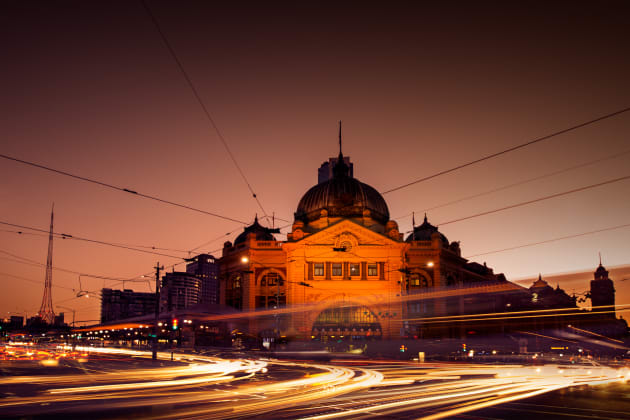 1. Look for interesting buildings
You have to find structures that you think are interesting. When it comes to interesting structures, look for curves or lines. Bridges often have interesting decorations that make them a lot of fun to photograph. We can often criticise cities for hodge-podge design, but this can be great for photography. There are many buildings that have features and lines that reflect the era they were built. Give them pride of place by taking photos where they are the star.
2. Think context
Looking at where a building is situated can tell a story and as a photographer you can help tell it. Is it an old building surrounded by large high rises that dominate the scene? Perhaps it is the opposite, a new building in an area of heritage listed structures. Looking at the juxtaposition of the old and new can be interesting and creates fascinating images. Look for happily situated places, perhaps near water, or with views that give the building a sense of grandeur. Many public buildings are built on hills so the ordinary person has to look up them, evoking a feeling of reverence. You can help to exaggerate that position. A wide-angle lens shot from low down can be great for this. Streets can also give your architectural images context.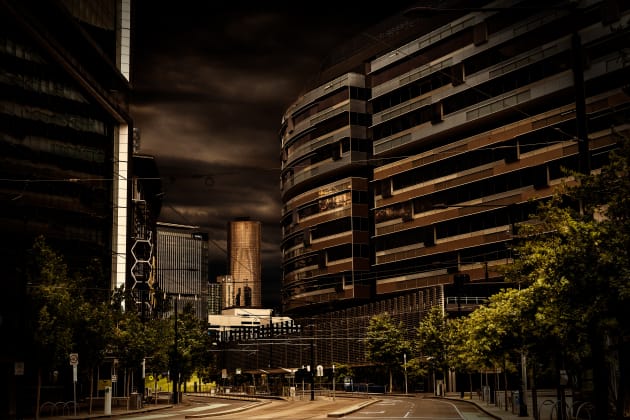 3. Work the angles
It is so easy to stand right smack-bang in front of a building and simply put your camera up to take a photo. Take photos from either side if you can. Take photos from ground level, and get as low as you can. Kneeling can offer another point of view, and then standing. It may seem subtle, but just a slight shift will give you different images, as will choosing different distances. Walk up close to the building and then walk further away, cross the street and see what you can get from there. Try lenses with different lengths and try shooting at arms length and up to your eye. 
4. Don't forget the inside
It is easy to think that architecture is only about the outside of buildings, but many have incredibly detailed interiors. Interiors often reflect the exterior of the building in style. Usually when you take photos indoors the lighting is terrible, and using a tripod is the best answer to ensure low noise images. If you are visiting a building that doesn't allow the use of one, you will have to increase your ISO, or find a stable table or ledge to put the camera on. 
5. Details, details, details
Getting the whole building in the frame is good, but don't forget that sometimes the details can be just as interesting. Look and see if you can find ways to photograph the building that will highlight those subtle parts. They don't always have to be small things either, like an interesting entrance way or a different coloured wall. In most cities around Australia you will find great examples of Victorian Architecture. These buildings often have great detail. When they were built, details were added everywhere. Some are large like columns or great big grand doors.
6. Long exposures are the foundation of great shots
A popular trend currently is black and white images with blurred clouds made silky smooth with ND filters. It's a cool effect and the use of the long exposure helps give the buildings a timeless feel. Photographers often pick buildings that have an interesting shape, or look great standing stark against the sky. Being able to control your exposure in urban settings lets you control so much more than just the sky. You can choose to include people to give a sense of movement and activity, or if you pick the right place you can rid scenes entirely of people and cars, or even reduce them to shadows and light trails. A strong ND filter like a 10-stop will let you do this in the middle of the day so you can focus totally on the building.
7. Weather, seasons and time of day
What a place looks like can change depending on the weather that day, or the time of year. Even the time of day will make it look different. When you travel it is hard to pick exactly what is the best conditions to photo great structures, but when you live somewhere that you photograph a lot then you have many opportunities to find that out. Try not to confine yourself to just morning and evening either. Many urban spaces are treated to harsh, angular shadows falling from buildings in the middle of the day, something that can bring a different element to your images. Remember that the sun rises and sets in different parts of the sky depending on the time of year.
8. Research
Find out the history of buildings, why they are important and what makes them unique. This will help you photograph them better. Use Google Earth to help you understand what is there and what is nearby. Then use Google to research the building or structure you want to photograph. On instagram, try using the hashtags of the places you want to go and you will find images and angles when you visit. Look at what others have done before.
9. Guided tours
There are buildings that are very hard or impossible to get into, but many will offer guided tours, and especially so public buildings. Tour guides often have a detailed history of who the architects were, when it was built and why. You'll hear interesting stories you wouldn't find elsewhere. This context can bring so much more to your images. Some tours will cost, but if you hunt around you may find ones that are free. 
10. Respect the rules
Remember you are not the only photographer visiting that area and that others will want to do the same. When there are rules like no photography, you can bet it was because people didn't obey them in the first place. So respect the rules. You don't have to follow all these tips to get good architectural images, but considering some of them the next time you are near buildings or structures will help you get the best images possible.