Photo tip of the week: How to master low light
From a photographer's perspective, light has three main characteristics. These are colour. i.e. the relative proportion of the blues, greens and reds which make up visible light; quality, the direction and the softness of the light, and quantity, simply the amount of light from blinding sunshine through to moonlight and starlight. 
Of these, colour and quality have the most effect on the look of the photo. The quantity of light makes very little difference to the look, but it does, of course, present some technical challenges that need to be overcome. Let's look at an example.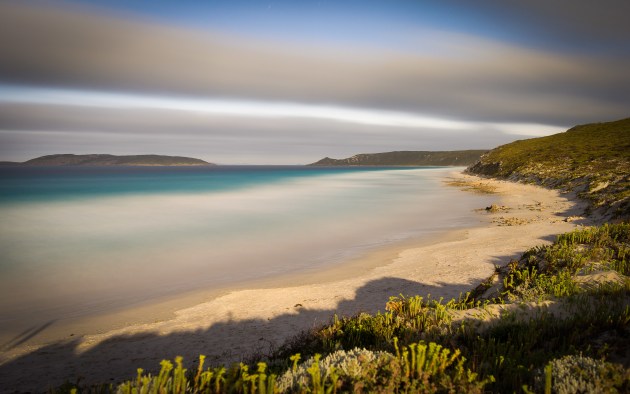 Is the light on the image above sunlight or moonlit? The quality of moonlight and sunlight is very similar because the sun and moon are similar sized in the sky (similar relative sizes) so the shadows have a similar appearance. The colour is much the same because moonlight is, of course, sunlight reflecting off a grey surface. That leaves the quantity, which is very different. This shot was taken with a 125 second exposure, f4 @ ISO160 under moonlight - the star trail is the giveaway!  
It could equally well have been taken in full sunlight using a strong neutral density filter to reduce the amount of light. In full sunlight the exposure would have been something like 1/2000s @ f4 ISO 160, so the difference in terms of quantity is vast - roughly 16 stops or less than 1/65,000 of the sunlight level. It's amazing that cameras can even work with such a huge range of light levels. 
All things being equal, like apertures and ISO, it's the shutter speed that allows us to maintain a decent exposure in differing light conditions. Bright light - short/high shutter speeds; dim light - slow/long shutter speeds. It's important to remember that the shutter speed has absolutely no effect on the image when nothing is moving, but when there is some movement then shutter speeds are critical. Let's look more closely at that concept. 
There are two sorts of movement that concern us: camera movement and subject movement.Camera movement is usually accidental, in other words holding the camera steady or not. There are effects you can create by deliberately moving the camera but, for the purposes of this discussion let's just consider camera shake as a potential source of image blur and thus a problem to be solved.  
During a short exposure (high shutter speed) a bit of camera wobble is not an issue; the small movements of the camera during the brief duration of the exposure will still give you a sharp image. It's when you start using slower shutter speeds that camera shake becomes an issue and there is a danger zone that you enter at your peril. 
This 'danger zone' is when you use a shutter speed that is about the same as, or is a bit less than, the focal length of your lens (using full frame sensor terms). So, if you use a 50mm lens you should take care when using a shutter speed of 1/60s or less or with a 300mm lens, 1/250s or less should alert you. It's a very rough guide with many variables, but it's an easy-to-remember formula. And this doesn't make any allowance for image stabilization. 
Subject movement is where the actual subject has moved during the exposure. Sports photographers might want to freeze a player's movement using high shutter speeds but in the rainforest you might choose a low shutter speed to blur the water coming over a waterfall. It's a creative choice. 
None of the above will come as news to experienced photographers, but if you are a beginner then choice of shutter speed can be a crucial step. 
In bright light, using a shutter speed that will give you a nice sharp image is quite easy because the more light there is, the less the exposure time (higher shutter speeds) needs to be.
In low light however, you will need to use lower/slower shutter speeds to maintain a good exposure and there will come a point when there is not enough light to safely hand hold a shot without risking camera shake.
Most cameras work just fine when there is plenty of light around, it's when it gets dark that the better cameras show their true colours. 
The obvious solution when the light levels drop is to increase the ISO to a point where the shutter speed is appropriate for the shot: no surprises there. But you will pay the price of increasing noise in the photo and at some point, this will be unacceptable.
How much noise can you tolerate? It's up to you, but I would say that you should be less afraid of noise than blur. A noisy image can be controlled in post-production, but a blurry image cannot be repaired. Always aim for sharp over low noise. 
Another solution is to use a tripod. That completely fixes the problem of camera shake but does nothing to moderate subject blur. For static subjects a tripod is often the correct solution in low light, but for moving subjects we are back to our original judgments regarding suitable shutter speeds and so high ISO will still be the correct choice. 
The exact same decisions apply when using camera stabilisers too. The Leica SL2 that I shot many of these images on has a built-in sensor stabiliser, as do many other current model cameras and I think of this as an 'invisible tripod'. It allows you to safely use much lower shutter speeds whilst hand holding - down to 1 second (!) in my case - but you still have the issue of subject movement.
So consider any sort of camera stabiliser in the same category as a tripod - a very convenient and light-weight tripod for sure - but not a panacea for all low light work. 
Let's take look at a few low light examples and I'll explain the thought process behind them. 
One of the hardest photography skills to learn is how to make these choices in the heat of the moment. There is usually time, but it's never limitless. You often need to work quickly and judge these compromises subconsciously, and that only becomes easier the more you practice. 
This was a situation where I could have used a tripod and an exposure of about 1/8, or even 1/4 second, should have kept the man sharp as long as I timed the shot for when he was holding still as he lit the candle. In the circumstances, there were lots of people around and a tripod would have been inappropriate. I thus relied on my camera stabiliser and ended up with an exposure of 1/15 sec at f2 and ISO400 on a 35mm f2 lens. 
Full Moon Festival, Bagan, Myanmar. This image above was much harder to shoot. There were people everywhere, lots of movement, a danger of being set on fire, what could possibly go wrong? The key here is to do your best and hope. The hit rate is going to be low so shoot lots and keep at it.
Autofocus has a hard time in these circumstances, it works best in good light and on high contrast subjects so I often revert to manual focus since too many shots can be lost as the AF hunts for a lock or it locks onto the wrong thing. Too much time can be spent fighting the AF systems. This is also where high quality Electronic Viewfinders (EVF) have the edge because you can see the point of focus using manual focus, and focus peaking can be a big help too. 
The 18mm lens I used is a mechanical lens anyway (Leica 18mm Super-Elmar-M). I wanted an extreme wide angle so I could get below the action and shoot up into the sky as the candle-powered balloons drifted upwards out of people's hands.
It's an older f3.5 lens so I had no choice but to set the camera to ISO1600 or ISO3200, use the widest aperture and set the focus manually using the lens distance scale to about 2m. This is actually very hard to do on a modern AF lens, often the distance markers are hard to read or non-existent.  
Decent shutter speeds were important due to the random movement and I think this was 1/60 sec, barely enough. Then it was a case of keep shooting and let the camera's meter do its job. Pixels are free so keep on pressing that shutter button! 
The 'trick' to low light photography can be summed up by saying "Watch those shutter speeds!". Do whatever you need to do to make sure you get a sharp image (unless blur is actually your goal) and always prioritize a suitable shutter speed over a noiseless image. You'd be amazed how much noise there can be in an image before it becomes unusable – whereas unwanted blur means filing the shot in the 'round filing cabinet'. 
About the author:
About the Author: Nick Rains has been a professional photographer for over 30 years, starting off in the UK with sports and commercial work before moving to Australia in 1990. Since then he specialised in landscape work, crisscrossing the country on assignments for many large book and calendar publishers including Explore Australia, Penguin and Australian Geographic. Nick still enjoys packing up his trusty 4WD and heading off into the wilderness for weeks at a time, driving tens of thousands of kilometres and camping out under the stars in a never ending quest for the perfect light.
In 2002 Nick was named Australian Geographic Photographer of the Year and in 2014 Nick won the AIPP Travel Photographer of the Year. In addition to shooting book and magazine assignments, Nick also runs the Leica Akademie in Australia which instructs other photographers in the finer points of camera use and image making. See more of his work at nickrains.com.