Photo tip of the week: Australia's 10 best seascape locations
Australia's 10 best seascape locations
The island continent of Australia, girt by sea as our anthem sings, has over 30,000km of coastline for photographers to explore. From the rugged sea stacks of the shipwreck coast in Victoria to the dazzling patterns of the Great Barrier Reef in Northern Queensland, the variety is endless. And with over 85% of Australians living within 50km of the coast, it is fair to say that most Aussies have had a reasonable chance to shoot along shoreline at some point. I've also spent my fair share of time yanking my camera from the oncoming path of salty waves, so I thought I'd countdown my favourite seaside destinations. Some you may have heard of and some you may not, but they are all certainly worth a visit.
10. Kangaroo Island (KI), South Australia
Being one of Australia's largest islands means there is a lot of coastline to photograph, and KI doesn't disappoint. The iconic lichen coated granite tors of the Remarkable Rocks are perhaps the most recognised feature. These tors have been eroded and shaped by the wind, sea spray and rain into the most extraordinary shapes, and provide an interesting foreground to the ocean vista backdrop. There are still plenty more treasures to find on KI as you begin to explore. Admirals Arch is a very unique landmark, where you can photograph sunset through a natural rock bridge with stalactites dangling from the roof. There are also several lighthouses on the island with Cape du Couedic proving most popular with photographers, however Cape Willougby and Cape Borda lighthouses are worth a look too. Vivonne Bay has a long sandy beach with brilliantly blue coloured waters, making for some great daytime panoramas. Other beaches worth exploring include Pennington Bay, Hanson Bay and Stokes Bay. Finally, near Kingscote can be found some jetty ruins that make for great long exposures. With all this variety around, you'll be sure to return home from KI with some fantastic seascape captures.
9. Mornington Peninsula and Philip Island, Victoria
Both these areas are under two hours drive south-east from the centre of Melbourne, and have some fantastic sites for creating dramatic seascape images. On the Philip Island side perhaps the most popular seascape spot is the Pinnacles at Cape Woolamai. Walking 4 kilometers from the Cape Woolamai carpark will get you to a viewing area above this naturally sculpted chain of rock pillars. A short scramble down the cliff and you are looking up towards these majestic spires. There are a few different angles to shoot here but my favourite is the view across the boulder-coated shoreline towards the Pinnacles and with the warm light of sunset in the distance behind. Also on Philip Island the wreck of the S.S. Speke is well worth photographing, as is the Nobbies, Pyramid Rock, and the jetty ruins at Cat Bay. The Mornington Peninsula holds Cape Schanck Lighthouse and Pulpit Rock on the southern-most tip. This is a great spot for the Aurora hunter when skies are clear and the geomagnetic activity is high. Further around the coast you'll find London Bridge at Portsea, Bay of Islands, Blairgowrie Beach, and Dragon Head Rock on Number 16 Beach at Rye. There are some very good piers on the Port Philip Bay side of the peninsula too, including Olivers Hill Boat Ramp, Safety Beach Pier, and there are some great boat sheds at Martha Beach.
8. The Tarkine (takayna), Tasmania
Rugged, remote and wild are the three words I think of whenever the Tarkine is mentioned. This expanse of coastline covers a large portion of Tasmania's western coast. The shores here face out onto the longest uninterrupted stretch of ocean on the planet, with the ocean currents travelling from Argentina – halfway around the globe. This gives rise to place names like "The Edge of the World", and after photographing the rocky coves here you begin to realise that these names are very apt. The ancient lichen-encrusted rock here has so much character that it easily becomes the subject of your foreground, and matches well with the roughness of the powerful seas off into the horizon. Arthur River, Sarah Anne Rocks, and Rupert Point are stand out areas for rock based compositions. There are also some astonishing sand dune areas like those at Interview river, which are dotted with things like whale bones, Tasmanian Devil tracks and ancient Aboriginal midden sites. It's hard not to feel inspired after leaving such a dramatic wilderness area, truly a place that needs to be protected with National Park status.
7. Northern Beaches, Sydney, NSW
I may be a bit biased including my neighbourhood of the Northern Beaches in this list, however this tract of beaches and headlands are a seascape goldmine. The area stretches some 30km from the lighthouse adorned Barrenjoey headland at Palm Beach to the sculpted rocky cliffs of North Head at Manly. The area sports quite a number of Sydney's famous rockpools, with photographers often favouring North and South Curl Curl, North Narrabeen, Mona Vale, and Avalon rock pools. Other notable features include Long Reef, a popular low tide location for its many rocks strewn across a flat rockshelf. Perhaps the seascaper's favourite location however is Turimetta Beach, where it is not uncommon to have over 20 photographers vying for the rockshelf's best angles at sunrise on any given weekend. The attention is warranted however, with the possibility of capturing world class seascape images within the metropolitan Sydney area.
6. Whitsundays, Queensland
Mountainous tropical islands surrounded by pure white sand and shimmering turquoise waters. Photographing the beaches in this place leaves the contents of your memory card looking like a tropical holiday brochure. If you take a boat cruise to Whitehaven beach and disembark at Tongue Bay for the walk up to the lookout, it will leave you with an awesome view of the stunning blue-green shades of water in Hill Inlet. Better yet jump on a flight over Whitehaven beach and then out to the Barrier Reef, where you can capture this incredible formation from the air. The dazzling sight of the many colours and shapes of the reef from the air will leave you feeling ecstatic, especially after you review the shots you've just taken!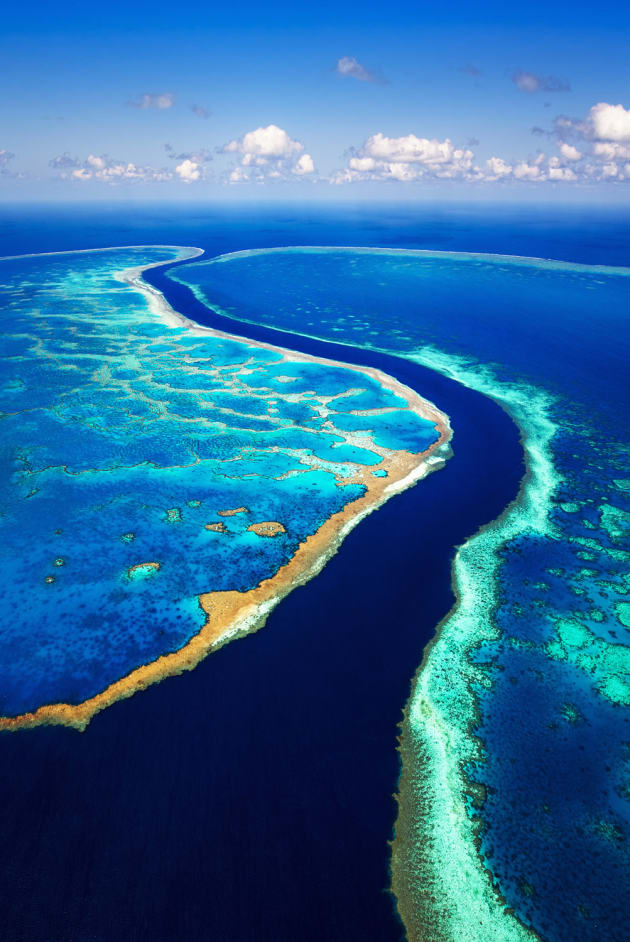 5. Dunsborough-Margaret River, South-Western Australia
Under 3 hours drive south of Perth can be found a place of many seaside gems. Busselton Jetty is reached first. It's the longest timber-piled jetty in the Southern Hemisphere, and a photographer's favourite. Travel further west and you'll reach Quindalup Boat ramp. This wooden structure extends into the often calm waters of Geographe Bay, and is great at sunrise. Leeuwin-Naturaliste National Park is even further west, and holds one of WA's most popular seascape locations, Sugarloaf Rock. This mountainous rock island is much larger than it first appears, and its unique shape provides many different compositional opportunities. Nearby there are many character riddled beaches and rocky shorelines including Meelup Beach, Bunker Bay, Castle Rock and Point Piquet. The Cape Naturaliste Lighthouse it worth a look too. Further south can be found Yallingup surf beach and Wyadup Rocks, which features a unique rock shelf waterfall sometimes referred to as 'Wyadup Falls'. Before you leave the region don't forget to visit Christian Fletcher's gallery in Dunsborough for some post-shoot inspiration.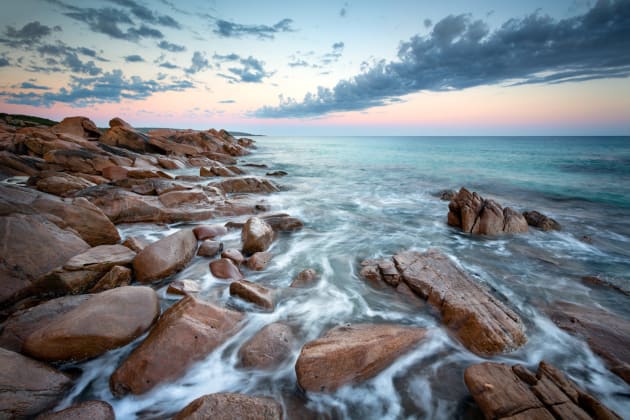 4. Illawarra, NSW
Under two hours from Sydney, and in the shadow of Wollongong, this area punches well above its weight for serious seascapes. On the northern fringe between Clifton and Coalcliff lies Sea Cliff Bridge, an engineering marvel, and a photogenic jewel. As the name implies this bridge runs along the face of a huge cliff, spanning the ocean below, and allowing you to shoot a truly different kind of scene. South of Clifton you'll find beach after beach, and they are all great to shoot at. A stand out is Little Austinmer which has an awesome channel in the rock allowing for great shots of water flow. South of Wollongong the rock type changes, allowing for some very interesting features. A favourite is the stunning vista of Stack Island at Minnamurra Point. Further south in Kiama there are two huge seascape hotspots, Bombo Quarry and Cathedral Rock. These two locations are only several kilometres apart, and are regularly visited at sunrise by keen photographers as from far afield as Sydney. In high seas the huge rock wall at Bombo quarry is pummelled by the ocean, and makes for spectacular viewing as the water smashes up into the air and cascades down its face.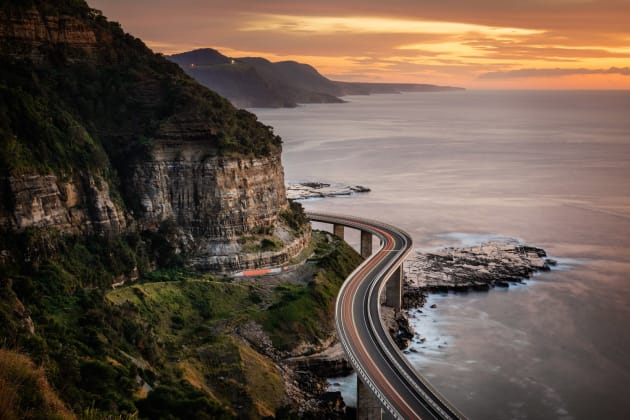 3. Freycinet Peninsula, Tasmania
Celebrating its centenary this year, Freycinet National Park was one of Tasmania's first National Parks. Consisting of beautiful sandy beaches, lichen covered rocky shores, towering cliffs, and tall pink granite mountains, the area offers a seascaper many different options for photography. The Hazards mountain range is a distinctive feature running down the middle of the park. The wide contour view of the Hazards is most commonly captured from Coles Bay, where if you are lucky at night Aurora Australis can light the sky behind. Wineglass Bay is another highly regarded feature, often ranked as one of Australia's most beautiful beaches. Adventurous photographers climb Mount Amos in the early hours of the morning to reach the summit in time for sunrise. Here there is an incredible view down to Wineglass Bay and across the Freycinet Peninsula toward Mt Freycinet and Mt Graham. Sleepy Bay, Bluestone Bay, and Cape Tourville are all great locations for seascapes, and the stunning Bay of Fires coastal region is only a short drive away too. As with the other locations you'll get a very different perspective photographing the peninsula from the air, the views of the Hazards are spectacular.
2. Great Ocean Road, Victoria
Home to one of Australia's most iconic seascapes, the Twelve Apostles, it's pretty safe to say this area needs no introduction. As this is a favourite destination with tourists, it can be important to plan your visit for off-peak times so you can photograph without too much interference from the crowds. The classic Twelve Apostles view can be easily captured from a lookout platform off the Great Ocean Road near Princetown. The lookout view in the other direction reveals two more sea-stacks known as Og and Magog. A walk down Gibson's Steps gets you onto the beach where you can look up towards these magnificent formations. It's an ideal place for long exposures if the conditions permit. There is much more to photograph in the area, including Loch Ard Gorge, Bay of Islands, and London Bridge. If the budget permits, views of the coastline are spectacular from the air providing a unique perspective.
1. Narooma-Bermagui, South Coast, NSW
This seascape hotspot can be found approximately 5 hours drive south of Sydney. Here the jagged rock has been naturally carved into some rather incredible shapes. Near Bermagui you'll find a formation of rocks reminiscent of a camel (Camel Rock), and very close by is another formation that looks so much like a Horse drinking from the water (Horse Head Rock) that you'll be forgiven for thinking that it must be a man-made structure. If that wasn't enough already just outside of the township of Narooma on the end of Cemetery Beach are the Glasshouse Rocks. These rocks jut out into the ocean from a headland, with the main spire reminiscent of a shark's fin. Truly a unique coastline that is well worth exploring for a few days.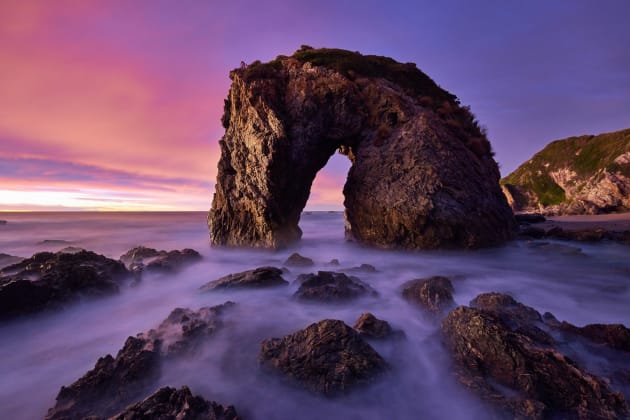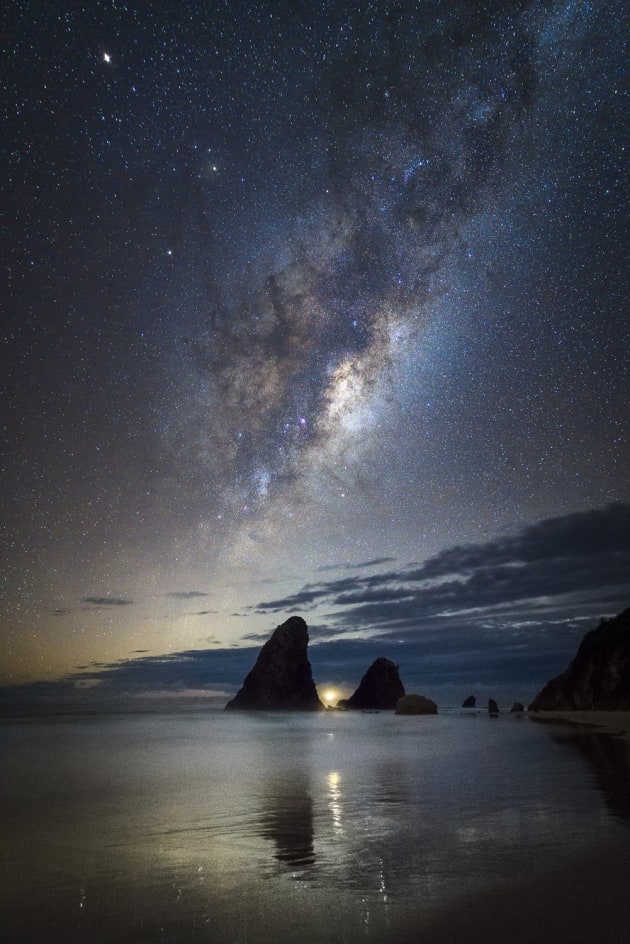 If these locations were old news to you then you'll might find some fresh inspiration in these other areas, some of these were very hard to leave off the list; Bay of Fires (TAS), Flinders Island (TAS), The Kimberley Coast (WA), Albany/Esperance (WA), Robe (SA), Fleurieu Peninsula and Victor Harbor (SA), Eastern Beaches of Sydney (NSW), Port Stephens (NSW), Mid North Coast (NSW), Jervis Bay (NSW), Lord Howe Island (NSW), Wilsons Promontory (VIC), Bellarine Peninsula (VIC), Gold Coast (QLD).

Luke Tscharke runs group seascape workshops to Narooma-Bermagui NSW, and offers private tuition around the Northern Beaches of Sydney. For more details, visit www.luketscharke.com