Photo tip of the week: A focus on composition
Composition is difficult. Of that there is no doubt. Shutter speeds and aperture values can be learnt easily as they are fixed numbers in a scientific system. Even exposure, more or less, has certain parameters of acceptable values.

However, with composition, all bets are off. Of course, there are patterns you can learn and apply to your early work, but you'll quickly be producing very repetitive images if you keep following the so-called "rule of thirds".
As you begin to outgrow simplifications such as this rule and begin to look for new ways to compose your images, it can become quite overwhelming. There are so many interpretations of classic works, books to guide you through ways to approach composition, and a cacophony of voices rattling the very foundations of the internet.
And if you decide to ask a photography forum, well, I hope you're religious so you have someone to call on. You're going to need some help.

With all that said, you still want to improve and add some new tools to your repertoire. So, where do you begin?
In this article, we will come at this topic from the point of view that many compositions that make for memorable images are those that simplify the message. If you can find a way to focus the viewer's attention on what you want them to see without distracting them, you will have made a successful composition.

The goal is to keep people looking, not being distracted by something that doesn't fit in your image. To that end, we'll look at ways to simplify your compositions. For some, this will be repetition or confirmation, for others this will require a radical shift in thinking. Let's dive in!
Think in Terms of Weight
As a basic rule, the way I like to approach composition is by thinking in terms of visual weight, which is the idea that some elements in your image have more power to draw the eye than others.
Examples of this might be brighter objects drawing the eye more than darker ones; saturated colours pulling you away from less saturated ones; or sharper parts of the image commanding more attention than blurry ones.

Of course, all such assertions are not rules and can reverse under some circumstances, but you will find they ring true for many images.
We'll look at ways to place visual weight on a single part of your composition. This will all but force your viewer to look exactly where you want them to. This is the simplest way we can make a stronger image.

We will also consider what the other elements of the image are doing in order to balance it and make a more pleasing image. But first, let's simplify.
Remove Anything Unnecessary
One great way to place more weight on what you want your viewers to look at is to remove elements that draw your attention away from it. The premise here is simple: if you don't want me to look at it, don't show it to me.

This might mean physically taking things out of your composition if you can, or changing your camera position or lens to crop things out. However you do it, try to remove distracting elements so your subject has more weight than everything else in the composition.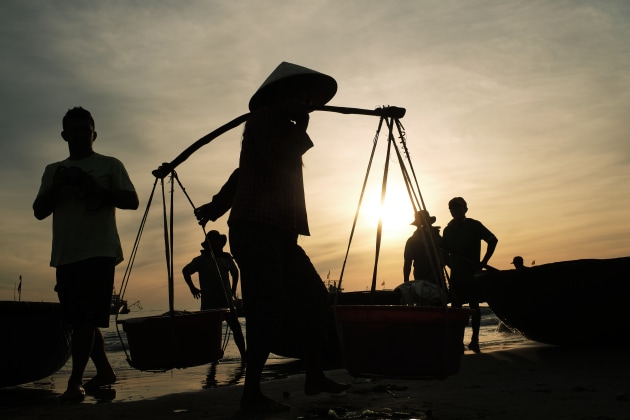 Markets are a great place to practice this skill. In the example above, from a morning fishing market in Vietnam, you can see there are people and boats everywhere. I had just finished photographing the unloading of one of the boats when I noticed a lady had filled her baskets and was about to head home.
I made my first frame in the middle of the chaos, but it wasn't what I wanted. I knew she'd head across the beach now that her baskets were full so I decided to follow her. Gradually, we left the boats and people behind and, by getting down low, I was able to isolate her against the sky while still including the market in the background.
Get Closer
Another similar way to work on drawing weight to your subject is to get much closer. How close really depends on the story you're trying to tell.

One way to approach this is to begin at a distance from your subject and slowly walk in until all the unwanted clutter is gone from your frame. Another possibility is to use a longer focal length to eliminate unnecessary objects, but that will change your angle of view and the way your scene is rendered.

You may not want that. So let's focus on getting physically closer.
For the above image in the busy streets of Hong Kong, I wanted to simplify the frame down to exactly what I felt. I saw this beautiful example of a neon sign from across the street and headed directly for it. I knew that from further back, the clutter would just be too much. There were cars, people and other signs surrounding what had initially caught my eye. As the viewer, you wouldn't even be able to make out what I was trying to show you.
My initial instinct was to show the shop window and sign straight on and use a longer shutter speed to blur some passers by and help you focus on the sign. However, as I moved closer I saw the cook in the window and decided to scrap my initial idea of the wider frame. I got even closer and just isolated the neon ("noodles") and the chef. This made for a far more powerful shot than if I had been further back.
The contrast, colour and size of the sign gives it visual weight, but you still have room to explore the background and find the (darker) chef. It is likely that your eyes will start on the sign, then move about the steam before finally noticing the chef and spending a moment there.

The darkness around the edges here keeps your eyes in the frame and doesn't let them wander out. This natural vignette is achieved by exposing for the highlights.
Constrast of Light
Light and shadow are our basic raw materials as photographers and we can use them to show or hide things within our images. When you find patches, slashes, or differences of light in the world, they should give you pause to consider making photographs.

If you can place the subject you want in full light and plunge unwanted elements into shadow, there are dramatic and dynamic compositions to be made.
In this example above, I make use of the late morning sun casting the shadows of trees on the beautiful yellow walls of the Hoi An Ancient Town. There were dozens of motorcycles parked or passing by, other people crossing the road, and power poles cluttering up this area, but I chose to focus just on this patch of light between the two shadows.
Then it was just a case of waiting for the quintessential nón-lá-wearing-Vietnamese-woman to pass in just the right place. It didn't take long at all and this image was born. The two slashes of shadow frame her well and the high position of the sun plunges half of her face into shadow, adding an additional element of mystery to the composition.

Always be on the lookout for the contrast that patches of light create and how they can be used to bring interest to your composition.
While there are plenty of other things that could draw your attention in this image, my guess is your eyes go right to the hat. There are a few reasons for this. First, our eyes love triangles. Second, the human form is extremely familiar to us and will draw our eyes away from almost anything else. Third, the contrast of dark and light between the human figure and the simple background keep us focused on her. Once your eyes are done with those, no doubt they'll begin to explore the lines of the shadows and the texture of the wall.
Shallow Depth of Field
Using a wide aperture and getting closer to your subject can allow you to draw focus to just one thing. In-focus areas of a photograph will draw the eye significantly more than out-of-focus areas. We can use shallow depth of field to our advantage to help create strong compositions that direct the viewer exactly where we want them to look.
In the case of the above image, I have employed two of the aforementioned techniques and given additional weight to my subject by making him the in-focus area of the image. By getting closer, I made him much larger than the other parts of the scene and removed distracting elements around him. By choosing my angle to allow the setting sun to hit him, I drew further attention to him.

Finally, I opened my aperture up to f/3.2 in order to separate him from the background using a shallow depth of field. I could have gone all the way out to f/1.4, but then the background would have been illegible. I wanted to tell the story of this place as well. Making use of your aperture to isolate can be powerful, but choosing value carefully and allowing a story to be told can be more so.
Minimalism
Opting for a minimalistic composition can also be a great way to simplify your frame. This can be done by surrounding your subject with "negative space". This is hard to define, but simply means anything that does not draw attention away from your subject.
A wide area of a single tone, a repeating pattern, storm clouds surrounding a silhouette – all of these can become negative space.
In the photograph below, I saw that the farrowed field was a repeating pattern with no significant detail that would draw you away from my subject, the farmer. The background beyond this composition was filled with trees and other workers.
By getting up high, I could remove all of that from the composition. Making use of this wide open space without detail, I can draw your eye to the one part of the image that is really different – that's exactly where I want you to look. Here, the leading lines created by the farrowed field and late afternoon sun also help to draw you directly to the farmer.

By including a lot of space around the farmer, not only do I draw your eye to the one object breaking the pattern of farrowed fields, but I also tell more of the story. By getting closer, I could have showed the seeds being spread on the soil. At a medium distance, I could have shown the farmer's action and maybe given you a sense of what was going on. However, with this wider composition,
I show the amount of work that is being done by one person. As we talked about in the beginning, a strong composition tells the story you want to tell and doesn't distract from it.
In focus
So far we've looked at removing clutter, getting closer, minimalism, shallow depth of field, and using light and shadow as ways to simplify your photographs and draw your viewer where you want them to. These are five techniques I use frequently when I'm making photographs.

There are countless variations and other techniques for doing this but we only have so much real-estate here. When using any of these techniques or any of the others you come across, I encourage you to think about how you can use them to add visual weight to your subject and further the story you are trying to tell. Happy shooting! ❂
About the author: Dylan Goldby is an Aussie-born photographer based out of Seoul, South Korea. As well as running a families, couples, and corporate events photography business in South Korea, WelkinLight Photography, he also shoots editorial assignments for regional airline magazines, including Korean Air's Morning Calm and Air Asia's 3Sixty, and publications such as BBC Storyworks and South China Morning Post.
His personal work focuses primarily on disappearing ways of life and changes in our world. His major project over the past several years has been related to the changing face of Seoul and Korea's disappearing artisans, and his current project involves hearing stories from and photographing the last remaining people with tribal facial tattoos in the region. 
You can find more work from Dylan on his website, Facebook page or Instagram.