Photo tip of the week: 5 tips for epic Australian wildlife photography
Specialist alpine wildlife photographer Charles Davis has mastered the art of capturing Australian animals in some of the most challenging locations our fair country has to offer. Here are his tips to capture your own.
1) Shoot wider
As a wildlife photographer, an essential piece of equipment is a super-telephoto lens. I have a Nikon 200-400mm f4 which will set you back $10,000. However, my Nikon 50mm f1.4, which cost around $500, has easily made 10 times more money.

A common misjudgement many people make is to always use a longer lens to get close to the subject, rather than taking the time to get physically nearer. Closing the distance on a wild animal isn't always easy; if it were, everyone would do it, however in my experience if you make the effort to seek out the opportunity to sneak up on a critter, your shots will definitely impress a broader audience.

Long lens shots will generally fill the frame and have lots of Bokeh (the aesthetic quality of "blur" produced by the out-of-focus elements of the image). That can be a helpful effect in some situations but it's not always welcome. Sometimes you want to see the background to create context, which can be crucial in giving the image a story.

A wider shot will generally capture the animals' environment, perhaps even catching directional perspective; where it's been and where it might be going. Sometimes the direction of the animal's gaze or the trail of footprints disappearing behind them can be a good way to draw the viewer into the photo.

This arrangement of directional features draws the eye around the image and can be used to maintain viewers' interest. Displaying the life context of a subject by the intimacy of shooting closer can create a sense of drama which draws the viewer into the moment with you.
2) Use your tripod less
First up, tripods are great. If you're taking a long exposure or using a super-telephoto lens in low light, tripods are invaluable. However, tripods can be a hindrance when it comes to capturing great wildlife photos. Mostly, wildlife events unfold quickly and you rarely have the time to get your tripod set up before you start shooting.

This is where my background on a working farm, where life typically involves hunting with guns to manage pest animals, is advantageous to catching swift photos.

I'm not fond of hunting these days but hunting has more in common with wildlife photography than you might think. Both are about getting close to your subject, with the clearest view possible and taking steady shots. Hauling more gear on a hunt means making more noise and less chance of a good position, so tripods for rifles have never been a thing.

My usual tactic is to sneak up on my subjects to get as close as I can, usually by crawling on my stomach or sliding across the snow like a penguin to disperse my weight and reduce noise caused by crunching snow or leaves. I aim to find a position where I can wait while my subject approaches me; sometimes I need to adjust and reposition quickly according to the animal's movements.

If you have plenty of light and your camera will let you push the ISO without introducing too much noise, shoot hand held. Most of my photos are taken lying flat on my stomach or squatting down. Rest your camera on your hand, on the ground, or pushed against a tree to stabilise your shots. The freedom you gain by not using a tripod will help you respond better in the moment.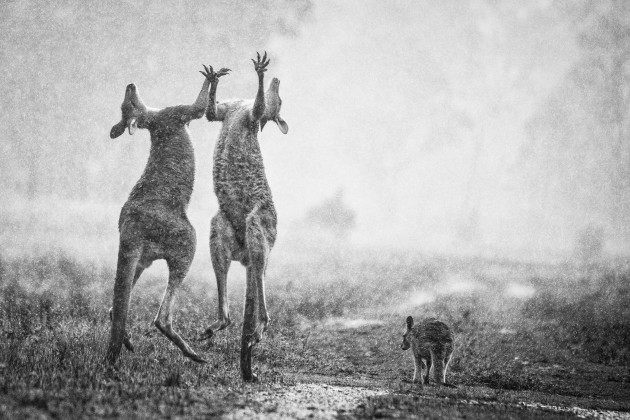 3) Backlight your subjects
All photographers aim to take beautiful photos, to capture the world from a magical perspective and one sure method to gain such effect is to back-light your subject; I love this technique!

Anything with feathers, fur or a border of grass or leaves can enhance magnificently when you highlight its' form. Back-lighting is valuable in creating contrast and separation which can be further heightened by converting your photo to black and white. These images are always the most stunning to me; highlighted fringes make the subject glow, it's a hard look to beat.

Fortunately, one of the best features of a DSLR is the ability to shoot in manual, control your settings and override your cameras' internal light meter that tends to freak out a little when shooting towards a light source. Photographers in the wedding and portraiture industry have utilised this technique for a very long time with back-lit images of brides and models being a staple in the industry.
The same cannot always be said for wildlife photography because of course, it's important to consider the intended ambition of the shot when adopting the use of back-light, as detail and colour elements may be slightly sacrificed for flare and strong highlights.

Its important to remember that 90% of your clients don't see strong highlights as a fault in the image, they see what is aesthetically appealing to them and most will love the fact that you are delivering something to them that their smart phone would struggle to capture.

I see experimenting with lighting as an opportunity to incorporate a little more creativity into the composition; perhaps try shooting towards the sun a little next chance and you may be pleasantly surprised with the results
4) The worse the weather, the better the photo
The most successful photos are the ones that people haven't seen before. The weather in Australia can be a huge help here. Think about it. We experience some of the most dramatic weather events in the world – thunderstorms, blasting winds, blizzards and floods – to name a few. Most people instinctively hide away when the weather turns bad. If you use those times to take photos, you'll encounter sights that many people have never seen. 
When I check the forecast I look for bad weather. Clear sunny skies can be monotonous. Also, wind, rain and falling snow makes it harder for animals to detect your presence which means you can usually get closer to them. For example, wild brumbies are so alert that sneaking up on them can be very difficult without the cover of a howling blizzard.

The same principle applies to birds, kangaroos, echidnas, wombats and a long list of other critters. So, not only can you get closer to your subjects, you have the added bonus of capturing them in a dramatic scene.

Another advantage, which might make those landscape ISO 100 photographers out there cringe, is the trick of grain and rain. Low light during rain and falling snow can be managed by shooting at a much higher ISO than normal.

While this will add grain to your image, if you convert it to black and white, rain and grain are nearly indistinguishable. Some of my award-winning images shot at ISO 5000 have bested landscape photos in the same competition taken at ISO 100. So, don't be afraid to test out your new weather-sealed camera body or high-ISO sensor next time a storm rolls through.
5) Time, time and more time
In nature photography there's an inescapable relationship between the time you put in to get the shot and the quality of the end result. 

I am often asked how I come across my shots and I often reply I have a Jedi sense and can see events before they unfold. The truth is more tedious.

My photo ideas all arise from experiences in the field, like a chance observation of an echidna ambling through the snow or enjoying a swim. I try to learn as much I can about the species using credible sources such as google scholar. The challenge is to turn that new knowledge into an image. 

Sometimes it takes plenty of patience. The swimming echidna images took four years to capture the way I wanted. With every failed attempt I considered different approaches to get to my goal.

Sometimes great shots are more about short term perseverance combined with long term research. The snow echidna photos came about when I randomly spotted an echidna in the snow. I planned to track down another and the following season headed out after a fresh snowfall to find tracks. 

I had to ski 10km before I came across a trail and then followed those scruffy little tracks up and down hills for another 4km. By the time I found my subject it was dark and the echidna had retreated into a hole deep under the snow. That night I skied the 14km home in cold darkness, using the moon to light my way. 

I returned the next morning following my tracks back to the hole. Sure enough 200 metres up the hill, surrounded by snow-covered peaks was the picture I imagined. The time I had put in, despite the discomfort, had paid off. ❂
About the author: Charles Davis (or Charlie as his friends know him) has been photographing the amazing natural world around him for the past seven years. Primarily focusing on Australian wildlife in and around his home in the Snowy Mountains of New South Wales. 

Charlie's family has owned a large sheep farm near Cooma, NSW for six generations and it is here that he finds much of the inspiration for his work. The knowledge gained about the Australian high country, through generations of farming, hiking, and skiing, has been a massive asset in understanding the animals and their habitats in order to capture the amazing world seen in Charlie's photos. Charlie has recently finished a Bachelor of Ecology, which has become a very valuable asset to his career as a professional Nature photographer.
The style of Charlie's work is a fine art approach, creating large beautiful prints in very limited edition sets. As the moments he captures are fleeting and never seen again, so too are the number of prints created. A lot of the artistic inspiration that can be attributed to Charlie's work comes from his two aunts and his grandfather, who are all highly regarded landscape painters. You can see more of his work at charlesdavisphotography.com