Photo Tip of the Week: 5 best photography locations In Tokyo
Travel photographer and Japan afficionado Alfonso Calero shares five great places in Tokyo that are always worth visiting with a camera.
Tokyo is one of my favourite cities. I lived there for many years and while the crazy volume of traffic and crowds can be overwhelming at times, it's always an inspiring and surprising place to explore with a camera. So, where you should you go if you only have a few days, or less, to shoot this incredible city?
Here are a few of my favourite locations to visit with a camera, and the stories of some of the photos I have taken there.
01 TSUKIJI FISH MARKET
If your flight happens to arrive at Narita or Haneda International Airport early in the morning head straight to the Tsukiji Fish Market. Drop your suitcase off at a coin locker or the hotel concierge. You will read in various blogs and guide books about trying to line up and join a 5:00am tour to watch the Tuna Fish Auctions. With any luck you might get in to watch an incredible display of fresh and frozen tuna. No flash or tripods allowed and not much room for movement in a small and confined space. Shoot with a high ISO of around 800-1600 and make sure your shutter speed is not slower than 1/30s or 1/60s, when shooting with a lens up to 70mm.

Another option if you don't want to line up or wake up too early is to visit the market from 9:00am. The wholesale shop vendors will be a lot more friendly to trigger-happy tourists as the rush is over by then. Be prepared for some hostile and overly busy movement until 9:00am if you get there too early. Put yourself in their shoes for a moment. They have a business to run and need to get their produce delivered to retailers as soon as possible. Space in Tokyo is a commodity and tourists are not their main business.


02 SHIBUYA AND SHINJUKU
Shibuya Crossing is a bustling intersection in the centre of Tokyo where seas of people cross from multiple directions every time the traffic lights turn red. Go at dusk and take your tripod or monopod to capture the movement of the crowds while keeping the streets, buildings and neon lights in sharp focus. There are plenty of opportunities for street portraits of young and trendy couples in the surrounding streets – look for well-lit areas and nice backgrounds. A shallow depth of field (f1.8, f2 or f2.8) with a 50mm lens will help to throw the background out of focus and create some consistency in your portraits.

Shinjuku near Studio Alta at East Shinjuku train station exit is a good spot to float around looking for shots of neon-lit streets and funky revellers. A tripod for the streetscapes will help you get tack-sharp shots at slower shutter speeds, down around 5-10 seconds, with car tail lights creating streaks in the image to add a dynamic feel to your pictures.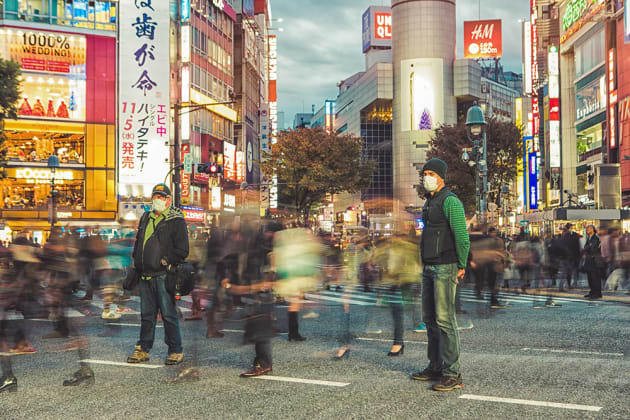 03 UENO
I used to live in the old downtown area of Tokyo, which is also known as Shitamachi, so there's a little bit of bias in this choice. This is also where my wife is from so I've spent plenty of time exploring the back streets and alleys with my camera. Night time in these areas is best explored on a weekday. Anywhere along a railway track close to a station you will find hole-in-the wall style bars and street stalls. Local businessmen flock to these cheap eateries for beer and light snacks.

Streetscapes are usually best shot from walkways looking down on traffic. Use your tripod and shoot with a slow shutter speed around 10-30 seconds to get some interesting trails of car lights. Neon lights also make for lovely backdrops.


04 GINZA
The Ginza is another great spot for street portraits and modern architecture. Visit at the end of the day when the sun is low and the contrast between dark and light adds some drama to the scene. If you're looking for amazing modern buildings to use as backdrops or subjects of your photos, the following Ginza stores are worth typing into Google Maps: Hermes, Bulgari, Mikimoto, Dior, Gucci, Louis Vitton, Prada, Ferragamo, and Zara. Best of all, most are within a three or four-block radius of the Ginza Station.


05 ASAKUSA
Asakusa is a district of Tokyo famous for the historic Sensō-ji Buddhist temple. The Kaminarimon Gate entrance to Asakusa Temple is usually crowded, but you can avoid the rush by visiting at night when the souvenir shops have closed and the tourists have gone home. If you do want to visit during the day, the best times to travel on the subway – and avoid being shoved onto a train carriage like a human sardine – is between 10am and 3pm.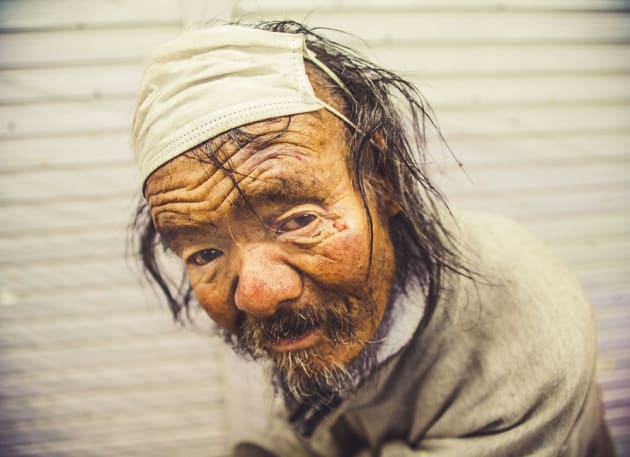 Born and raised in the Philippines, Alfonso Calero moved to Australia at the age of 15. He graduated from the Sydney Institute of Technology with an Associate Diploma in Photography in 2001 and has been professionally photographing food, portraits, landscapes and travel subjects ever since. He runs a travel education and tours company which hosts workshops every Saturday morning in Sydney, Melbourne, Brisbane, Adelaide and Fremantle. He also takes small groups of photographers to Japan, the Philippines, Spain and Tasmania once a year for 10-14 day photography workshops.