Macro Wildlife Photography: Giving small subjects a big focus
Ever wondered how to take the perfect macro shot of a tiny creature? Photographer Joshua Prieto shares his tips on how to make the most of photographing small animals. 
Wildlife photography is an immense genre as it encompasses so many different subjects that live within a variety of contexts, and this is no different in macro wildlife photography. While focusing on small subjects within smaller environments, the same principles of composition and lighting still apply.
A necessary component for any great wildlife photograph is drama. Fortunately, this isn't too difficult to achieve when looking at the minute (yet extraordinary) creatures that scurry along the forest floor or through our gardens.
Getting up-close-and-personal with a dedicated macro lens allows us to make these subjects appear larger than life. Doing this helps viewers to become more interested in the perhaps more unusual or at least unnoticed animals that live near us.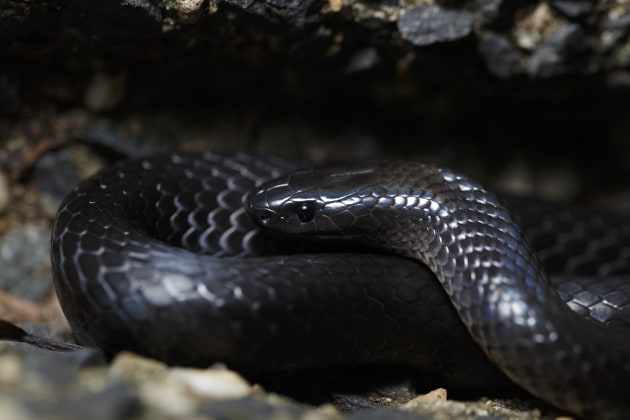 While there are workarounds, the basic gear essentials for macro wildlife photography are of course a camera, a dedicated macro lens (with a ratio of 1:1 or closer) and a portable speedlight flash.
You can use extension tubes that allow you to focus more closely with your existing lenses, but they tend to be a little slower to focus. The use of a steady tripod is sometimes a necessity depending on available light and whether your subject is stationary or fast moving.
With the wonderful advent of Image Stabilisation in most lenses and in some mirrorless camera bodies, a tripod isn't always essential because we can safely hand hold our cameras without introducing visible camera shake in our pictures.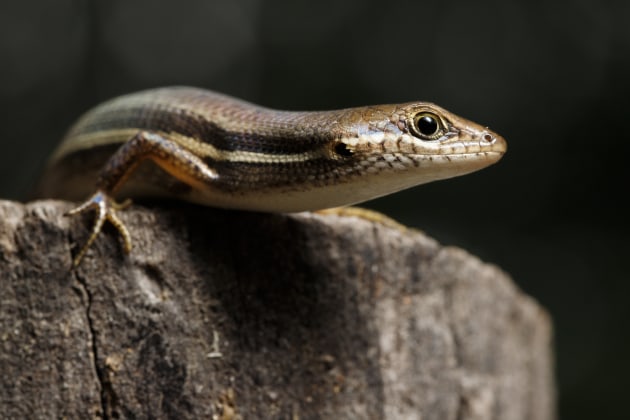 Upon finding an appropriate subject we must decide what sort of picture we're looking to create before we get super close to the animal. This is because we want to ensure minimal disturbance of the creature and because we don't want to scare it away!
Depending on where the animal is situated, we may want to include lots or little of its environment in the background or foreground, and use negative space to our advantage. Even more so than standard telephone lenses, macro lenses help create extreme separation between the subject and background, particularly at wide open apertures. Sometimes with just a few millimetres on the focal plane, we need to be particular about where we hit focus (this is where a tripod and manual focus sometimes comes in handy if you have a willing subject).
When that isn't an option, you can select just one focus point in your camera and hover it over the part of the animal you want most in focus (usually the eye), and the rest will gradually fall out of focus. Whether you use single shot or continuous autofocus will depend entirely upon how active your subject is! When composing any wildlife picture, I usually try to keep at eye level with the subject, as this makes for a more appealing image and highlights the importance of the subject.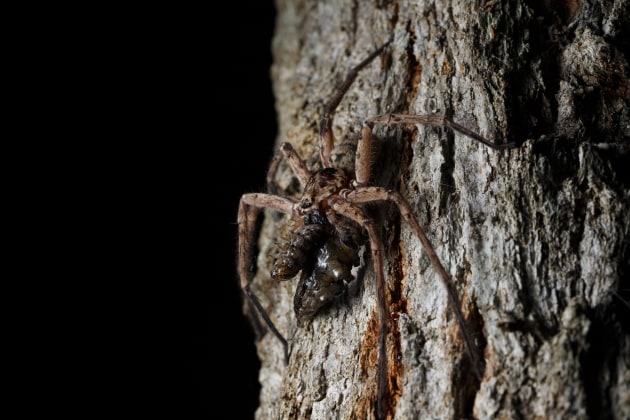 Particular attention should be paid to lighting. In macro photography, lighting can be a particularly difficult factor. Lighting a small animal that may live in a dark or nocturnal environment is a challenge. Coupled with the small aperture often used to create the right image, external light is most often required. A speedlight flash with through-the-lens (TTL) exposure capability is what I would strongly recommend. The ability to fire the flash off-camera is always an advantage, so I think that a TTL cord or wireless flash triggers are investments that are definitely worth the money.
In addition to being able to move the light source around the subject, adequate diffusion in the form of a small soft box will also make all the difference in being able to direct and soften the light for a more even and natural look. The flash can of course be used as a primary or fill light depending on the circumstances.
When employing flash, I try to avoid using it at high power settings, preferring to pump the ISO speed up by a stop or two rather than firing the highest output of light at my subject. This way I will avoid disturbing the animal more than necessary, usually meaning it will reward me with more pictures before it decides to move away.
Below I have prepared some examples of photographs I have shot that are each paired with explanations on how I created them and why I used the technical settings that I did.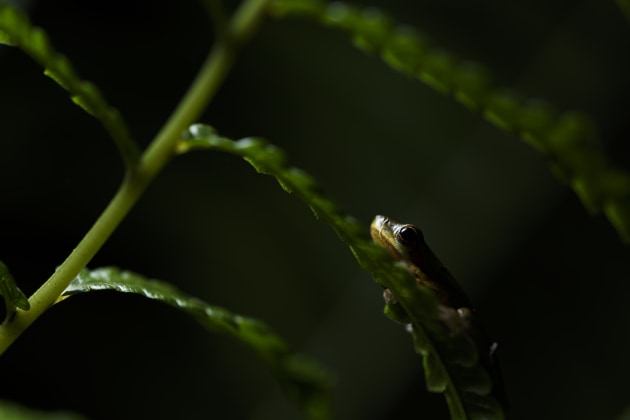 Fortunately, perched near-perfectly on a small fern beside a pond, this frog appeared to be looking up towards the moon, so I positioned my flash above and in front of the frog to make it replicate moonlight. Focusing on the eye of the frog and using a large aperture of f/3.5, I could comfortably isolate the subject from the vegetation that was only just visible in the background.
As well as technical knowhow, knowing your subjects is paramount to creating unique and interesting macro pictures of wildlife. Seeking out subjects at the right time of day and indeed year will help you succeed in making opportunities to make great photographs.
I went out to my local park on a rainy late summer night knowing it was a perfect time to photograph insects and frogs. Using a torch, I was able to find this Katydid by its eyeshine and first walked around it before approaching too closely to avoid spooking it.
I wanted display the wonderful shape and camouflage, but also wanted to make it look as though there was expression in the eyes. The raindrops hanging from the Katydid were an added bonus.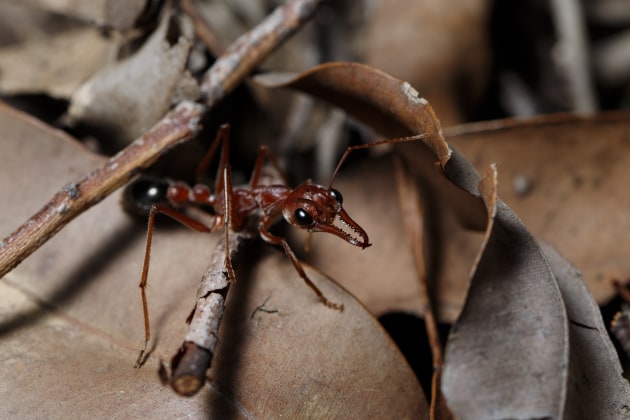 To create this picture of a prowling Bulldog Ant, I made sure to be as close to the ground as possible without spooking the insect to create a sense of intimacy with the subject, and to allow for a little bit of depth in the scene while also creating a little a bit of background separation to draw the eye to the ant.
With the ant being a fairly dark colour that blends into the dry forest floor, firing my flash from above and slightly to the left of my subject created strong catch lights in the eye and abdomen.
Photographing animals behaving naturally will always make for interesting pictures. This is what I did here after watching these termites come and go out of their nest for a while. This species is totally blind and so communicates through scent, but it almost looks as though the two in focus are having a conversation!
I used an F stop of 11 to create enough depth of field to keep them in focus, but not so little as to completely blur out the commotion in the background. I also adjusted the white balance in-camera by increasing the Kelvin manually a small amount to make the red and brown colours a little warmer.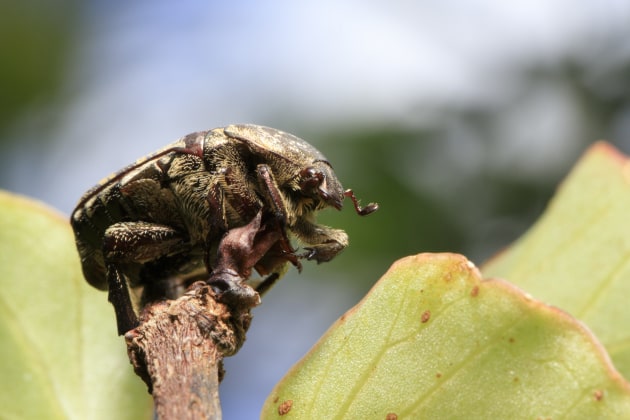 Balancing ambient daylight and flash can be a challenge, but having a fairly neutral background will usually help to further blend the two light sources. Without the flash, this beetle would more or less have been in complete darkness, with a bright background.
To conquer this challenge, I metered for the background, knowing that an aperture of f/18 would completely darken the subject. I fired my flash in TTL mode with an exposure compensation of -1 stop. This allowed for a fairly evenly exposure image and minimal work in post-production.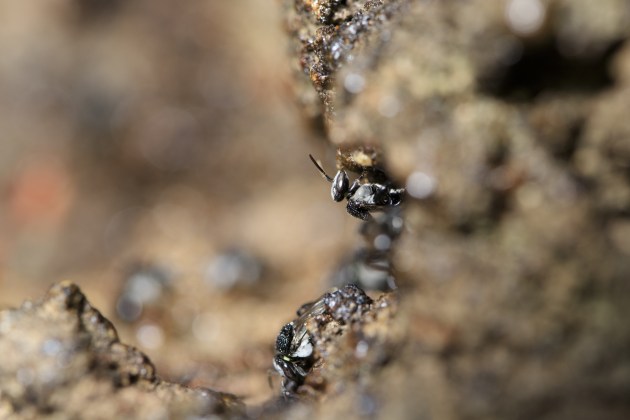 Again making use of aperture for subject isolation, in this picture of leafcutter bees I frame the main subject within the curves of the hive to show it peering out into the world. While this was shot under bright sun, some fill flash made the bees and small smooth stones pop into lovely bokeh balls.
About the author: Joshua Prieto is a professional photojournalist with particular interest in urban wildlife and cultural history. See more of his work on his website and instagram.