How to: Get your own photography exhibition
There is nothing like a thought provoking and beautifully framed photo on a wall.
Long the symbol of 'making it' in photography, an exhibition is still the pinnacle for many in their photographic career. Here, we speak to three photographers, Tim Levy, David Sark and Dylan Fox, about their experience exhibiting their work to the public and the key tips and tricks to be aware of if you fancy doing the same.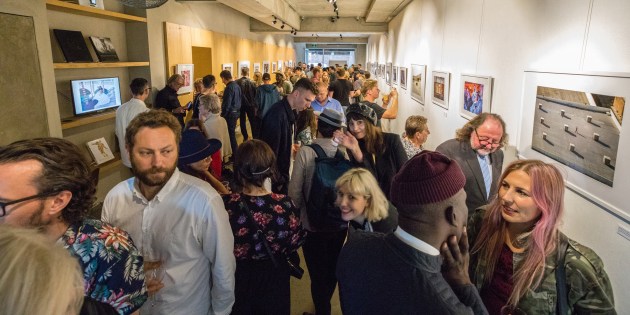 1) Get your work ready
Firstly, your work must be good enough and consistent enough to exhibit. 
Dylan Fox: "You must be very good at your craft. The odds are that two years into your photographic journey, you probably won't be ready. Give it time. Hone your skills, and in doing so, create your own style, one that stands out from all the other artists submitting their work on a daily basis to these galleries. You must stand out."

Tim Levy: "Be ruthless in judging your own work. Get artistically minded people to give feedback. Compare your work to the classic and renowned pro photographers, and learn how to 'third person' your own work. Just don't get bogged down with too many people's opinions. 
"There are all these voices and all these opinions but you've got to trust your own in the end. It's good to listen to other people's opinions, but don't get too carried away with them."

David Sark: "I had many favourite photos to choose from, but found it difficult to choose the final selection. It was easier to overcome this decision making problem by focusing on selecting a series of images with a theme or connections. This approach took the emotional aspect out of the process and allowed me to use a more rational method to compiling a set of images that worked as a comprehensive and inter-related series."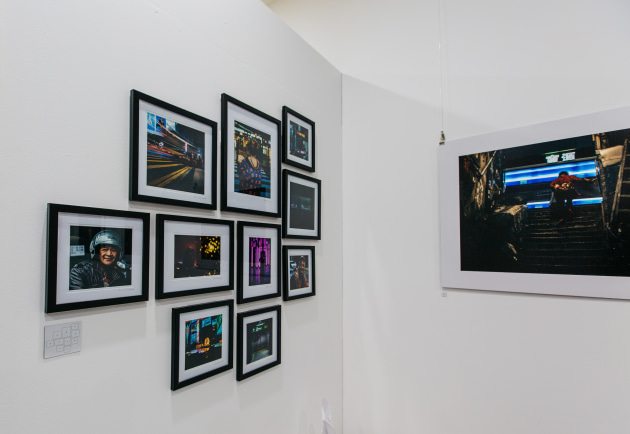 2) Get yourself ready
Putting on a show means coming out from behind the camera to approach galleries, to talk with strangers about your work, and even to say a few words at the opening of the exhibition.

Tim Levy: "You don't have to be a showman and it becomes easier when you realise you are talking about your passion with people who share your interests. Practice makes perfect. Join photography interest groups first so that you talk about and showcase your work and where other members can offer feedback."

Dylan Fox: "When you are looking for a gallery to exhibit your work, persistence will pay off. Good art galleries are always being flooded with requests from not only photographers, but artists of all kinds. Even getting a look-in can be challenging. Don't just email the gallery. Although I have plenty of luck with this, the best way to make an impression is to take your work in, printed and framed or mounted to show them the finished piece. Meet the gallery owner personally. An email with website links is too easy to skip over."
3) Make a checklist
Creating an exhibition is a project where keeping track of the details is essential. There is any number of books about event management on the shelf in your local library and lists on the web to help with the nitty-gritty of creating a schedule of jobs you have to oversee and manage. Keep it simple and obvious.

Tim Levy: "I'm just taking down all those check lists off my wall. There's still a list of what sold, so I can put in an edition number because if I'm selling only ten prints of an image, I've got to keep a record of that. Start up a Google-doc to share it between phone, and PC or Mac. By writing simple to-do lists with costs, you are effortlessly compiling a whole plan.
Make allowances for contingencies. For example, you can provide for a small expenditure on alcohol if your plan to find an alcohol drinks sponsor falls through.

As the organiser you do take on certain responsibilities and in these litigious days, it is especially important that you make sure you are aware of and your list includes checking any legalities and insurance.
4) Location, location, location
It is important that the exhibition space you settle on fits the theme and feel of your work.
David Sark: Sometimes it is difficult to find an exhibition space. For my Head On Photo Festival show I had a hard time finding a space during that time, as you can imagine spaces were in high demand. But luckily the organisers were able to help with that aspect."
Dylan Fox: "If you were displaying dark and grungy industrial images, an older, industrial style space could work well. However a space like that would conflict with photographs like my landscapes, for example. 
You will be surprised to find that many will be happy to hang your work for free. You get to showcase your work, and they get to enhance their wall space.

Don't limit yourself. Think outside the box and be willing to approach people. If you are prepared to start small, consider independent run artists' spaces, shops or offices with foyers, and even the local library."
5) Get the presentation right
Your best work deserves the best presentation. Despite the adage, most people do still judge a book by its cover, and so by extension, a picture by its frame.
Dylan Fox: "If you want to do it properly and have a high grade, quality show, yes, it can become expensive. I have been to shows where it is just small prints pinned to the wall, and to me, it looks cheap, and if it looks cheap, it's not only hard to sell, but hard to ask for a reasonable fee.

You put so much time and effort into mastering your art and then the time involved in collating a series of photographs that you are pleased enough with to exhibit, why fall short at presentation? This I have never understood.
High quality printing and framing is just another piece of the puzzle, so why should it be the chain's weakest link? The way I display work is probably one of the more expensive methods."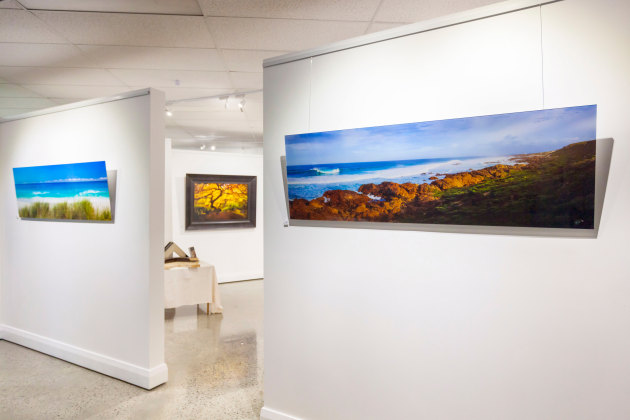 6) Shout about it
Marketing is everything. Snail mail is expensive but can be an effective way to market a show because of the inundation of emails and other digital communications, another email invitation or a publicity notice is easily overlooked.

Tim Levy: "I limited myself to two dozen mail invitations. That resulted in one significant contact and a number of jobs. I printed 500 flyers that I distributed in galleries and local shops. Through Facebook I invited specific interest groups. If I could do the last show over again, in the lead-up I would approach more magazines and newspapers to get interviews as an artist.

Target your audience. Your invitation list will be different to the gallery's list. The gallery will have its own selected and strategic connections to generate publicity and get you on the radar of connoisseurs and moneyed collectors." 

Dylan Fox: Publicity can be tricky at times. My first solo exhibition was a couple of years back now. I spoke to one of the local TV stations about running a piece on the morning news about it. However because they had just covered an exhibition at the same gallery two months before mine, they didn't want to return to the same location so soon. Just unlucky timing for me.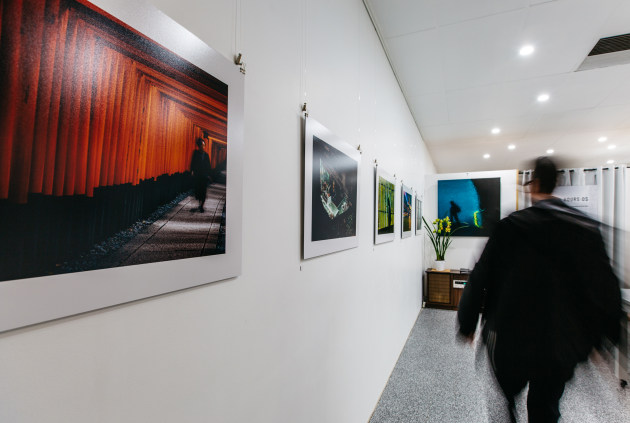 7) The cold hard costs
While the cost of publishing online can be negligible, an exhibition may cost thousands. A gallery may charge a weekly rental fee and a percentage of sales which can be anywhere from 20 to 40 per cent. Opening night costs include catering, drinks, staff and cleaners. Then add advertising costs on top of this. And then there's the printing.
Tim Levy: "The cost of printing and framing ten one meter images at $600 each freaked me out. Instead I did it myself by purchasing $1000 worth of A2 and A3 cheaper exhibition frames, good enough for a show even if they will not last 100 years, and a professional printer. The more decorative works and the stand-out 'wall-able' works were printed in the larger format.

I complemented the print show with a digital slideshow of other images. The thing is by doing it this way, I was left with the assets of the printer and some frames, which reduces the costs of the next exhibition. Most of the prints I sold ended up being professionally framed by the buyers. There's nothing wrong with A2 or A3 prints. They're quite big. I sold a one metre print, and everything else was A2, and A3 prints which is a good size for people in apartments."
Do a cost analysis on what you are going to spend. Cull the number of prints. I displayed 34 prints, but had 70 digital images on a screen. People also enjoyed viewing the digital slide show from a comfy couch and I ended up surprisingly selling images from that."

David Sark: My experience reaped a different reward. Initially I went into the process with the intention of selling work but in reality fell short with the number of direct sales barely covering costs. While this is not a way of making money, if you go into it on a smaller scale and enjoy the process of taking your images from the screen into the real world, it is a rewarding experience.

Ask me if I were to do another exhibition and I would probably say no at this stage. I have quite a large following via my Instagram account and I would probably try and market myself through there if I was to produce a series of prints or a short run printed booklet of my work. There is a much wider and engaged audience online compared to the gallery scene, many of those just attend opening nights for the free drinks."

Dylan Fox: "Beyond costs, the other side of the ledger is income, and how much to charge. At the end of the day it's like any other product. Are you selling cheaper, small matte board prints to tourists or are you selling expensive, large format pieces finished in expensive frames to people with more disposable income? It's a bit like the car market. Toyota might sell 1000 Corollas to every one Audi A8 L. They are both cars, but with a very different target market and sales objective."
8) The show never ends
When the last picture comes off the wall and the door is shut, the show is definitely not over.

Tim Levy: "Treat a show as a PR exercise because one thing always leads to another. I just sold another two prints, and through that was offered an architectural shoot, a wedding job and a restaurant inquiring about fitting out their diner with prints.
Consider other revenue streams. One recent show had an accompanying book which sold well despite its $100 price, while the exhibition itself sold only a few prints.

Putting on my show and getting specific and positive feedback from people cajoled me into doing a photobook of it. Most people loved the accompanying text and stories behind the photos."
Dylan Fox: "Yes I do of course like to recover costs after an exhibition. However it is a pretty amazing experience seeing people excited to see your work. I don't expect to sell anything. Maybe that is not the best business advice, but ultimately you still have the artwork afterwards and it can still be sold. And often people will come back for a second or third look before outlaying their hard earned money on what is ultimately a luxury purchase, not a necessity." ❂