Finest frames: 8 tips for better compositions
As one of the fundamentals of great image-making, composition is also one of the most challenging to master. Here's eight techniques to push your compositions further, faster.
The only rule of composition is that there are no rules. You might have heard this said before, but there is a grain of truth there; composition is a slippery concept and what works for one photographer in one context might not work for others. It's also true that whilst there are no definitive rules of good composition I think we can manage to lay down some useful guidelines.
I have been teaching photography for at least a decade now and one of the hardest things to explain to people is how to frame and compose their photographs. To me, certain arrangements of image elements just 'look right', but that feeling comes from long practice, having been a full-time professional photographer for 35 years.
Saying something simply 'looks right' or 'balanced' to a student is not really very helpful. Exactly why does it look right? Can such a thing even be put into words? I suspect not entirely, so, since we are all visual people, let's have a look at some images and I'll explain what principle is in play.
Composition and framing are closely connected - you choose your framing, and your arrangements of objects within that frame, to create a pleasing result. Pleasing in this context means pleasing to most viewers and as such there are certain things that are considered more pleasing than others. Artists have known about this for centuries and photographers who have studied art will also know this, but many beginning photographers will have no idea what will work and, more importantly, what can't work. This can be very frustrating to say the least.
Composition and framing are all about communicating. There are certain conventions, the language of design if you like, which have been found to work over the whole history of artistic expression. Composition takes a photo from a mere random snapshot of something to a clearly explained story where all the elements are arranged in such a way that the viewer has no difficulty reading the image, even though they might not be aware that they are being 'guided'. This is why some images are simply more compelling than others.
Please bear in mind that these are foundational principles which can help create decent compositions - but feel free to deliberately break them as long as it looks intentional. Many of these principles are also closely related, especially when it comes to placement of a single subject within the frame.
1) Static or Active?
Central and level subjects are interpreted as very static whilst off-centre subjects appear more dynamic and thus more interesting. Unless of course you actually want static!
This image is seriously static; and uses an uninflected, non-dynamic style to communicate the dour, unchanging nature of some of the motels in country towns all over Australia. I have very carefully composed this to be as balanced as possible: the building occupies exactly half the frame, the blue chairs are both cut by the frame edge, the colours are washed out and the overall effect is, as I hope you can see, that of a sun-bleached, joyless and rather tired place. It's somewhere you'd not linger, but would stop the night and leave right away in the morning.
Great examples of this style of photography - low graphic style - can be found in the works of the Bechers, Andreas Gursky, Stephen Shore, Thomas Ruff and Thomas Struth. To some it's totally banal and uninteresting, but maybe that's the point. Many man-made objects are exactly that, and to photograph them in a way that plays to that banality is one way of communicating what the photographer feels about the subject. Given that one of Gursky's images, Rhine II has sold for US$4.3M, maybe they are on to something!
2) Direction of action?
If the subject has a clear or even implied direction (actual movement or just facing), then there should be more frame space in front than behind. Moving objects should be entering the frame not leaving it, people should be looking into the frame, not out of it.
This lady in Namibia, at the Damaraland Living Museum, is facing to the right - not 90 degrees right but definitely a little to the right of the camera position. It's then clear to me that she should be on the left side of the frame so that she is looking into the frame not out of it. I chose to use a horizontal framing because I wanted to include some background, something that's tricky to do in a vertical format image.
It's a common 'rookie' mistake this, centering faces in portraits. This is sometime due to the use of the central focus point in the viewfinder, particularly in point and shoot cameras. Try to trigger focus with a half-press of the shutter, then re-frame (with the half-press maintained) to a better composition, then complete the press of the shutter button to take the shot. This 'focus/recompose' technique is one that's well worth mastering.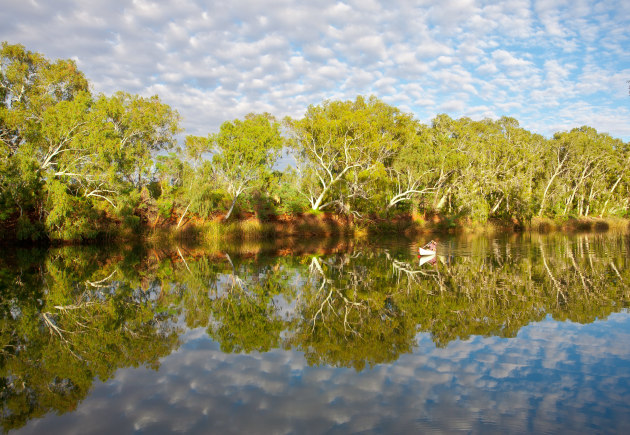 3) Where do I put the horizon?
There are three places it can go - high low or in the middle. Each communicates a different message from the photographer.
High horizons work when the foreground is of more interest that the sky, many classic landscape shots are made like this, with some foreground interest, a high horizon and the sky in the top third.
Low horizons are for images where the sky is deemed to be of greater interest and/or you might be emphasising wide open spaces.
The other option is to have the horizon bang in the middle, dividing the image into two equal parts. I use this placement when there is some symmetry in the image which needs working with, rather than against. A mirror-flat lake with prefect reflections would be a good example or, as in this example, a billabong in outback Australia.
4) Horizontal and Vertical lines are static - diagonals are dynamic.
The top-left to bottom-right diagonal is more powerful than bottom-left to top-right because we are accustomed to start 'reading' in the top left corner of a page, and so that's where our eye often commences interpreting a photo. If the eye immediately finds something 'interesting' it will tend to head right, looking for more interesting information. The strength, or dynamic nature, of a diagonal composition comes from the fact that they are 'unbalanced' and thus give a tension to the image which is unresolved. This is inherently more interesting than a level line, or vertical line, which is fully resolved and thus static.
If you want to emphasise solidity you could try using static horizontal compositions to lend support to this. Old industrial buildings photographed straight on in flat light (New Topographics - see 2 below) is a very recognisably style which uses this rigidity to good effect.
On the other hand, if you want a more lively image, arrange subjects in the frame that form a vague line from top left to bottom right. It does not have to be an actual line - the eye is very good at seeing implied lines of loosely connected objects or even eye-lines from a person looking at something.
5) Be Bold
If there is one thing that will benefit beginning photographers, it's fill the frame! The human eye has an amazing capacity to focus your full awareness on a small and/or distant subject. The camera, on the other hand, can only record what's in the frame and if the subject is small in the frame, it remains like that - small.
Composition and framing are tools to allow you to clearly communicate, "Look at this, isn't it interesting?" Your intent should be crystal clear - if it's a photo of a bird, make sure the viewer can see the bird. Not, "There it is, in that bush, look you can just make out its tail".
Like a punchline - if you have to explain it, it's probably not funny any more. Same with photos. Eliminate extraneous objects, frame in such a way as to eliminate distractions, so whatever it takes to simplify the shot - you will not regret the extra effort it takes.
Photos will almost always be better if the subject of the photo is very clear (however, see next tip).
6) Place a surprise in the photo
By 'surprise', what I mean is something that's not immediately apparent at first glance but becomes visible a second or two after looking. This is known as "The Beholder's Share", a term coined by Ernst Gombrich, who recognised that if the viewer has to work a little bit harder to 'get' an image, when they do they get a little frission of excitement, an aha! moment.
Another good example of this is the classic epic vista shot, where, on close inspection, you see a tiny human figure somewhere in the image, well away from the image centre. Not only is this a nice little surprise but it also serves to set the scale of the scene and, used cleverly, you can mess with peoples' initial perception of scale. The viewer might see a semi-abstract image and their first reaction is to think it's something small - then they see the tiny figure and suddenly the scale shifts.
It's worth mentioning that this counters the previous advice (being bold and filling the frame) so we could consider it an advanced technique and as such it's not always possible to pull off. Don't forget, there are no rules!
7) Framing a Portrait - where should the eyes go?
The single most powerful 'attractor' in an image is the human eye. If there is a person in your shot, the eyes are what your eyes will first lock on to. This makes eyes a very important graphical element in the shot so where they sit in the frame needs some carful thought.
Off centre is always preferable unless you are deliberately going for a very static shot. Given that we need to take into account a subjects facing sometime the eyes can only go in one place in the frame in the sense of left to right, but what about top to bottom?
If I was using the good ol' Rule of Thirds I'd place eyes near either of the upper two intersection points, centred between the top and bottom of the frame is not always a good idea unless the shape of the head dictates this - see the Namibia portrait above. It's even OK to chop off the tops of heads, but what looks very weak is too much space above the head.
This image of a Dassenech woman in Ethiopia is classically framed - her eyes are on the top third line and, given that she is looking right at me, I have gone with a static central framing.
8) Where should I focus?
This can be a tricky one - if there are multiple subjects in the shot, and they are all of similar interest, which one do you choose to focus on? Or do you focus on all of them?
Firstly, in a strongly simplified image there should not be more than two or three competing subjects, to much clutter with everything in focus can often be a bit of a visual mess. So you need to prioritise - what, exactly, are you trying to draw the viewer's attention to. That is what should be sharply focused, and you can use one of photography's classic illusions to de-emphasise the rest by throwing it strongly out of focus using limited depth of field.
In this example, my subject was holding a spear tip and this was what I wanted to draw attention too. Faces are very strong 'attractors' and will compete with anything else in the frame - unless the face is so de-focussed that the crispness of the spear tip outweighs the viewers inclination to look at the face. I have balanced the frame by placing both spear tip and face off-centre and high in the frame by moving myself not the subject. A few inches of camera movement can make all the difference.
About the Author: Nick Rains has been a professional photographer for over 30 years, starting off in the UK with sports and commercial work before moving to Australia in 1990. Since then he specialised in landscape work, crisscrossing the country on assignments for many large book and calendar publishers including Explore Australia, Penguin and Australian Geographic. Nick still enjoys packing up his trusty 4WD and heading off into the wilderness for weeks at a time, driving tens of thousands of kilometres and camping out under the stars in a never ending quest for the perfect light. 
In 2002 Nick was named Australian Geographic Photographer of the Year and in 2014 Nick won the AIPP Travel Photographer of the Year. In addition to shooting book and magazine assignments, Nick also runs the Leica Akademie in Australia which instructs other photographers in the finer points of camera use and image making. See more of his work at nickrains.com.