Behind the lens with bird photographer Greg Basco
All your bird shots don't have to be pin sharp or feature artistic motion blur, in fact, it's possible to do both in the same image! Greg Basco tells how he created this stunning hummingbird shot.
I love to portray movement in nature photography. Whether it's silky water or tack sharp action, movement adds a ton of impact to any image. But what if you could have stop action and slow motion in one shot? Mixing natural light and electronic flash is one of my favourite techniques, and it allows us to do just that.
A hummingbird is a perfect subject for this kind of image for a few reasons. Firstly, if you live in Costa Rica like me, they're everywhere!
Second, hummingbirds, though very fast and amazingly agile, can be quite predictable. If you find a flower that hummingbirds like to visit to drink nectar, your patience will be rewarded at some point with a visit. And, if you know a bit about plants, you can easily predict exactly where and how the hummingbird will approach.
Third, hummingbirds tend to hover, meaning that their wings are beating fast but their body and head are quite still. True, it's only a split second, but it's long enough for us to combine slow motion and stop action.
Here's the trick. You want to first expose for the natural light. If you have backlight, as I did here, that can really help to highlight the wings and to produce a dark background; I aligned myself with a shaded part of the forest. I chose a shutter speed of 1/40th of a second. This is slow enough to produce motion in the moving wings but not so slow that the body and head of the hummingbird will be a complete blur.
Backlight will leave you with a subject that is very underexposed. Indeed, the front of the Heliconia flower and the Green-crowned Brilliant Hummingbird in this shot were quite dark without flash. So, I placed a flash off-camera, which allowed me to create natural-looking shadows. I then set the flash at a low power to give some exposure (but not too much!) to the front of the subject. The flash brings out some color but, more importantly, it adds sharpness. For the image here, I set my flash to 1/64 power which means the flash duration was about 1/30,000th of a second!
It's that combination of slow shutter speed (1/40th) and very fast flash burst (1/30,000th) that gives the effect of sharp and blurry at the same time and in one single click of the shutter. In Australia, you can set up and pray for a hummingbird but I suggest you try it instead on a butterfly visiting a flower!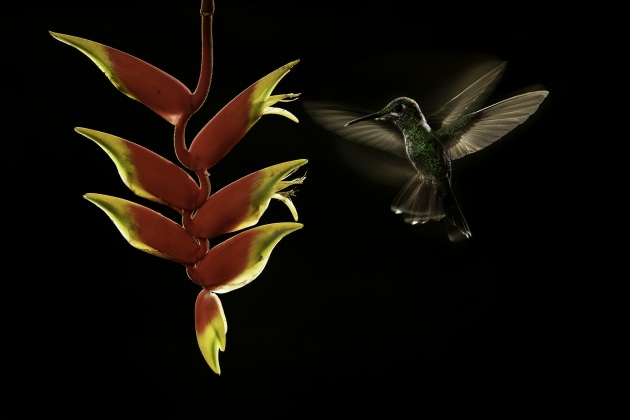 Article first published in Australian Photography, October 2019.