Behind the lens: The Karate Kids
This image was made in 2006 when Australian Photography sent me to Hong Kong to attend the launch of Nokia's new camera equipped smartphones. By chance, another magazine heard I was heading to the region and asked if I would shoot some portraits for them in Vietnam, and so two days after the Nokia launch I was in Ho Chi Minh City.

With a day to spare before the assignment I went exploring the city and as day turned to night I found myself at a martial arts school where dozens of young children were learning self defence.
A tutor gave me the nod to make photos, but rather than just grab a few shots and move on, I did what I normally do in these situations - wait; if you have patience and look long enough you can often see stories within stories, and those are the images I love to capture.

While watching the boy in the right of the frame wonder how he was going to throw a kid almost twice his size, I noticed the young woman in the left of frame tightening her belt, and then the child behind her looking like a discarded doll that had been thrown against the wall. After a quick bit of reframing I captured the image and then moved on to enjoy the rest of the warm evening.
In hindsight the challenge I had when making this photo was not the language barrier but simply the technological limitations of the camera I was using at the time, a Nikon D200 10-megapixel DSLR. To keep noise at an acceptable level, this image at 800 ISO, handheld at a 1/30th of a second with a 50mm lens set to f2.
The following year Apple launched the iPhone and soon Nokia's smartphones, with their alpha-numeric keyboards and articulating screens, seemed clunky; then two months later Nikon launched the D3 and overnight working at 1600, 3200 or even 6400 ISO was no longer a challenge. While technology has made life a lot easier for photographers though, the challenge of finding those magical storytelling moments remains the same.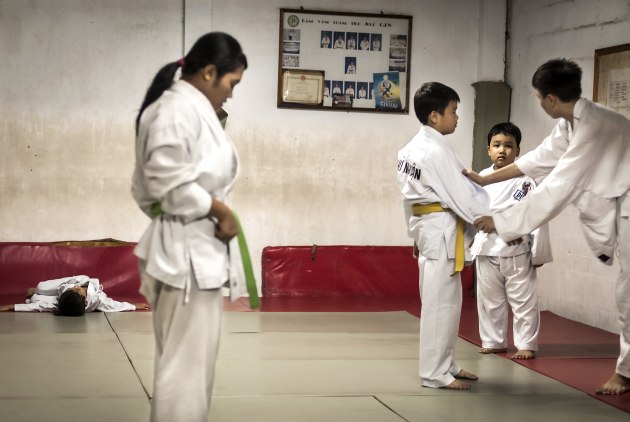 About the author: Anthony McKee is a Melbourne-based writer and social documentary photographer. In 2014 he was named AIPP 2014 Australian Documentary Photographer of the Year. He has also won awards for his landscape photography. He has judged professional and amateur photography awards on both sides of the Tasman, and in 2013 was made an Honorary Fellow of the NZIPP for his services to photography. He is a regular contributor to Australian Photography magazine.