Behind the Lens: Te Ata pūao
I am a photographer based in the Ruapehu region of New Zealand, and I am currently six years into a journey to photograph and document the essence and magic of this beautiful area.
For 2021, my project turned towards the jewel of the region, Mt Ruapehu himself. (I say "him" as in local Maori culture, Mt Ruapehu is known and referred to as Koro, meaning grandfather). However, to do the Maunga (Mountain) justice, I decided I wanted to photograph Mt Ruapehu every morning at early dawn or first light for an entire calendar year. I decided that all the images would be photographed from the same spot, using the same 50mm fixed lens.
Arguably, one of the best locations to photograph Mt Ruapehu is from an exposed elevated hilltop located on an army base just outside of Waiouru. Its view is direct, with no obstructions, just you and Koro - beautiful.
However, at the time I was planning the project, the location was also 25km away from my home over roads that were frequently closed due to snowfall. I really needed to be within walking distance of the hilltop, and I knew if I was to have any chance of making the project work, I would need to sell the house and move to Waiouru.
Thankfully, convincing my wonderful, completely understanding, and supportive wife (did I mention wonderful?) wasn't that hard, as she already worked in Waiouru, so this meant less travel for her. We sold up, moved, and on the 1st of January 2021, I started my journey.
The trek each morning was just under a two hour round trip from home, which I did every morning until winter fully settled in. Through winter, where temperatures often drop to -11C or colder, I cycled or drove to the base of the climb, just to ensure I didn't get sick and jeopardise the project.
As I write this, I still have six weeks to go, but the journey has been truly amazing, both photographically and personally. By the time it's complete, Te Ata pūao will be a journey, and that journey will be different for many, with different meanings and connections for a wide variety of people. For some, it will be spiritual, others, cultural. For some, it will be more literal, and as simple as some pretty pictures of the mountain on a special date, and that is ok.
But for me, Te Ata pūao is a reflection. It's a reflection of our lives and our mental health. It's that roller coaster of life, the highs, the lows, the days we wake a little foggy and the ones that are just downright dark. But despite the variety of images I have captured, there is one common ingredient throughout the entire project, light. And when there's light, there's hope.
Once the project is completed, the plan is that Te Ata pūao will find its way to exhibition. I imagine it will be somewhat overwhelming, with 365 A2 canvas prints, kindly supported by Epson New Zealand. And my hope is viewers of it will walk away feeling a little of what I have.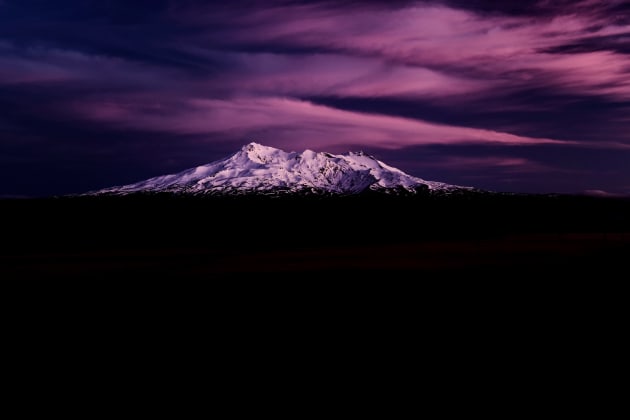 About the author: Craig has been a photographer for over 30 years working both in New Zealand and abroad, with his focus now on long term documentary based projects. See more @craigandrewmadsen.