Behind the Lens: Leaping polar bear
One of the most memorable experiences in over 22 years of wildlife photography, was seeing and photographing this leaping polar bear in the Arctic Circle. I was leading a Photo Expedition that circumnavigated Svalbard, with lots of very keen participants wanting to get an 'action' shot of polar bear. We had seen and photographed quite a few different ones up until this point but the real 'money shot' had eluded us…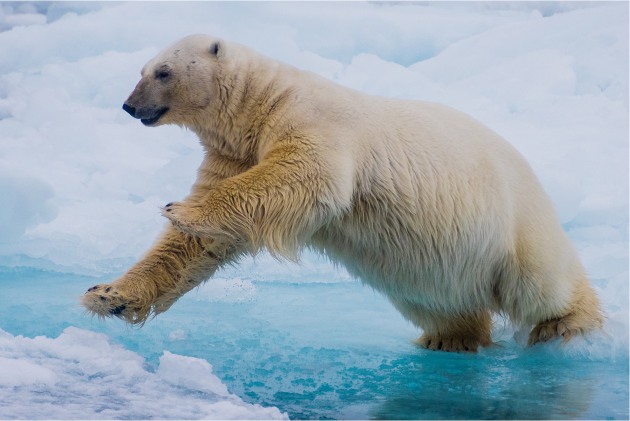 It was early in the morning and a number ever-vigilant crew were on constant 'bear alert' on the top deck, with their binoculars scouring the horizon back and forth for hours on end. Before long, an announcement came over the intercom, alerting us to a polar bear in the distance. After putting on the obligatory warm clothes etc, we all headed out on deck. The bear was coming towards us but very, very slowly, so there was quite a wait involved. While waiting, I made sure my photo expedition attendees had the correct settings on their cameras, with test shots taken to ensure exposure was perfect. Pattern metering was suggested, as it was overcast and the bear and ice were of a similar exposure. I also recommended a combo of continuous auto-focus and burst mode.
For this image I waited patiently until the polar bear was close to our ship and tracked it patiently through my viewfinder, my back-button focus set. Before long, the bear crouched down and leapt from one piece of ice onto another. My camera's shutter went off!! Using a 'fast' memory card, I was able to get plenty of shots without fear of the camera's buffer stopping more continuous shots from being taken. It was important that I focused on the bear's eyes and by increasing the ISO to 800, my camera's shutter speed was fast enough at 1/3200th of a second to freeze any predicted movement. 
By observing an animal's movements, you can often pre-empt its behaviour. I had seen polar bears crouch down previously, before making a leap, so I was ready when the action happened.
This image was taken with a Nikon D810 and a 70-200mm lens with a 2x tele-convertor, using aperture priority. The shutter speed was 1/3200th of a second, the aperture f5.6, focal length 400mm and 800 ISO, hand-held.
After downloading the sequence of images, I chose this particular one and started post-processing in Adobe Lightroom. Firstly, I cropped the image slightly, leaving enough room in the direction the bear was leaping. I reduced some of the highlights in the ice and added a bit of contrast to make the ice clearer. Lastly, I selectively sharpened the polar bear.
Michael Snedic is a professional wildlife photographer/tutor and a Nikon School tutor. He is the owner and operator of WildNature Photo Expeditions, which specialises in taking photography participants to the most stunning wildlife and wilderness locations across the globe! Locations include Australia, Africa, Antarctica, South Georgia, the Arctic, India, Sri Lanka, Wrangle Island and more.  For full details, visit www.wildnaturephotoexpeditions.com