Behind the lens: Josh and the platypus
When I was young there were two things I always wanted to do. One was to become a zoologist and work with platypus; the other was to be a professional wildlife photographer.
Soon after I graduated as a zoologist in the 1980s, one of my first jobs was studying the diving physiology of platypus, so I ticked that box pretty early. But it was more than 20 years before I ticked the other one. A few years ago, when I was asked to take some photographs of platypuses in the field with Joshua Griffiths – one of Australia's top platypus researchers – I felt like all my career stars had aligned.
Spending time in the field with Josh and other researchers, my love for the platypus grew. But sadly, I also learned how they had been quietly disappearing from our rivers. Human-driven habitat destruction, pollution, as well as increasing droughts, flood and bushfires now threaten a beloved species that, until recently, has managed to live peacefully in our rivers and streams for millions of years.
Because of this, I wanted to try to create at least one image that portrayed a positive and strong connection between a caring human and a platypus, as well as one that could (potentially) be used in reporting and conservation campaigns. As such, I decided to try an in-field portrait of Josh with a platypus.
My strategy was to set up "Rembrandt lighting" between a stream where Josh might collect a platypus and his research vehicle. Then, all going well, I would simply wait for Josh to collect a platypus, walk through my in-field studio, get him to stop for few seconds and take a few images – as simple as that.
As well as giving the intimate feel I was hoping for, choosing Rembrandt lighting had three practical benefits. Firstly, I could easily set up everything beforehand. Secondly, I could use the darkness of the night and a clearing in the bush to achieve a perfectly black background. Finally, I could achieve my lighting using very minimal and very portable equipment – basically two lights on stands with soft boxes, or alternatively, one light on a stand with a soft box, and a reflector.
Rembrandt lighting is characterised by an illuminated triangle under the eye of the subject on the less illuminated side of the face. It is achieved by placing one light, high at the front and to one side, with another light source placed on the other side, but at about half the height. If you are not using a reflector, the power should be set to about one third of the main light.
I really like this image not only for its aesthetics, but also the emotional connection shown between Josh and the platypus. I didn't ask Josh to look down, he just did that naturally to make sure she was OK. To me, it captures kindness, care and concern for an animal and is what I love most about the image. I'm also happy that it has now been used to report the platypuses' plight. Most recently, Environment Victoria ran it in their social media posts advising how the Victorian government had just listed the platypus as a threatened species.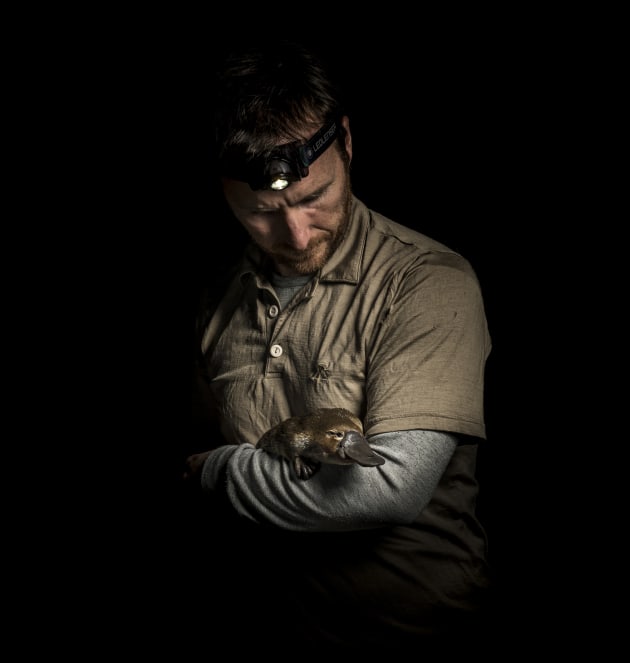 About the author: Doug Gimesy is a professional award winning conservation & wildlife photographer based in Melbourne. See more of his work at gimesy.com, and on instagram @doug_gimesy.