Behind the Lens: Hitting snooze
This is a photo of Cockburn Island (64º 12´S) in the Weddell Sea near the Antarctic Peninsula. I captured it in 2021 while working as a photo instructor onboard the ship the National Geographic Resolution. It's a photo that will forever remind me of a night when I was 'asleep at the wheel' and allowed a need for rest get in the way of my goal to make good photographs.
Three days earlier I had embarked in Ushuaia at the tip of South America after a long charter flight from Miami. It had been a decent break from the job during the pandemic and I was excited to be on the ship and working with a talented field team of naturalists and Antarctic experts. But I was also very jet lagged.
Our crossing of the notorious Drake Passage was kind – it wasn't quite a 'Drake lake', but very close. Still, it always takes a while for my brainstem to cope with the sensory inputs from a pitching ship and the result is lethargy. Yet I was only getting about three hours of sleep a night.
It was summer solstice and the longest day of the year in the southern hemisphere. At that latitude the sun barely skims below the horizon between sunset and sunrise. But in my befuddled state I barely registered the possibility of a rare period of prolonged twilight between sunset and sunrise the next morning. Instead, I could barely keep my eyes open.
I made it to 2300, by which time I felt unable to function as a human. I thought it odd that my colleague, National Geographic photographer Camille Seaman, wasn't anywhere to be seen. Of course, thinking straight, she had turned in for a short nap after dinner. Mindful of my work duties the next day I headed for bed. By 0100 I was slumbering, with the porthole cover drawn and my eye mask in place, completely oblivious to the incredible light show happening outside.
I did eventually make a couple of nice images once I surfaced for the last of the dawn light around 0330, with this photo my favourite – the pale pastel hues and sea ice contrasted nicely with the dark landform of the island. But it didn't take long to hear about what I had missed. In the end, I could hardly admit to myself (let alone Camille!) that I wasn't awake for a once-in-a-lifetime photography opportunity, one that she photographed so beautifully (see her shots at bit.ly/3ByTYxC).
The pursuit of photography is a journey, one from which I'm always learning and grateful for. There will always be missed shots and missed moments. Accepting this fact is important and part of what keeps me excited and looking ahead to the next great shot – especially in Antarctica.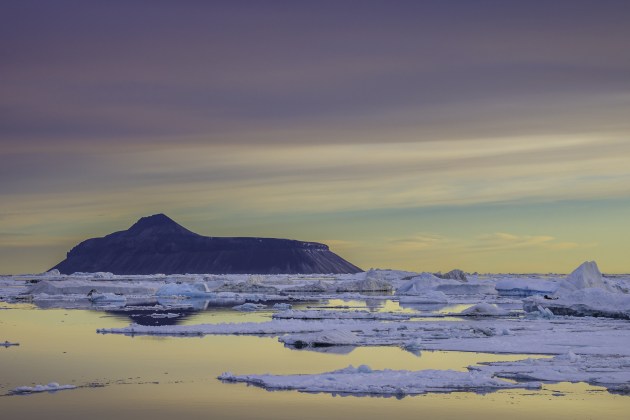 About the author: Dr. Andrew Peacock is a widely published nature photographer based in Queensland (admittedly not the coldest of places!). More of his images, many from warm climes, can be found at www.footloosefotography.com or Instagram @footloosefotography.