Behind the Lens: Ground Zero
On 7 January 2020, I arrived in Wuhan, China, where I started a sabbatical with the Huazhong University of Science and Technology (HUST). I was scheduled to return home to Sydney on 29 January, after spending Chinese New Year with my parents in Wuhan.
In mid-January, a local friend mentioned to me rumours of an anticipated virus outbreak. I didn't pay much attention because everything appeared normal. People went to work, and shops and restaurants were operating as usual. Nobody wore facemasks and the trains were packed with commuters.
However, by late January things had changed. On the 23rd, a city-wide lockdown came into effect, and I finally accepted the COVID-19 situation: it was completely out of control. Locking down an entire city was the last line of defence for the government to fight the virus.
At the end of January, the Australian government announced its Wuhan evacuation plan. After much consideration, I decided to apply for it, and after nearly 40 hours on the road, on 4 February, I arrived at a detention centre on Christmas Island, and started two weeks' quarantine there.
In the centre, I had my own room. It was small, but contained everything one would need: a bathroom, a single bunk bed, a desk with a small colour TV on it, a fixed chair, a small refrigerator and a narrow cabinet.

Our activities were restricted within a limited, but large enough, space – an oval ground about the size of two football grounds.
The oval was an incredibly interesting place, full of photographic features. I searched every corner of this place and shot hundreds of photos and time lapses at different times and from different angles. Each time I could always discover something fresh – amazing sunrise and sunset lights shining on the ground, beautiful Chinese red lanterns hanging on the trees, an eye-catching red crab crawling on the road.
I took this photo on a drizzly, misty morning. Behind these trees, there was a temporary hospital set up for evacuees.
During my two weeks quarantine on Christmas Island, all 243 evacuees were well looked after. The centre staff not only closely monitored everyone's health, but also provided supplies for our everyday needs. I would like to thank the Australian Government for making the Wuhan evacuation successful and safely bringing us back to Australia. Since this photo was taken, we have watched the global COVID-19 situation escalate dramatically, to the point where even now my experience seems like a lifetime ago.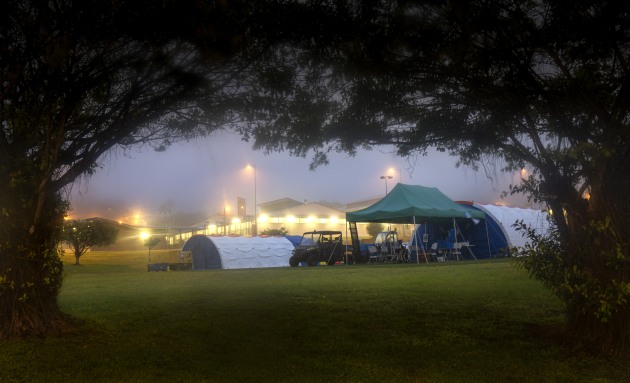 Sony A6600, 16-70mm F4 AZ OSS lens @ 16mm. 10s @ f11, ISO 100.
About the author: Yan Zhang is a Sydney based passionate landscape photographer and an outdoor and mountaineering enthusiast. Yan's photographs have been published in professional photography, geographic and travel magazines such as Practical Photography, Popular Photography (Chinese), Landscape Photography Magazine, New Zealand Geographic and Colours. Yan is also an editor and regular contributor to the e-Magazine of 1x.com – the world's largest curated online photography gallery. See more of his work at yanzhangphotography.com.