Behind the Lens: Frozen Coke
When you think of snow, you probably have visions of snow-capped mountains or glaciers in some faraway winter wonderland. Snow in Australia is not something many people associate the country with, and neither is snow surrounded by stark industrial landscapes or suburban sprawl like I captured here during a snowstorm in June.
When I heard that snow was forecast, I was keen to try something different, so I made an overnight trip up the Northern Tablelands, and to the small mountain town of Guyra in New South Wales. Here I was greeted with an unusual scene of snow in Australia.
Some people would call this low graphic style of photography 'boring', or describe the image as a "snapshot", yet despite its banality, I believe that even bland subject matter can take on another meaning and become something more extraordinary. In many ways, it's a little like poetry in that its open-ended and allows the viewer to pause, reflect and/or reconsider what's before them.
Over the years I've sought out plenty of "pretty" or "picture perfect" images, but these days I find myself drawn to the opposite side of the spectrum, to the mundane man-made objects that are often overlooked or taken for granted. Photographing these ordinary scenes in a way that emphasises their uniqueness has allowed me to express my feelings towards Australian life. 
Guyra is a town I've visited multiple times, and I've photographed the same vending machine here on digital and film before. Witnessing the scene blanketed in snow felt rather nostalgic - as if I'd stepped back in time. At the moment, I feel like my work is constantly shifting directions, whether it be technique, format or subjects, but documenting the ordinary and everyday has become a constant. In time, I hope this work will become a larger body of work and perhaps a photobook.
I took this image with my trusty Fujifilm X100V mirrorless digital camera. Over the years I've learnt to love the 35mm (full-frame) focal length. I spent nearly a decade back and forth travelling in Asia shooting primarily with the focal length so it's become an extension of myself. I like the colours you get with Fujifilm's presets, and this one is set on Classic Chrome with a slight cyan tone.
It may look like daytime, but this was captured at night using a tripod and a longer exposure. If I had framed it with the sky visible then it would have likely given away too much information. I feel that the exclusion of that element helped create something a bit more interesting than the norm.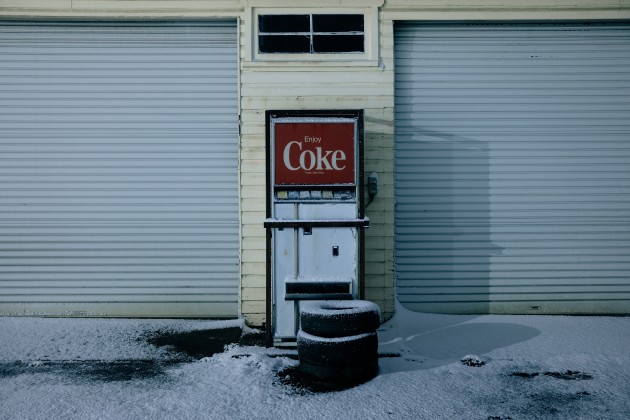 About the author: Drew Hopper is an Australian freelance documentary photographer exploring ecological themes, landscape and place. He is committed to documenting social, cultural and environmental stories around the world.  See more of his work at drewhopperphotography.com.