Behind the lens: Creative thinking with a lensball
When I bought a lens ball, the first thing I did was to google how people were using them. I found a huge number of lovely landscapes upside down at sunset, and some interesting experiments with tabletop night lighting close ups, but then it was just more of the same, more of the same, more of the same.
It seemed to me that the lens ball was a constraint to originality, rather than a source of creativity. What to do?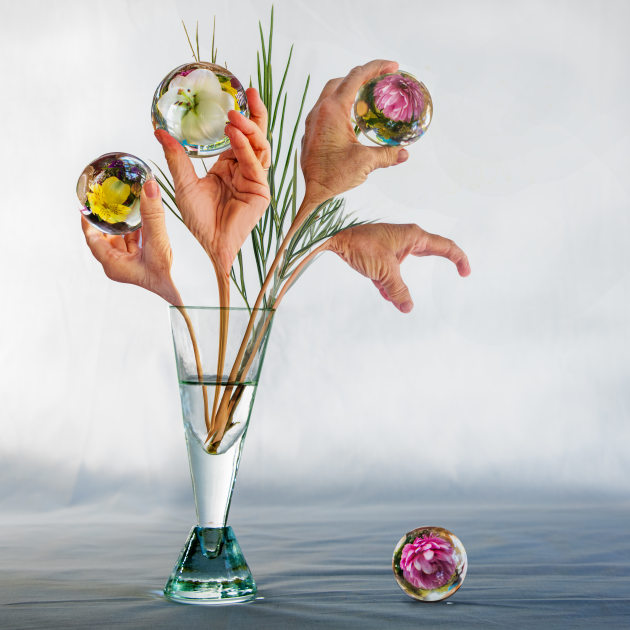 One of the limiting issues seems to be that the lens ball must either sit on a stand or be handheld. So, I handheld it over a bunch of flowers, picking out the detail of individual blooms, being careful to position my fingers right at the edge of the ball. I imagined that they might be best represented as a 'bunch of flowers'.
Setting up and lighting my white backdrop on the kitchen table, I photographed a suitable vase complete with grevillea flower as a traditional still life. For lighting, I used two Speedlights on a remote trigger.
The next hurdle was to integrate the cropped lens ball flowers into the still life such that they did not just look stuck on top. Also, the flowers needed proper stems. What about using the hands?
The result is my hand holding the lens balls, but they were taken separately to the flower images. They were also taken against the white background so they would be easy to separate. With this done, all of the elements were ready to Photoshop.
With the vase as a background, I removed the flower of the grevillea, but left the leaves. Each hand was on its own layer, as was each flower. I used the Pen Tool to cut them out for manipulation. To make the arm of each hand into a long thing stem, I used liquify. All flowers with their stems 'attached' had to be positioned in the vase, so that they were balanced within the bunch.
At first, I had all four flowers held in a hand, but decided that it might be good to place one on the tabletop to improve the image composition.
On the table I added more curve to the empty hand so that it faced downwards towards that flower to reinforce the concept. Shadows were added under that flower to enhance the reality. And finally, inside the vase, at the meniscus, I shifted the disjointed stems at the water line so that it imitated refraction. 
The resulting image is a nine image composite with thirty layers in the Photoshop file. ❂