Behind the lens: A royal in waiting
In the last hour of the last day of a two-week sub-Antarctic expedition, wildlife photographer Doug Gimesy was fortunate enough to capture this image of a rare Southern Royal Albatross. With only about 8,500 breeding pairs left, they are now classified as vulnerable to extinction. Here's how he did it.
The image that opens this story was taken on Campbell Island in the Southern Ocean, where wind gusts reach over 96km/h on at least 100 days each year.
New Zealand's sub-Antarctic islands, including Campbell, are the Albatross capital of the world with around 14 species breeding in the region. To experience wildlife that lives in such rugged isolation is both exhilarating and deeply moving.
Albatross prefer windswept isolated islands in high latitudes, and as such their environments can be difficult to access and also demanding to work in.
Like with most conservation and wildlife photography, the challenges are often not just limited to locating the wildlife, the weather conditions on the day, or your equipment. Simply getting to the location can be tough, especially for someone like myself who suffers from severe sea sickness.
To reach Campbell Island (which is the main island of the uninhabited sub-Antarctic Campbell Islands group) you need to travel about 600kms from the tip of New Zealand's South Island.
We travelled there with Heritage Expeditions on an ice-strengthened Russian expedition vessel as part of a 12-day journey to visit several sub-Antarctic islands south of New Zealand, including Macquarie, Auckland, Snares and Campbell islands.

Being chronically seasick and bed bound on all the sea legs, I took no comfort in the Captain telling me that our sea swells were a 'moderate' seven metres, and could have been much worse as stormy conditions can produce waves the height of six-storey buildings.
The ecosystem and environment on Campbell is magnificent - a maritime tundra with consistently cool, cloudy, wet and windy weather, where the mean daily temperature is between 5 and 10 degrees Celsius, and it rains for around 325 days each year.
My goal in coming here was to try and photograph the rare and beautiful Southern Royal Albatross, and when I saw this one, the first of the day, my immediate thought was "Well if this is what I see straight away, I wonder what it will be like if I keep on going?".
We pushed up the hill looking for something better, but of course after about an hour and a half there wasn't anything, and as our time ashore had started to run out, we headed back towards the ship. As we reached the spot again this magnificent bird was still there, sitting quietly and patiently.
Waiting to be photographed
As the albatross had built its nest next to the path, I assumed it was somewhat comfortable with human presence - at least for a short period of time. I checked with the guides and bird experts who were there and they said it would be fine for a few minutes to stop and take some images.

I gave myself a maximum of five minutes, or until 'bill clacking' started (a sign of albatross anxiety), to either take the shot, or move on. To be candid, I am now not sure whether this amount of time was even short enough, as recent research has shown that some birds (like humans I guess) start experiencing physiological stress way before they show any outward behavioural signs.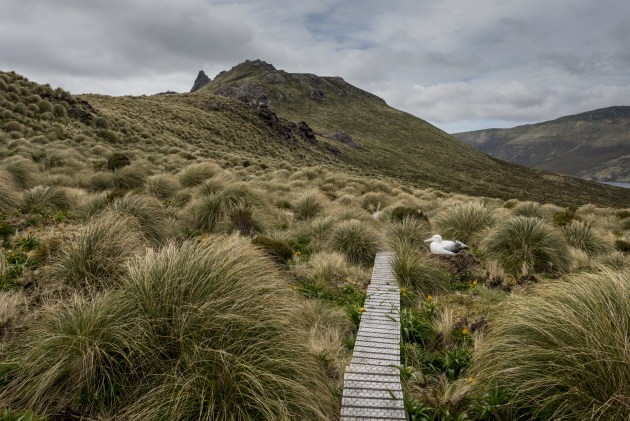 My choice of vantage points was limited because we needed to stay on the boardwalk to avoid trampling the vegetation, so I selected my 24-70mm f/2.8 lens. As haste, flexibility and minimum movement were important, I decided against using my tripod and simply went for a good f/18 depth of field to capture the albatross and the environment it lives in. My shutter speed was set to 1/250th and my ISO (which I always set to auto) was fluctuating around the 500 mark.
After a few minutes and about 25 shots, the sun momentarily broke through and illuminated the albatross - I couldn't believe my luck. I took about another 10 images or so during that window of natural fill light, and then decided that was enough, and moved away slowly.
All up I took about 35 images, and as usual when using a camera with two memory card slots, one image was saved as a RAW file, the other backing up as a high-resolution jpeg.
Back onboard
I didn't use to take a laptop into the field, not only because of the extra weight, but I thought that would help ensure I spent as much time as possible outside, either taking photos or just enjoying the experience.
As I've progressed, I still try to have minimal in-field computer time, but I have found taking a laptop allows to me to easily do three things at the end of each day: back up all the images, check image quality (i.e. sensor spots, is everything working?) and reflect if there are any learnings or creative ideas that I may want to take into the field the next day. All this minimises my greatest fear of getting home and wishing "If only I had…."
Taking a laptop also allows me to create a Lightroom catalogue and add keywords and the location so I don't forget anything when I get home.
Step-by-step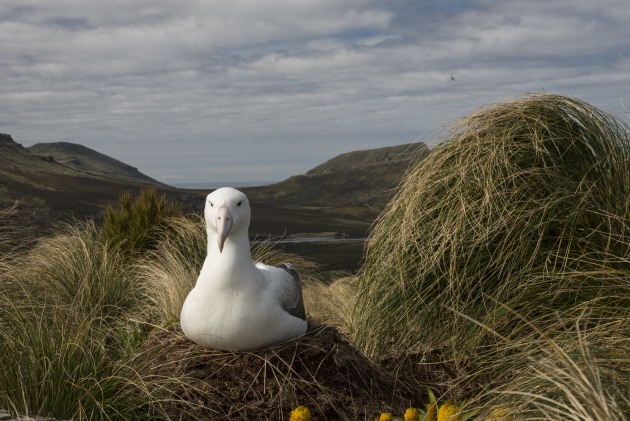 Some final thoughts
As I've developed as a conservation and wildlife photographer, I've become much more aware of the potential negative animal welfare impacts we can all have – often unknowingly at the time - when trying to get 'that shot'. If I could do it all again, I would do a few things differently (which I do now).
Firstly, I'd do more pre-trip research and ask more experts questions like "How close is too close for the birds I may come across?" and "How long is too long to take pictures if they are aware of my presence?"
With the longest lifespan of all birds at 28 years, ironically the southern royal albatrosses' longevity correlates to a greater extinction risk because this determines how quickly they have young and how quickly a species can respond to environmental changes.
I discovered this as I was recently honoured to have this image used on the cover of Conservation Biology, with a feature article about this very fact. But also learning this makes me really sad.
Whilst their existence is increasingly threatened by our choices and our behaviour thousands of kilometres away - by the creation of plastic waste that now floats in our oceans, and from the impact of the fish we choose to buy – the great thing is we can all make choices to help.
I have probably taken over 200,000 images and saved over 50,000, but have printed only three to hang on my walls. This is one of them. I love it because it just happened, because of where it was, and because I simply love albatross.
I took this image nearly eight years ago now and sometimes look at it and wonder, is he/she still alive, still calling windswept Campbell island their home? Will this southern royal albatross still be there waiting for me to visit them again one day? I hope so. ❂
About the author: Doug Gimesy is a professional award winning conservation & wildlife photographer based in Melbourne. See more of his work at gimesy.com, and on instagram @doug_gimesy.