APS Behind the Lens: No loans today
In the past few years, I have developed an interest in portrait photography, extending to people, photojournalism, and sport.
I understand that one of the most important elements of a good portrait is light. Being able to use a light source effectively can greatly enhance the emotion in an image. For me, it's all about the light and its application in relation to your subject.
Spanning a 12-month period, I was involved in planning for the APS National Meetup held at Toowoomba in September. When we commenced planning, numerous locations were considered that would offer a range of photographic opportunities for attendees. Highfields Pioneer Village was a standout venue which was a real highlight of our last day of the meetup. It offers an eclectic mix of Australiana and a wide range of sites that display professions in settings as they existed in days gone by.
The image shown here is not a typical one of mine as primarily I concentrate on more traditional Portraiture. However, it's special to me due to the time from vision to capture, use of available light, and the story it conveys.
When I first visited Highfields in 2021, I identified the Historic Bank as a building perfect for inclusion in our program. The light diffused through the window was ideal; confirmed by a dummy that sat in this exact spot. All we needed was a suitable model to sit in its place.
Thanks to staff from the Village, and some 12-months after I first spotted this location, we were finally able to capture the shot this year. Volunteer Trevor Dent was identified as Bank Manager, and he was a pleasure to work with and required minimal direction. 
The final image required a landscape orientation to include the period paraphernalia and enrich the story. I like to think of it as the Bank Manager daydreaming out the window with thoughts of escaping his mundane routine.  ❂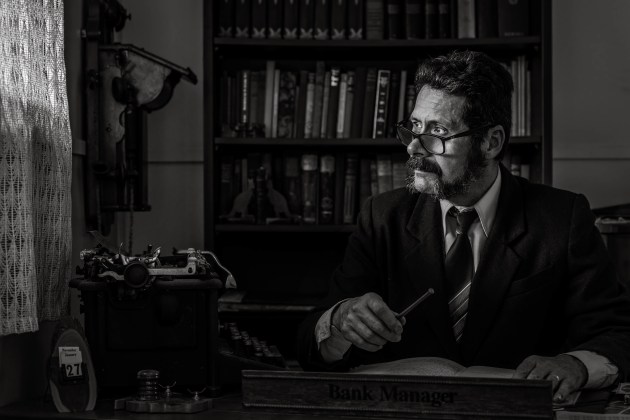 You can view more of Andrew's images at facebook.com/FrozenMomentImagesGoldCoast